EXHIBITION | 9 JUNE – 11 JULY

Under Bat Hill is a group exhibition that imagines the W139 as a glorious cavern in the middle of the city. Isolated from the outside world and its dwellers, this huge space is activated through a daily program of screenings and listening sessions.
Tom Clark
Jacob Dwyer
Bea McMahon
Holly Mills
Claudia Pagès
At 19:35 on the 22nd of April, 2020, Pope Francis tweeted, [When we are in a state of sin we are like "human bats" who can move about only at night. We find it easier to live in darkness because the light reveals to us what we do not want to see. But then our eyes grow accustomed to darkness and we no longer recognize the light.] His tweet received hundreds of replies including one from @GiveBatsABreak who began, [On the contrary Holy Father, the darkness brings to the bat precisely that which it DOES want to face, not what it doesn't. Bats are not under the cover of night committing crimes for which it should be ashamed, but providing invaluable services to our ecosystems and communities.] Through a series of further tweets, @GiveBatsABreak pushes beyond the pope's casual anthropomorphic description, detailing how bats benefit both the environment and the economy.
Under Bat Hill presents a selection of works that too seek to move their subjects beyond casual remit. Subjects that exist in the world outside the cavern under bat hill.
BOOKING 
Due to the current COVID restrictions we recommend you booking one or more time slots in advance, as we have a limited capacity. The presentation is divided into three time slots per day. During the first and the last time slots a specific work will be started. We encourage our visitors to watch or listen to the entire work.
Please come on time for your reserved time slots as your reservation might be given to someone else after 20 min.
12 – 14h | Tom Clark – Feeling It 
44 minute video projected onto fifty square meters of corrugated cardboard.
Starts at 12:30 
14 – 16h
No specific screenings or listening sessions
16 – 18h | Jacob Dwyer – The Devil Museum 
Hour-long audio drama.
Starts at 16:30 
UNDER BAT HILL
09 JUNE – 11 JULY
Open daily | 12 – 18h
Free admission subject to availability.
Read our house rules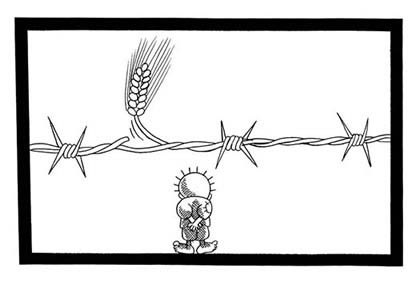 Image credit: Naji Al-Ali – Handala
---
Solidarity Statement with Palestine 
W139 condemns what Human Rights Watch has identified as crimes against humanity committed by the State of Israel and violent extremists against Palestinians. We find it urgent to stand in solidarity against the violence and killings committed in Palestine. 
We want to raise our voice for the Palestinian people and protestors who are resisting decades of Israeli settler-colonial occupation. As an artist-run space that has been sensitive to the issues of autonomy and the right for self-determination, we feel the necessity for being engaged in the issues that we deal with within our individual and collective art practices. We call on artists and art institutions in the Netherlands to use their sensibilities and imagination to render for themselves and others the necessity of solidarity with the people of Palestine. 
We endorse the statement first published and disseminated by the Graduate Gender Programme & Netherlands Research School of Gender Studies Utrecht University, The Netherlands. We strongly encourage the art community and cultural platforms to join this solidarity campaign. Organisations and associations willing to endorse the statement could send an email to: palestinesolidarity_genderstudiesuu@protonmail.com
---
بيان تضامنيّ مع فلسطين وشعبها
تُدين مؤسسة ال W139 في امستردام ما صدَّقََتْهُ هيومن رايتس ووتش (مراقبة حقوق الإنسان) مناهضةً بالجرائم ضد الإنسانيّة التي ترتكبها إسرائيل والمتطرفون العنيفون ضد الفلسطينيين. نحن نرى ضرورةً ملحةً للتكاتف والتضامن ضد أعمال العنف والقتل المُرتَكَبَةِ في فلسطين.
نرفع أصواتنا تضامناً مع الشعب الفلسطينيّ والمتظاهرين مقاومةً لعقودٍ من الاحتلال الاستعماريّ الإسرائيليّ. كمساحة ثقافيّة ومجتمع فنيّ، نحن نتعامل بحساسيّة مع قضايا تعني الاستقلاليّة والحريّة والحق في تقرير المصير، لذا نشعر بضرورة الانخراط الفعليّ في هذه القضايا التي نتعامل معها ضمن ممارساتِنا الفنيّة الفرديّة والجماعيّة. وبموجب هذا، ندعو الفنانات والفنانين والمؤسسات الثقافيّة والفنيّة في هولندا إلى استخدام أحاسيسهم وخيالهم لدعم وتعزيز ضرورة التضامن مع شعب فلسطين في محيط مجالاتهم  وفي الأوساطِ الاخرى.
إننا نؤيد تمامًا البيان الصادر عن برنامج العلوم الجندريّة ومركز الأبحاث الهولنديّة لدراسات العلوم الجندريّة لجامعة أوتريخت في هولندا. كما ونُشَجِعُ بقوةٍ كافةَ المجتمع الفنيّ والمنصات الثقافيّة للانضمامِ إلى هذه الحملةِ التضامنيّة.
بإمكانِ المنظمات والجمعيات الراغبة في المصادقة على البيان إرسال رسالة إلى البريد إلكترونيّ: palestinesolidarity_genderstudiesuu@protonmail.com
DIWAN talks: Institutional Solidarity
Friday May 28, 2021 
18.30 – 20.30 CEST 
DIWAN for Arts and Dialogue deals with urgencies and pressing questions which the art field, institutions, and practitioners are confronted with. For our second event we aim to respond and reflect on institutional solidarity, especially as it has come into focus during the last weeks due to the escalating violence against the Palestinian people. 
DIWAN will be sharing a physical space with the students of Disarming Design and opening up the conversation across radio waves and digital channels with students, artists and cultural practitioners—independent as well as institutional workers. 
Our aim is to engage in an open conversation about the role of art and educational institutions in regards to struggles for liberation. What are our expectations and underlying assumptions of the institutions that we are a part of? How, and to what extent, can the institution carry, support, and care for the multiplicity of voices within it? What are the ethical responsibilities of institutions? How can they be held accountable for their implementation of decolonial and political practices (or the lack of)?

The event will be moderated by members of DIWAN, PUB radio and Sandberg students. 
For this event, we are being hosted by PUB radio, a trans-departmental initiative funded and run by students of the Sandberg Institute. You can listen to the conversations via pub.sandberg.nl. If you want to engage directly with the conversations or ask questions you can join us via Zoom using this link:  https://us02web.zoom.us/j/83427506549 
---

DIWAN for Arts and Dialogue is a platform co-initiated by Fadwa Naamna, Hilda Moucharrafieh, Ehsan Fardjadniya, Margarita Osipian, and Emirhakin, and works in collaboration with the W139 artistic core group (2021-2023).  
DIWAN for Arts and Dialogue aims at supporting young contemporary art and design practitioners, especially those in the diaspora, in the development of their projects and artistic practice. The platform's foundational focus is to facilitate navigating the Dutch art scene for post-graduate artists and curators, and tackle the collective struggles of residency permits, housing, and project funding, amongst others. DIWAN departs from the common experiences of its founders and seeks to stimulate public discursive events and knowledge exchanges that relate to these issues. 
SUPPORTING W139
"The new foundation is created to support the W139 via a lively fan base. With its new supporters, the Amsterdam W139 wants to connect with its environment and the wider world in a welcoming and loyal way.
With Supporting W139 we do not only want to support the W but also create a meeting place and a direct contribution to the community that defines W139's place in the world."
W139 FOREVER!
The board of Supporting W139
---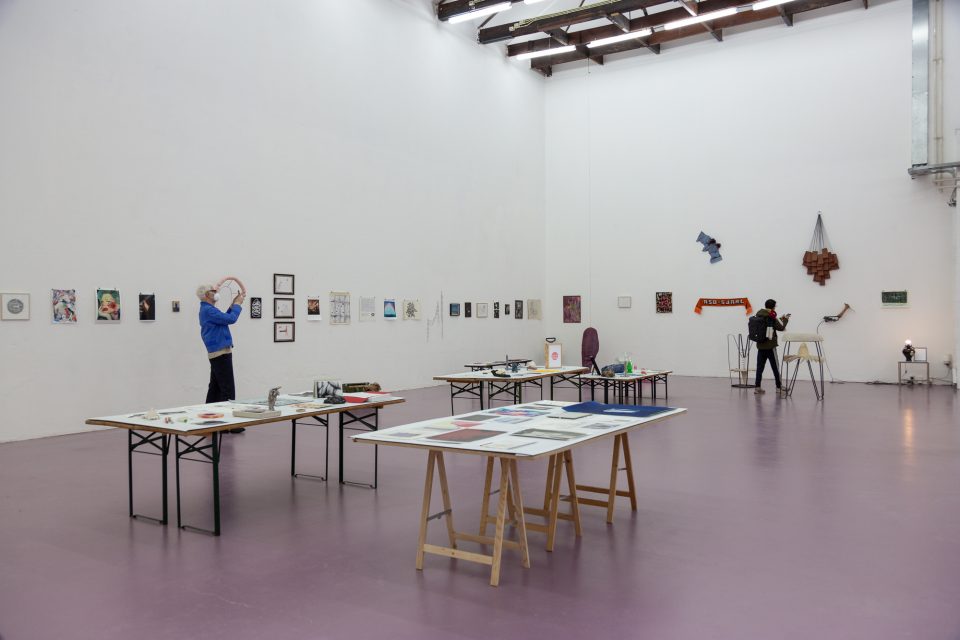 Love For Sale / Alles Moet Weg?, benefit auction by Dead Darlings and Stampa for W139, visited by Rein Wolfs, 14 February 2021 (photo: Jessie Yingying Gong)
---
"For forty years, W139 has unconditionally given space to artists and its audience. A space for experiment, freedom, inspiration, equality and solidarity, located in the centre of Amsterdam with free entrance for everyone.
It has been this close community of artists and friends who gave us their unconditional support in recent months when we were — and still are — under lots of pressure. Due to the loss of structural public funding, the existence of W139 is under threat.
February this year, a benefit auction was organized by Dead Darlings executed during art-talkshow Stampa's 8-hour marathon broadcast, for which 200 artists donated their works. Together with the proceeds from this auction and a surprise donation from The School of Life in collaboration with thirteen Dutch museums, a fantastic amount of money was raised for the benefit of W139.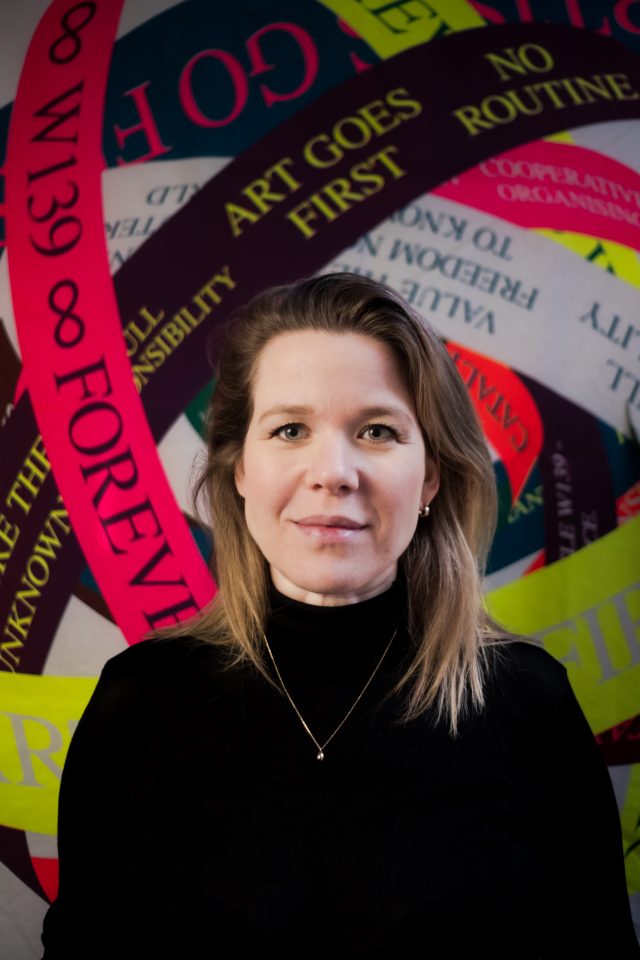 But more is needed and therefore the support fund 'Stichting Supporting W139' has been created: To provide structural funding so that growth can be achieved in financial and social capital. As its director, I am committed to this task for the next few years. I strongly believe in the connecting power of art; art brings people together and W139 has built up a good track record of 40 years doing this. With that said, I would very much like to focus on (continuing to) involve the widest possible audience in art; to provide space for unexpected encounters, from which new ideas and friendships can grow.
I am very much looking forward to working — together with the whole team — on a sustainable program aimed to secure the prosperity of W139 with the support of old and a lot of new friends."
Warmly,
Marloes van Vugt
– director Stichting Supporting W139
---
WANT TO BECOME A FRIEND OF W139?
We are grateful for all your support!
Check our website for more information.
You can also support us with a one-time donation by clicking the link below.
SUBSCRIBE TO OUR DEDICATED SUPPORTING NEWSLETTER
For questions or information, please contact Marloes via:
supporting (at) w139.nl