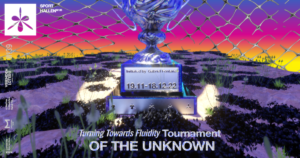 From 19 November until 18 December 2022, Gabriel Fontana's Turning Towards Fluidity: A Tournament of the Unknown will take place at W139. Unfolding over a period of one month, and running parallel to the World Cup, A Tournament of the Unknown aims to overcome binary thinking and rigid social values, through a series of games, ceremonies, workshops and classes.
The Tournament of the Unknown will serve as a framework through which we think, act, and engage amongst each other, inviting us to re-imagine alternative modes of being together in society.
During the opening and the closing, the audience can actively participate in the tournament. Also, various groups – ranging from local schools to art organisations – will be invited to participate in the organised games held at W139. In addition to the tournament, an exhibition and public programme will take place in the W139 'arena' so that the space is also activated in between games. We will be showing a selection of artworks and we will be organising a public program that includes lectures, a film night, and mediated world cup viewing sessions.
The exhibited artworks, which include installations, textiles, and video works, will intervene into the sports hall and provide new entry points into sports as a microcosm of society. Next to this we have curated a selection of clothing and accessories by independent designers and artists that engage with the intersection of sports and fashion. Merchandise, specially designed for the exhibition, will also be available at the W139 shop.
Participating artists are a.o. Joana Cavaco, Ronnie Close, Delphine Dénéréaz, Martynas Gailiušas, Nathanja van den Heuvel, Kexin Hao, Davy de Lepper, John Lucas, The Platform, Claudia Rankine, snufkin, Julius Thissen, Paul Whitty, Florian van Zandwijk, Versatile Forever, Sample.CM and Queer Choir Amsterdam.
Visual identity by Sheona Turnbull and TAL.
Supported by VriendenLoterij Fonds, Creative Industries Fund NL, Mondriaan Fonds, City of Amsterdam and Concrete.
INTERNSHIP COMMUNICATION AND PRODUCTION
from January
We are looking for two motivated interns to gain work experience and join the W139 team from January 2023.
W139 is a special exhibition venue, where we collaborate with artists on new presentations and public programs. You are therefore close to the 'fire', which makes the internship interesting/engaging and instructive and allows you to learn about different practices and get to know many people. We are looking for two students or graduates who want to gain work experience within or after their studies for 6 months, for 4 days a week, for which we can offer an internship fee. The positions concerned are as follows:
INTERNSHIP COMMUNICATION (M/F/X)
INTERNSHIP PRODUCTION (M/F/X)
W139 values diversity within its organisation. People with different backgrounds in study, origin or culture are expressly invited to apply.
If you are interested in applying, please send your CV and motivation letter to info@w139.nl with "Communication Internship Application" or "Production Internship Application" in the subject line.
The deadline for applications is 15 December 2022.
SUPPORT US
practical information
19 November until 18 December 2022
Tuesday to Sunday 12:00-18:00

(We are closed Friday December 2nd)
Public Program
18 November, 19:00-22:00
Opening Turning Towards Fluidity: Tournament of the Unknown.
Three games, specially designed by Gabriel Fontana, will be played during the opening. Joana Cavaco will be our MC, there will be musical accompaniment by snufkin and unique performances by Kexin Hao and Queer Choir Amsterdam. — Free entry.
29 November, 19:30-22:00
The Platform Presents Iran vs USA 
A conversation with researcher Nathanja van den Heuvel and Gabriel Fontana, followed by a live screening of the World Championship football Iran vs USA with DJ battle to disrupt the competition. — Buy your ticket here.
8 December, 20:00-21:30
Power Plays
During this evening film program we'll be screening three works that engage with the geo-political, technological, and spatial underpinnings of sporting cultures—bringing the power plays in, and outside, the stadium in conversation with one another. — Buy your ticket here.
9 December 15:30-18:00
Spectacle of Sports
Join us at W139, to watch the quarter-finals of the World Cup with mediation of the game from artist and researcher Florian van Zandwijk. — Buy your ticket here.
18 December, 14:00-18:00
Closing event of Turning Towards Fluidity: Tournament of the Unknown
Joana Cavaco will be our MC during the playing of three games, there will be musical accompaniment by snufkin, a performance by Kexin Hao and Queer Choir Amsterdam will close the month of tournaments with a unique performance. — Free entry.
Upcoming
28 January to 19 March
DEAD SKIN CASH – SALIM BAYRI AND GHITA SKALI