2021 AT W139
What a year it's been. Here's a quick recap.
9 JUN – 11 JUL
Under Bat Hill
Tom Clark , Jacob Dwyer, Bea McMahon, Holly Mills, Claudia Pagès
28 JUL – 15 AUG
Architectures of Noise

Clara Palli, Pierfrancesco Gava, Arefeh Riahi and Sher Doruff, Ellington Mingus, Susanna Schoenberg, Thomas Hawranke, Lillian Rosa and Gudrun Schoppe in collaboration with Samer Makarem, Evelina Rajca in correspondence with Felipe González and Konrad Bohley
22 OCT – 12 DEC
THAT THOSE BEINGS BE NOT BEING
Guy Briller, Salim Bayri, EMIRHAKIN, Karam Natour, PHILTH HAUS, Chris Kore, Sarah Naqvi, Veronika Babayan, Müge Yılmaz, Ludmila Rodrigues, Marly Pierre-Louis, Tracian Meikle, and Tobi Balogun, Philipp Gufler, Hilda Moucharrafieh and Dina Mohamed, Fabulous Future, Foundland Collective, Hwang Kim

Thank you for visiting us in these weird times.
Happy holidays and see you next year!
Support us

Upcoming
Date to be determined
Sonic Acts
Festival Exhibition
Spring
Sadik Kwaish Alfraji
Summer
Salim Bayri & Ghita Skali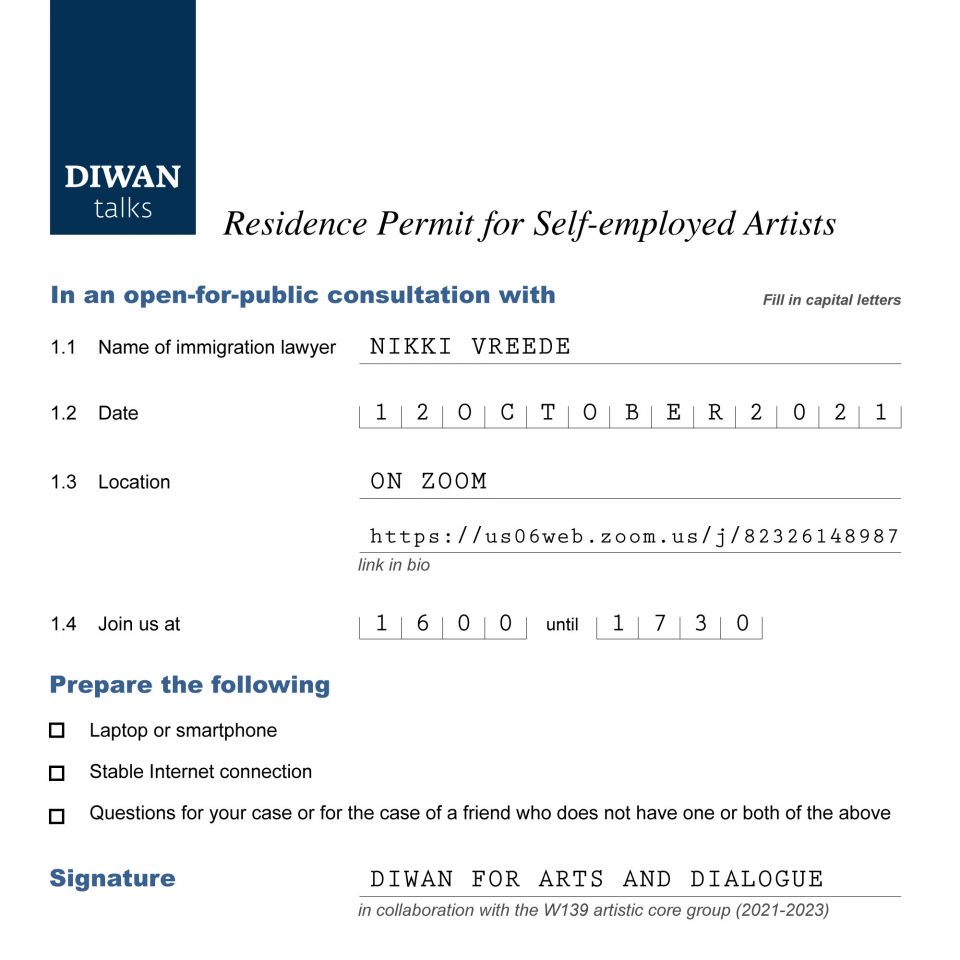 DIWAN talks: Residence Permit for Self-employed Artists
Tuesday October 12, 2021
16:00 – 17:30 CEST
Watch the recording here