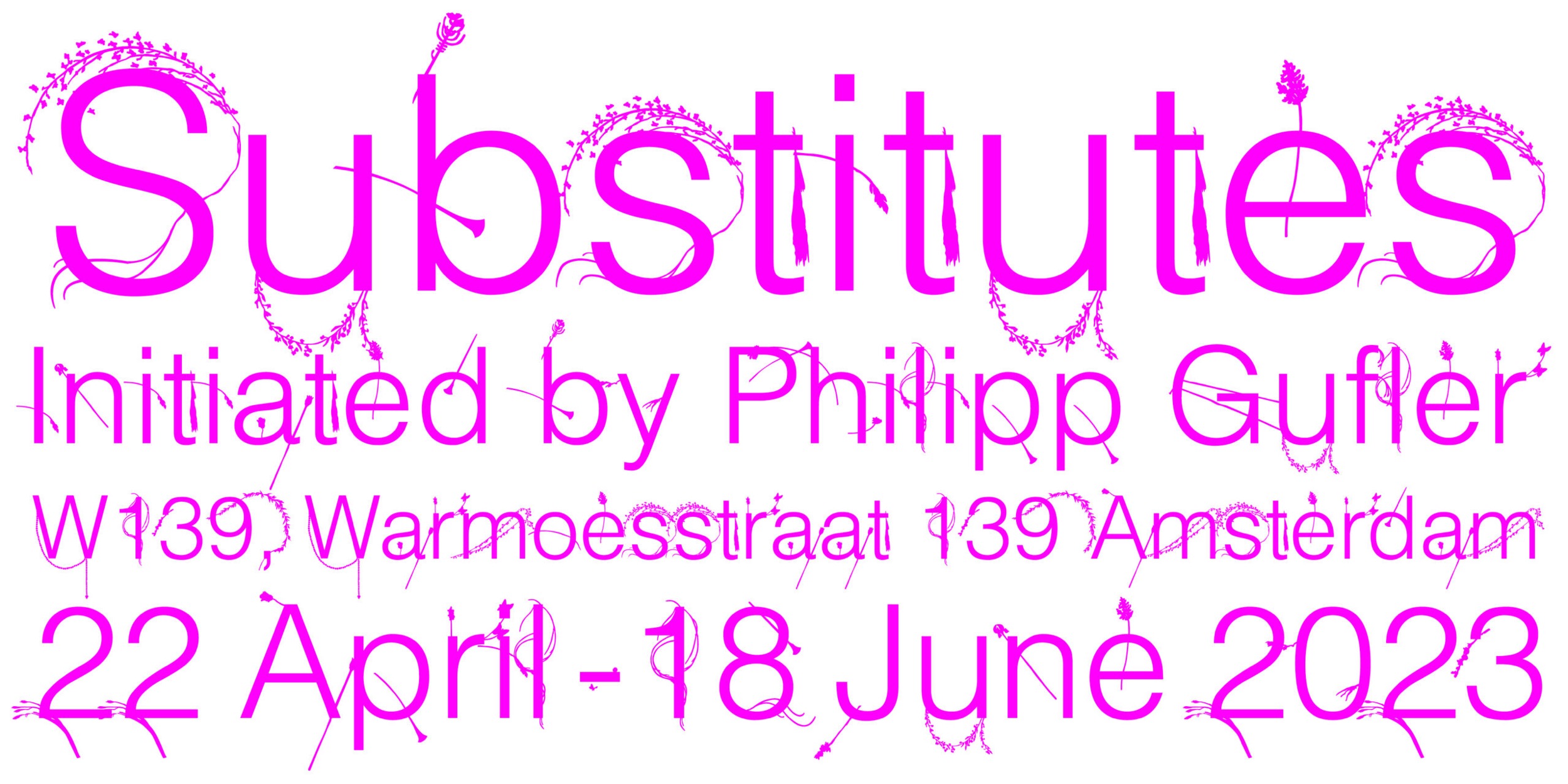 Substitutes — 22 April until 18 June 2023
Substitutes engages with queer history and discourses around the body, gender, and sexuality. It features artists across several generations working in a variety of mediums to contextualise and converse with these discourses. The exhibition is about the absence of bodies, the abstraction of the body, and the tools and language we use to maintain or describe our bodies—costuming, staging, masks, layering, clothing. It questions the normative frameworks that queer and functionally diverse people are subjected to. The human body is, paradoxically, both absent and present within the exhibition. 
Initiated by the artist Philipp Gufler, Substitutes brings together works of Lorenza Böttner, Johanna Gonschorek, Elisàr von Kupffer, Rabe perplexum, Louwrien Wijers, Johannes Büttner, and Bruno Zhu. Philipp Gufler will show a new work titled Body/Text: a large-scale silk screen printed textile piece that draws inspiration from Elisàr von Kupffer's panorama painting Klarwelt der Seligen (Clear World of the Blissful). By connecting contemporary discussions to historical perspectives, the exhibition aims to create a 'living archive'. Drawing together artistic positions from then and now, the exhibition traces queer lives and networks from the past to our present. 
Visual identity by Jacob Hoving.
This exhibition is generously supported by Mondriaan Fonds, Gieskes Strijbis Fonds, Amsterdam Fonds voor de Kunst, Goethe Institut, Centro Elisarion, Pro Elisarion Association, Monacensia im Hildebrandhaus, Forum Queeres Archiv München and Grafisch Atelier Hilversum. 
upcoming
fall 2023
Art Market – Farida Sedoc
The Art Market departs from questions around how we can experiment with different forms of independent self-sufficiency within the cultural field. The exhibition aims to create a discursive space through which we'll share, exchange knowledge, and learn about ways to exist under precarious conditions. Through an open call, artists, designers, and cultural workers will be invited to sell whatever they want in a market setting, with the 'give and take' dynamics of the art economy in mind.

22 April – 18 June
Tue – Sun 12:00-18:00
public programme
Opening: Substitutes – Friday 21 April 2023 18.00-22.00
On Friday 21 April from 18.00 to 22.00, we invite the public to join us at W139, with drinks, music and conversation, to celebrate the opening of 'Substitutes', an exhibition initiated by Philipp Gufler.
Keeping up with the Virus – Thursday 11 May 2023, 20.00-21.00
A performance by Szymon Adamczak with Billy Mullaney 
"For six years already I have been moving and becoming with HIV."
Keeping Up with the Virus explores interdependency, connection seeking, risk-taking, and solidarity through the embodied metaphor of the virus performing in the artist's body in the era of undetectability. Situated in relation to the unique constellation of artists gathered at W139, the performance looks to activate genealogies and dramaturgies of living with HIV across time.
Tomorrow's Language – Saturday 3 June 2023, 16.00-17.30
A dialogue between the artists Louwrien Wijers, Rory Pilgrim, and Philipp Gufler. Together they will explore Louwrien's artworks, the significance of food, intergenerational friendships among artists, and the importance of learning from one another. Expanding on the topic of food, chef, artist and longtime collaborator of Louwrien, Egon Hanfstingl, will be preparing a saffron honey yogurt for all attendees to enjoy at the end of the event.
Guided Tour of the Exhibition – Sunday 4 June 2023, 15.00-16.00
by Philipp Gufler and Tomas Adolfs.
T-shirt Fundraiser for Turkey and Syria 
W139 is selling screen printed t-shirts designed by the artist EMIRHAKIN to raise funds for Turkey and Syria after the recent double earthquake. 80% of the proceeds will be transferred to Artists in Solidarity. 
To find out more, click here.