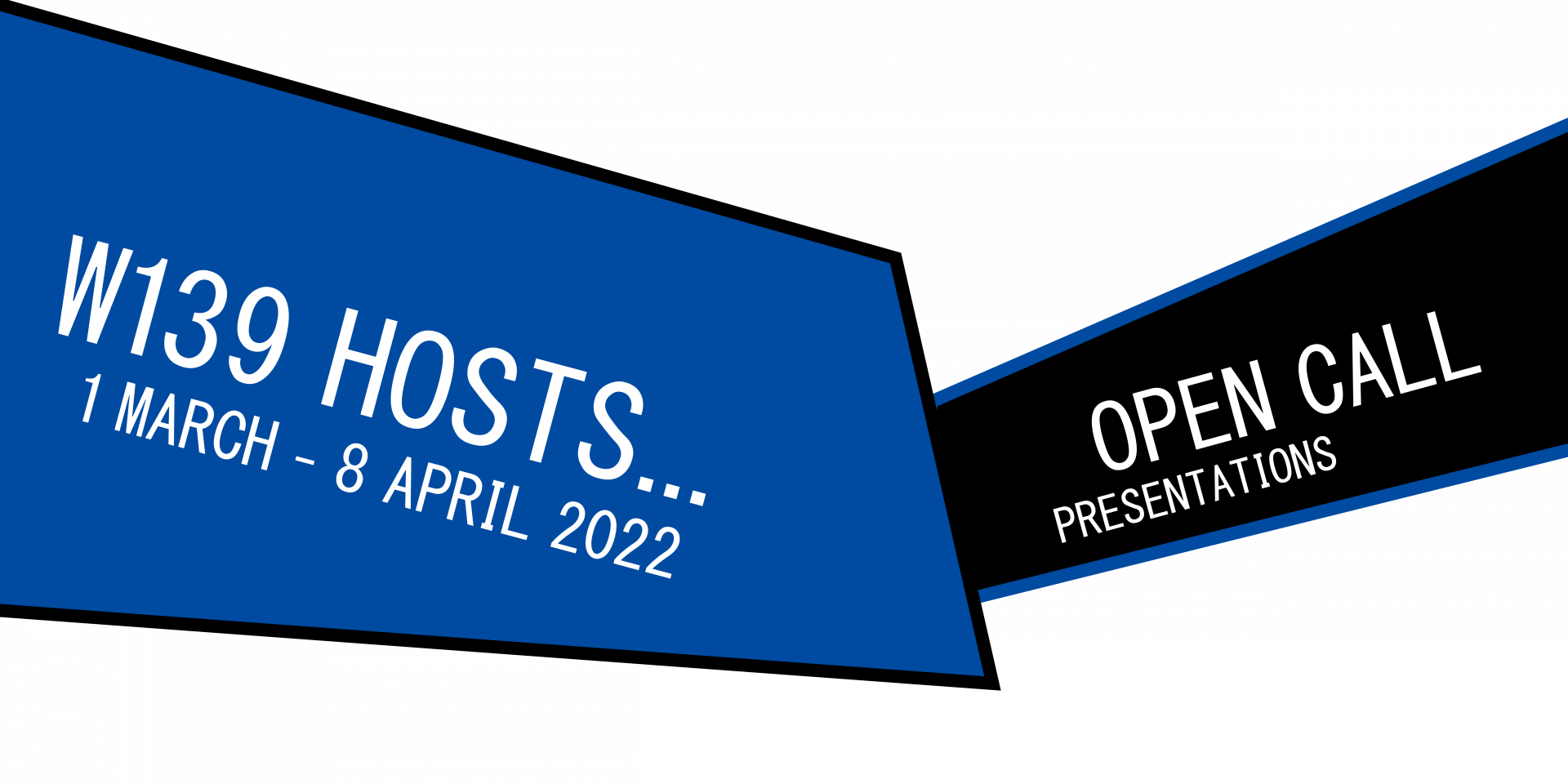 W139 hosts…
March 1, 2022

-

April 9, 2022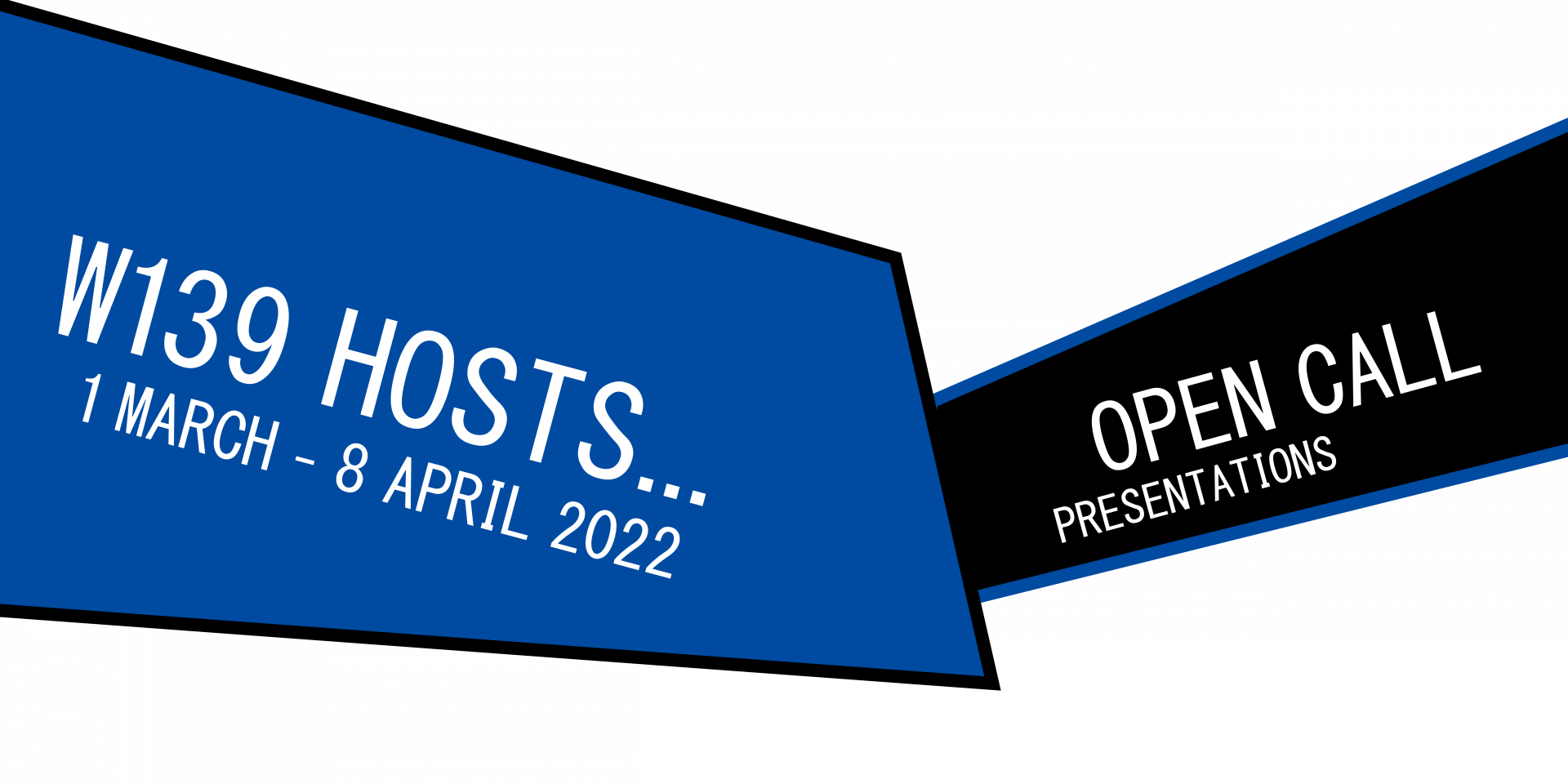 W139 hosts… marks the start of an energetic and dynamic month at W139. We invite you to experience this special programme from March 1 to April 8, which will include pop-up stores, workshops, meet-ups, but also gatherings, rehearsals, exhibitions, experiments, film screenings, work presentations and much more.
The programme is composed of a careful selection of the many diverse submissions in response to our recent open call. Artists, designers, curators, mediators, collectives, and local initiatives were invited to propose projects and ideas they consider urgent and relevant.
The huge amount of responses to our open call made us decide that we needed to realize as many as possible within the time we can offer. The immense interest in this call has confirmed the urgent need for more production and presentation spaces in Amsterdam. W139 hosts… hopes to contribute to the community by sharing our unique space in the heart of Amsterdam.
PROGRAMME
The day before each project starts additional information will be posted on instagram
1 March
Ottokaji Iroke – With bye 
www.ottokaji.com
1 March
Guda Koster & Frans van Tartwijk – Holy rocks and Cosmo disco 
www.gudakoster.nl & www.fransvantartwijk.nl
2 – 3 March
Lama Aloul, Nathan Felix and Raphael Jacobs – How to build a sandcastle
www.raphaeljacobs.com  & www.instagram.com/nathan.feliot/
2 – 4 March
Elodie Vreeburg & Anna Tamm – Altars of Daily Life
www.elodievreeburg.com
2 – 5 March
Jana van Meerveld – Uncivilisation
www.janavanmeerveld.nl
4 – 6 March
VeryBadMoviesCollective – Pilot
5 March
Omid Kheirabadi – Performance Research & Revolution
Performances 13h & 16h
www.omidkheirabadi.com/artist-portfolio
5 – 6 March
Zonder Punt Collectief – Free Floating
www.zonderpunt.com
6 March | TBC
Lijuan Klassen, Alec Mateo & Hala Namer – Performance
6 March | Private project
Balázs Varju-Tóth – Graduation Film
5 – 6 March
Zonder Punt Collectief – Free Floating
www.zonderpunt.com
6 March
Lijuan Klassen, Alec Mateo & Hala Namer – Performance
7 – 9 March
Sunrise tours – Project Mayhem
https://www.instagram.com/thesunrisetours/
Polina Fenko – Combat Breathing Laboratory
https://www.instagram.com/polya__v__ogne/
Laura A Dima – Future Affair
https://lauraadima.com/
Agata Zwierzynska – THE MUTOSCOPE & 20 OTHER BOOKS
https://agata.home.xs4all.nl/
Alex Fischer – Hunter Trophies Works
http://www.alexfischer.net
10 March
Lauren Fong – Fog or Glitter II: Over the Sunset
http://vimeo.com/laurenfong
Catalina Reyes – Screening: "From The Verge Looking Inwards"
Henriette von Muenchhausen and Ai Hashimoto – Close Encounter
https://www.henriettevonmuenchhausen.com/
Gisela Domschke – Auroras, an art space in a modernist house in São Paulo
http://auroras.art.br
One Minutes x Sandberg – Premiere: The One Minutes Series Snack or Food Pill
http://theoneminutes.org/
11 march
The Shared Learning Collective (Piet Zwart Education in Arts Master)
– How do we study together? – Collective Learning + Listening
10 – 13 March
Shareware Collective – Shareware Studio
https://www.ollestjerne.com/shareware
11 – 13 March
Lena Karson, Maisa Imamović, Roman Tkachenko, Natália Blahová, Ekaterina Volkova, Olga Permiakova and Iskra Vukšić – Time is an unrenewable resource — and you know how we are with those
https://www.timeis.capital
12 March
Anto López Espinosa – There are still flowers that will endlessly grow
spoken-word fully lip-synced drag performance
https://www.instagram.com/somos_anto/
12 – 13 March
Lily Lanfermeijer > 2×5?
http://lilylanfermeijer.com/
14 – 16 March
Christina Stavrou – Intangible Array
14 – 16 March
Ganesh Nepalcor – Metamorphosis
14 – 17 March
Geer van der Klugt – tekeningen
Bart Stuart – sculpturen
14 – 17 March
Cor van der Meyden – EXCAVATED PICTURES⁠
14 – 21 March
Delfin Lev – Pentimento
15 – 16 March
André Avelãs – 2 looping turntables with test records & 2 frequency sweep generators, for C45 tape
17 March
Fredie Beckmans – worstclub a gogo
Linda Molenaar – Jumping Birds and More⁠
17 – 18 March
Second Thoughts – Tasha Arlova, Eva Mahhov, Maja Chiara Faber –
Jara van Teeffelen & Clara Gradel
18 March
Aimilia Efthymion – Nights are dark but dreams are alright⁠
performance 16 – 18h⁠
Embodied Knowledge Bureau
19 March
Dots and Sounds – Robat & Andrew Macrae – Live
19 – 20 March
Belle Phromchanya – I was here the whole time (80+) ⁠
20 March
chit-chat collective – Najiba Yasmin & sanj
20 – 21 March
Reading My Panties Zine Launch
21 March
Diana Al Halibi – On Scales of Violence: How to Measure a Dictator? (Screening)
Fa ma. – porous passing with bare feet (Performance)
Bradley Charles Hamlin – Antechamber
18 – 27 March
Noa Bar Orian
23 – 25 March
Tamara Kuselman – Installation
24 March
Mie Rygh Reianes – Territitorial Anxiety (Performance)
Stichting MARC (Private event)
24 – 25 March
Bronwen Jones – Clothing Correspondence
25 March
Gweni Llwyd & Ifigeneia Ilia-Georgiadou – One Day Home (workshop)
25 – 27 March
Jochem van den Wijngaard, Alban Karsten, Kitty Maria & Irene de Boer (Group Show)
26 March
Noam Youngrak Son & Sonic Acts – The Story-Telling Eel-Orgy: Writing as an Aquatic Intercourse (workshop)
Hefla حفلة shop
26 – 27 March
Four Sisters Collective – Guerrilla Seed Bombing (Workshop)
27 March
Sojourna Jon-Paul – Drawing Performance
04/04
Paula Chang – How to disagree
@paula_chang_
04/04 – 06-04
Joakim Derlow – Vivl (south)
@joakimderlow
04/04 – 06/04
Radio Aahaa / Sandberg Fine Arts Department – THE RESIDENCE BROADCAST
@radioaahaa @sandbergfinearts radioaahaa.sandberg.nl
04/04 – 08/04
Romy Yedidia – Beauty Molds Transitioning (BMT)
@romyyedidia
05/04
Bodies of Land
Rens Spanjaard, Sieta van Horck
05/04 – 06/04
Youngeun Sohn – Home for the Onlookers
@sohnyoungeun
05/04 – 08/04
Aafke Bennema – Off the grid
@aafkebennema
06/04 – 08/04
Tobias Groot – First, They Gave Me Bones
@tobiasgroot.jpg
08/04
Ellipsis – The Imaginative World of Objects
@ellipsis.nl
08/04
Fundraiser Koeienrusthuis de Leemweg
https://koeienrusthuis.nl
08/04
Manuela Viezzer – Promise Me version 2.0.0
@manuela.viezzer