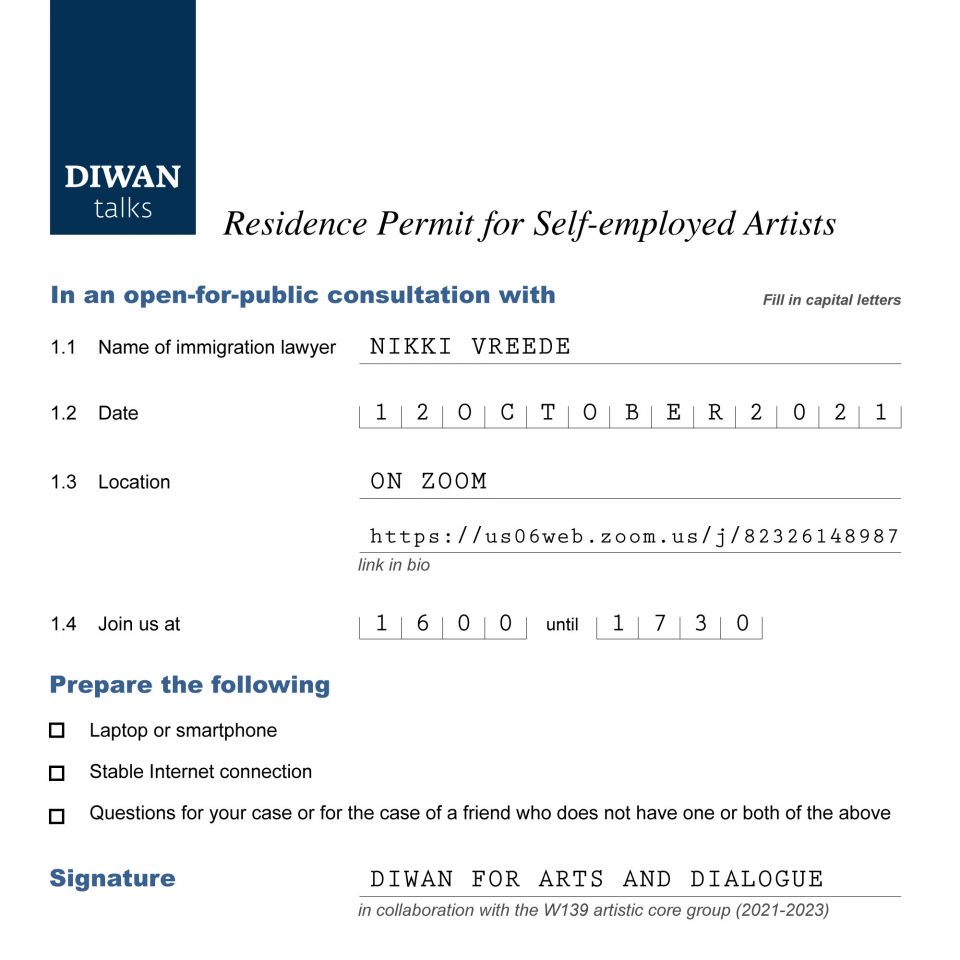 DIWAN talks: Residence Permit for Self-employed Artists
October 12, 2021 @ 4:00 pm

-

5:30 pm

UTC+1
DIWAN talks: Residence Permit for Self-employed Artists
Tuesday October 12, 2021
16:00 – 17:30 CEST
DIWAN for Arts and Dialogue deals with urgencies and pressing questions which the art field, institutions, and practitioners are confronted with. For our third event, we aim to shed light and inform ourselves on the application procedure for acquiring a residence permit for self-employed artists. How do you get a residence permit to work as an artist in the Netherlands? What are the requirements and costs for applying? What are the important points you need to focus on for making a fool-proof application? When do you need to get started with preparing your application?
If you are a non-EU art student who just graduated or if you are almost reaching the end of your search-year (zoekjaar) visa, this session will help you to orientate your next steps towards staying in the Netherlands. DIWAN invites immigration lawyer Nikki Vreede who has experience in assisting non-EU creatives in applying for their artist residence permit. She will share information with us about the procedure towards applying for this specific residence permit: who can apply, what is the paperwork needed, what are the costs, how long does it take to get a response, and what happens after receiving the response, in case of rejection or approval. The session will be divided to include ample time for direct and case-specific questions from the participants.
The event will be moderated by members of DIWAN with the support of the W139 team. You can watch the recording on YouTube here
Event Structure 
16:00 – 16:15  Introduction by DIWAN members, laying out the topic
16:15 – 16:45  Nikki Vreede's presentation
16:45 – 17:00  Break-out rooms
17:00 – 17:30  Public questions from the participants
About Nikki Vreede
Nikki is a lawyer at Everaert Immigration Lawyers in Amsterdam. She mainly assists private individuals, especially in the field of family migration, permanent residence, withdrawal of residence rights, public order issues and residence permits based on humanitarian grounds. Nikki also advises on employment-based immigration. She assists highly skilled migrants and self-employed persons, especially in the creative sector: artists, musicians, dancers, as well as companies that want to become a recognized sponsor to hire highly skilled migrants. Nikki teaches for the Training and Study Centre for the Judiciary on various topics of Immigration Law.
______________________________

DIWAN for Arts and Dialogue is a platform co-initiated by Fadwa Naamna, Hilda Moucharrafieh, Ehsan Fardjadniya, Margarita Osipian, and Emirhakin, and works in collaboration with the W139 artistic core group (2021-2023).
DIWAN for Arts and Dialogue aims at supporting young contemporary art and design practitioners, especially those in the diaspora, in the development of their projects and artistic practice. The platform's foundational focus is to facilitate navigating the Dutch art scene for post-graduate artists and curators, and tackle the collective struggles of residency permits, housing, and project funding, amongst others. DIWAN departs from the common experiences of its founders and seeks to stimulate public discursive events and knowledge exchanges that relate to these issues.