WEEK 7
Anahit Yakubovich

Data Harvest Selfie
Data Harvest Selfie is a durational interactive performance that physically visualises the extractive processes of surveillance capitalism from our simulated world of images, by transforming the gallery space into a model of a digital platform where visitors are confronted with their own observed image while they consume images themselves. Using the pre-internet medium of printed matter as well as the timelessly surveilled sexualised feminine body, I perform in the role of content creator, engaging in a cycle of selfie taking, each image being instantly printed upon capture, flooding the gallery space with my digital reincarnations. Dressed as a stereotypical bimbo I allude to how algorithms are influenced by the male gaze and how sexualising one's own feminine body is a known method of generating profit, causing feminine bodies on the internet to change in accordance to the algorithms preferences. While the feminine body profits off of its adoption of male-gaze oriented algorithmic preferences, the platform that the body exists on profits simultaneously of all user activity surrounding these images by harvesting the data and mining it for valuable predictive information that will be sold to those interested in manipulating human behaviour. 
Artist Bio:
Anahit Yakubovich is a Russian-American 22 year old currently studying at Gerrit Rietveld Academie. She loves to read theory, wear cute outfits and take sexy pictures for instagram. Previously she has been a sex worker, where many of her clients were powerful tech bros, they inspired Anahit to start researching tech ethics because she found herself profoundly disagreeing with many of their views which prioritised profit over human connection. Currently, in her art practice Anahit is interested in overthinking images, creating research based immersive installations and using her work to confront her past and future. 
---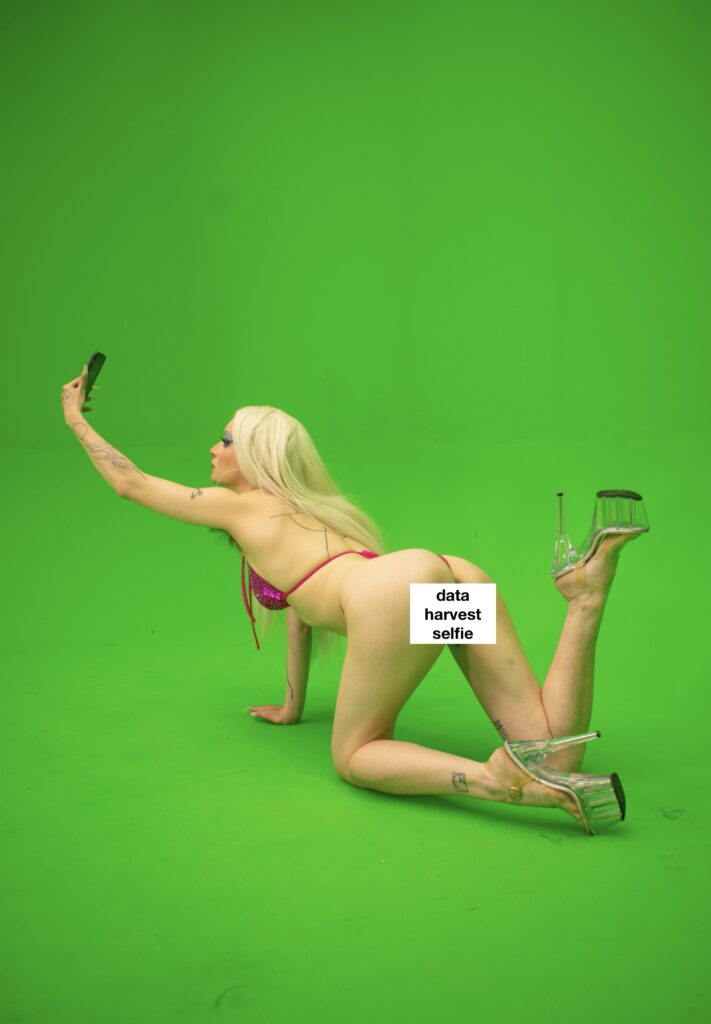 Ulrike Möntmann

Parrhesia: The Risky Activity of Speaking Up and Speaking Out
OUTCAST REGISTRATION serves as an archive of all research projects by Ulrike Möntmann and documents their results. The data collected during all phases of the projects enable observations and comparisons to be made of the cultural, social, geographical, and political differences as well as the numerous parallels in the lives of the project participants. 
Central to OUTCAST REGISTRATION and the projects are the biographies of drug-addicted women in Europe. In dialogue with the participants, the facts of their biographies are ascertained and put into a specific form with the aid of the Matrix Method, which presents their lives as a sequence of events and decisions, actions and reactions.
The conceptual architecture of the OUTCAST REGISTRATION is based on the study of different social spaces: the isolated space, the cultural space, and the public space. The situation and perspectives of drug-addicted women are made perceptible in terms of their social context in each of these spaces.
Both THIS BABY DOLL WILL BE A JUNKIE and PARRHESIA are gender-specific arts-based research projects focusing on an issue that western European countries have consistently ignored. Although women drug addicts represent "only" 4 to 14% of Europe's total population of drug users and are thus considered by the legal system and society as a "negligible phenomenon", around 65% of the inmates in women's prisons are drug addicts. How can it be that this state of affairs leads to the marginalisation of this group and what has brought them into this precarious position?
Artist Bio:
Ulrike Möntmann has been realising multi-year projects with partners from art, science and politics in cooperation with drug addicts in European prisons, therapy facilities and reception centres. In interdisciplinary artistic research and practice, complex issues are discussed that arise from the cooperation of all participants. The aim of the investigations is to uncover facts and to identify concrete connections from different perspectives. This is not about confirming the asymmetrical relationships with the women affected which certainly exist or about discussing the measures of the organs of executive power; the aim is to uncover the conditions in societal systems that are unthinkingly taken for granted and accepted.
OUTCAST REGISTRATION is a form of intervention that requires reflection and commentary to reveal the conditions that are structurally entrenched in social processes and make them perceptible as public affairs.
The following are the two main projects devised and conducted by Ulrike Möntmann, in cooperation with incarcerated, drug-addicted women throughout Europe since 1998.
---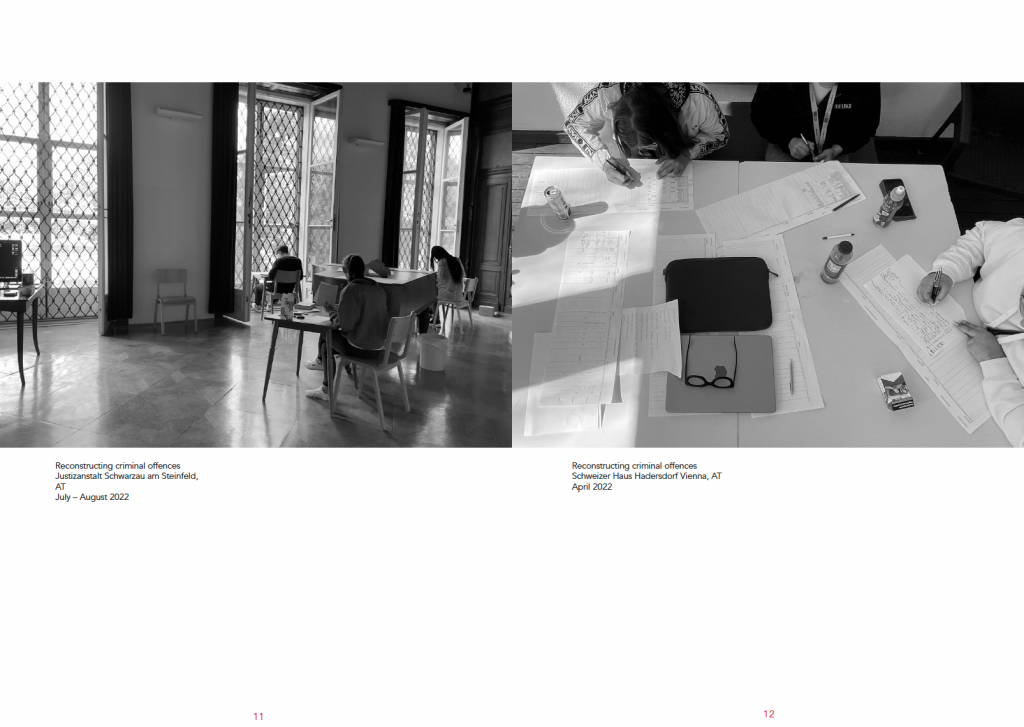 Parcours

Take Me to the Pinball River
Als ballen in een flipperkast die door elkaar andere richtingen op geduwd worden, zo zet onze samenwerking een beweging in gang. Vanuit onze eigen interesses en werkwijze zoeken we verbinding in het speelse en onderzoekende in uiteenlopende materialen. Afzonderlijke kunstobjecten en ingrepen in de ruimte vragen op een eigen manier aandacht. Het parcours zal werken als generator voor onze fantasie en spel, en daarna voor die van de bezoekers.
Het traject ontstaat op organische wijze tijdens de opbouw: een stormbaan van kunstwerken als een wereld vol verwondering, prikkels en humor, waar mensen met een grote glimlach uitrollen, terwijl ze zich afvragen wat hun net overkomen is.
Uitgangspunten voor het parcours zijn o.a. krijtverf vloerschilderingen, flipperkasten, kartonfeesten, opblaasbeelden, zoals in het traject dat Beltman en Van Lieshout in 2022 maakten bij expositieruimte P–OST in Arnhem. Een cakewalk op de kermis en een wandeling in het park waren het uitgangspunt voor deze verrassende grote installatie, die was opgebouwd uit ruimtelijk en kinetisch werk en kleine video's.
Artist Bio:
Parcours is een groep kunstenaars van uiteenlopende leeftijden met een spelende, onderzoekende houding:
Chantal van Lieshout (29) gebruikt humoristische poëzie om de overweldigende ontoegankelijkheid van andere belevingswerelden en het universum behapbaar te maken;
Joke Beltman (59) vindt de instabiliteit van het werkproces, mislukkingen en glamour interessant, en speelt met de dualiteit van aantrekking- afgrijzen, ironie-ernst; 
Judith Reijnders (27) werkt vanuit een liefde voor speeltuinen en onderzoekt de dialoog met ruimtes en infrastructuren;
Peter Krynen (71) zoekt de verwarring op in speelse machinaties en ensceneringen. 
Parcours groeit, na elke expositie worden nieuwe kunstenaars uitgenodigd te participeren waarna we in wisselende samenstellingen telkens nieuwe trajecten bouwen.
---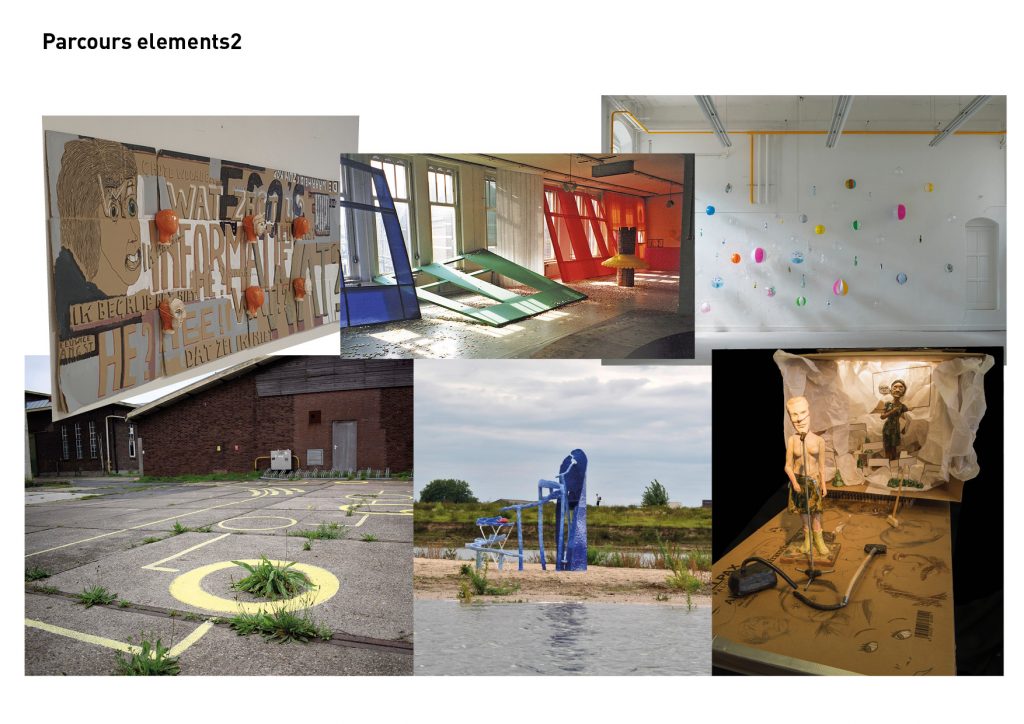 Tatjana Macić

Leftovers Initiative
Leftovers initiative is a call into action for research and reflection upon the sustainability of exhibition-making in terms of materials and discourses, founded by the artist Tatjana Macić.
The aim is to engage within a broader art community to improve, inspire and envision more sustainable processes of the production of art. Climate change, child labour, waste economy, global migration and commodification of art production- are the urgent topics the art world is facing today. Exhibitions follow each other up in a certain fashion and speed, producing thereby exhibition displays and offering temporary focus. When an exhibition is over it is built down, and it is time for a reset. After a few days, a new exhibition emerges. The cycle is repeated. However, the urgency of sustainability and the nature of contemporary critical artistic practices expect more durable solutions. We aim to raise awareness about the sustainability of exhibition-making by organising exhibitions, workshops and public programme. Also, we hope to create a (digital) publication and a manual for sustainable exhibition-making, which will serve as an inspiration and guide for artists, art institutions, curators and art academies. We welcome collaborations and are open to flexible solutions and contributions.
Artist Bio: 
Tatjana Macić is a visual artist and writer originally from the country that does not exist any more, and currently based in Amsterdam. She is deploying her artistic practice to blur the boundaries between visual art, theory, exhibition-making, education and language. Work was shown at Stedelijk Museum Amsterdam, the Venice Biennale Collateral Events and de Appel in Amsterdam. Tatjana is a lecturer of artistic research and exhibition making at the Royal Academy of Art in The Hague. 
---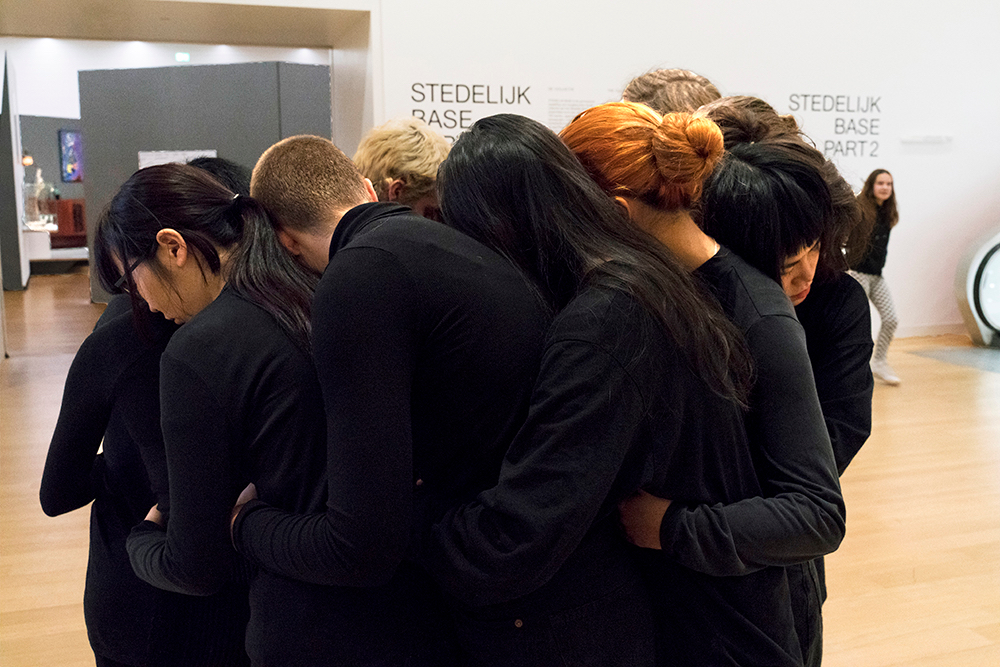 Anna Buyvid

No Backup for 601 Days 
The main subject for the show and discussions is uncovering the notion of fear and enclosed spaces. It expands from the apparent global situation to more profound social and political aspects of limitations, propaganda and manipulation. 
As a Ukrainian-born curator, I have a distinct understanding of the "War in Europe" context. And at the same time, I feel that the response to the situation is much broader than those personally affected by the crisis. How do we experience catastrophe away from catastrophe?
Artists try to touch several questions in a comprehensive environment, thinking together and reviling our fears. What is the way to change research's scope to bring it to the different perceptions in terms of rapidly changing reality, especially now? What collectively are we doing? Or not doing? How can we redefine borders when we find ourselves in an enclosed space? Can we term them "transitional spaces for individuals"? And how artists' responses will change the perception of admitting their limitations.
Artist Bio:
Anna Buyvid is a Ukrainian-born curator and researcher based in Amsterdam.
Her curatorial practice is set on the format of self-organizing and alternative exhibition solutions, and research is in sync with curatorial work on the notion of borders. Anna's goal is to address what can be done through interventions to understand the functional impact and role of boundaries in today's world, where there are no "natural" borders – all are social constructions delimited by governments and institutions. 
"I consider curating as a discursive practice, inalienable from ideological and socio-political aspects. At the same time, research becomes a media, a category or a form, so new formats of its representation are a vital part of development."
---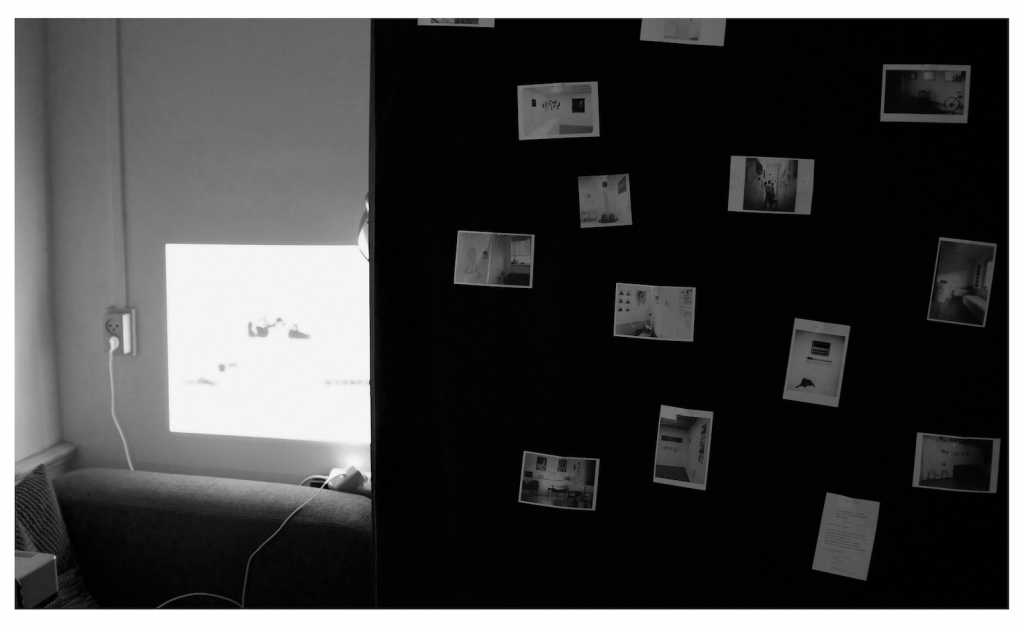 PUBLIC PROGRAMME
Friday 27 Oct Finisagge:
Erica Gargaglione and Kimberley Cosmilla
Echo+seashell
Performance 1 hr
echo + seashell (Henna Hyvärinen and Susan Kooi) make music performances, videos and exhibitions. The lyrics and the static stage presence of the duo form the core, the 'baby soul' of echo + seashell. Varying in style and genre, their music is often produced in collaboration with different musicians. Recent performances and presentations of their work took place at De Ateliers in Amsterdam, Kiasma museum in Helsinki, Galeria Municipal do Porto in Portugal and as part of Pogo Bar Podcast program by KW Institute (Berlin).
Artist bio:
echo+seashell perform a live set where they include their music videos When a Girl Wants and Heresy, two new songs produced by musician Torus. In their live shows the duo experiments with costumes, props, set and dancers connecting to the location. The duo embraces their bodies as stiff and unsensual. This too is reflected in the new videos, one set in a horse stable, combining high resolution footage of echo+seashell having high tea and riding horses filmed partly with heat camera providing uncanny black and white versions of the actions, the other uses CGI techniques in which echo+seashell appear as a digital character. The videos are supported by the Creative Industries Fonds NL.
---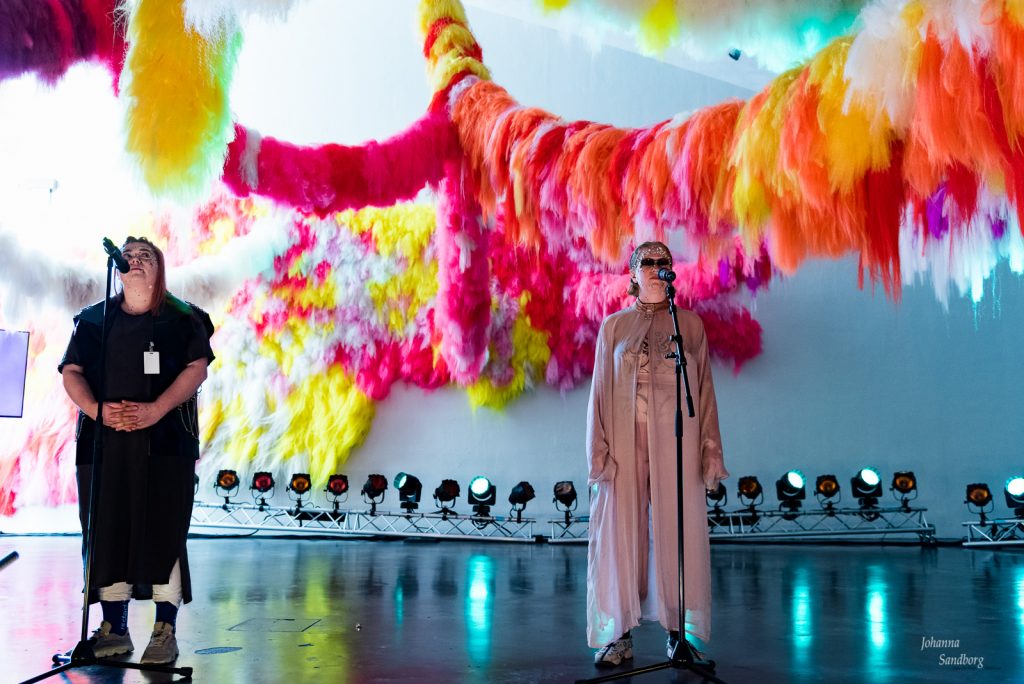 Ötza
Ötza's Spectacular Miniskirt Reveal
20 min Performance (19:30)
After her speech for graduating class of the Gerrit Rietveld Academy, cyrodesiccated fanfiction entrepreneur Ötza was unable to locate her precious denim miniskirt at the academy. After an online call for help—which led to an unsuccessful nationwide search for Ötza's miniskirt—she decided to cut her losses, move on and do the unthinkable: announce an open call to design a new miniskirt: open for designers, artists, makers, or anyone that can construct a miniskirt. At the finissage of W139, the brand-new miniskirt will be spectacularly revealed by Ötza in a never-before-seen performance. 
Collaboratively developed by Levi van Gelder and Leila El Alaoui, this uncanny drag character attempts to rewrite her own story that has been unfairly extrapolated from scientific reconstructions as one of isolation, extinction and gluten intolerance. Fact and fiction blur, or even disintegrate, as Ötza playfully switches between her multiple cultural identities and move from reading fanfiction to playfully reflecting on strands of theory, lamenting her position in the world as cryodesiccated corpse, primeval Man, scientific subject, tourist spectacle, fanfiction writer, queer individual or struggling artist in contemporary Amsterdam.
Artist Bio: 
Ötza is a cryodesiccated fanfiction writer from the neolithic that has been rising to fame since she emerged from her cooling cell in March 2023. As an advocate for prehistoric literacy and as self-proclaimed connoisseur of theory-fiction, she has been sharing her writings throughout Amsterdam in venues like Perdu, De School, the Rijksmuseum, the Gerrit Rietveld Academy, Tempel (Amsterdam Dance Event) and during a solo show in Mutter titled "xxx".
---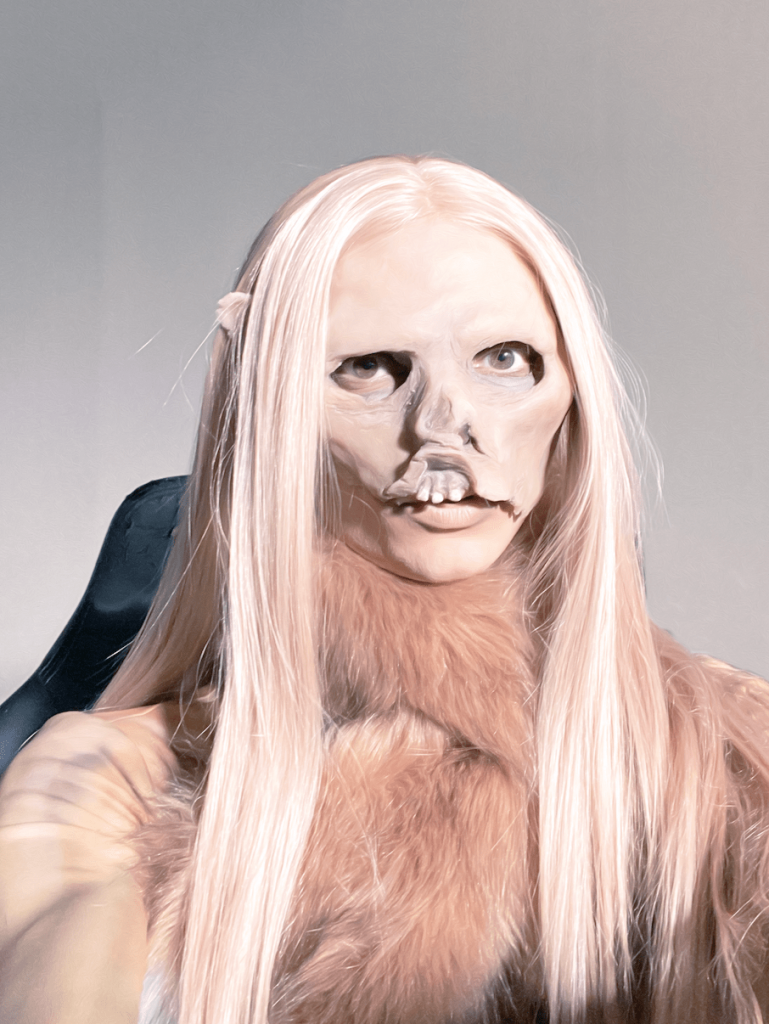 Saturday 28 Oct
Play Around / Find Out (P.E. session)
Pennie Key
2hr workshop (14:00-15:30)

Throw on some comfy clothes and join us for Play Around/Find Out; a non-workout all about connecting with your body, movement, and play. Get ready to sweat, laugh, compete, and collaborate in a series of games and exercises suitable for grown-up children of all ages. Devised and led by Pennie Key, a visual artist and movement practitioner, Play Around/Find Out is not a workshop, nor a workout, but a 90-minute session geared towards conditioning ourselves, nurturing our sense of play, resilience, endurance and creativity.*Games and activities involve physical touch/contact.
Artist bio:
Pennie Key (Penelope Koliopoulou) is a multidisciplinary artist born in Athens. She lived in London for the 2010s and received her MFA in Fine Arts from Goldsmiths in 2016. She was a Rijksakademie resident for 2020-2022, received the Niarchos Foundation Award ARTWORKS in 2021, and has been granted the Mondriaan Fonds Artist Basis (2023-2026). Her work is largely about power dynamics, sexuality, and gender. It's usually intimate, intense, and personal. An important part of her research comes from practising Martial Arts and various forms of Sex Work. Her biggest accomplishment to date is leading a well-attended PE class for artists.
---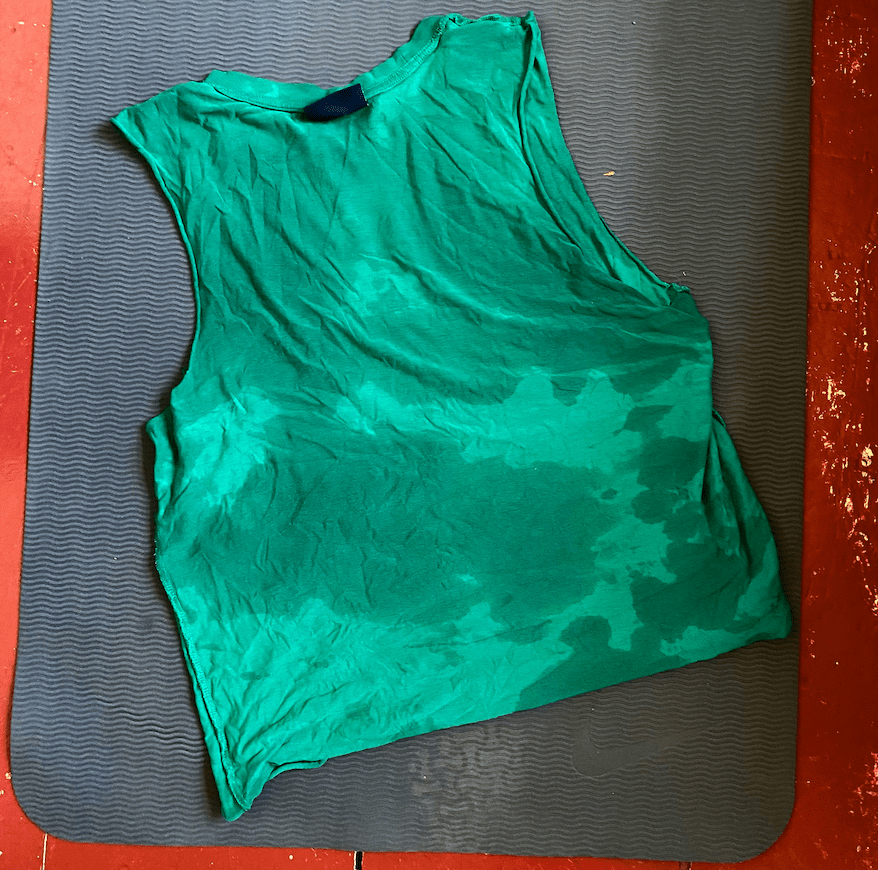 Saturday 28 Oct
Ayman Hassan, Alfonso Moral and Ghenwa noiré
Translating SOMNIUM
Performance (16:00)
A public exhibition of the photo-book "SOMNIUM – a photographic essay on the implications of peaceful interstellar activities for human affairs." Somnium, a waking dream, transports the viewer far into the future. The human race (or some of it) has managed to survive the end of planet earth. This end, brought on by the impact of asteroid Aten with planet earth in the year 2062 CE, was foreseen by corporations and nation states that scrambled to escape what they perceived to be inevitable demise. Hope shone from the red dwarf star Trappist-1, 39.46 light-years away from earth. Though highly improbable, humans survived the journey aboard generation-ships, and managed to commodify, not one, but two planets orbiting Trappist-1; Trappist-1a (aka The Blue Planet) and Trappist-1b (aka The Red Planet). It is now the year 3390 AI (After Impact) – We (humans) have managed to destroy life on both the Red and Blue planets. We are still navigating space, seeking out the promised land – the seemingly mythical Green Planet. Our ancestors recorded findings of a planet that still eludes us; the hope remains that by the time we find Trappist-1c, we would have resolved the "human problem" Somnium is an unpublished collaboration between photographer Alfonso Moral and graphic designer Ayman Hassan. The exhibition is scalable as per space and funds (if any) available (details in the attached presentation) accompanied by an improvised soundscape by artist Ghenwa noiré.
Artist bio:
Ayman Hassan is a graphic designer and installation artist based between Beirut, Berlin and Amsterdam. Ghenwa noiré is an audio-visual artist based in Amsterdam. Alfonso Moral is a photographer and film-maker based in Berlin.


---