WEEK 6
739

" House of ________ " / " ________  دار "
This story weaves around a real and public place in Morocco, a place that I can't make recognizable, inhabited by people I can't name. It's a place among all places, incompatible and unsettling, which in its audacious and uncertain visibility proclaims itself in opposition to a hegemonic narrative. In my homeland, as patriarchal norms shape the essence of a hetero and Islamocentric society, a captivating tale endures and exists. Between the mosque's sacred echoes and the cinema's realm of possibilities, emerges a timeless haven – an old café known as the House of ___. Here, among oppressed and marginalized souls, torn between who they should be and their burning dreams, a queer community makes itself brazenly visible.
Based on a psychogeographic journey and ethnographic exploration, this project uncovers both tender and harsh realities, while sketching possible horizons of a place that dares to resist societal conventions.
The installation is both a translation of participant observations in the café and a sensory transcription of the experience. It erects a new reality by replaying the idea of image manipulation. An attempt to dismantle one reality in order to construct and unveil another.
Artist Bio:
739 is a visual artist and designer based in the Netherlands and Morocco. He works in the fields of information design, video-sound installations and videography. His work explores socio-political issues from an autoethnographic and psychogeographic perspective.
Investigating the interaction between culture, bodies and spaces, 739 examines how social and cultural landscapes influence individual identities. His design process takes shape from deconstruction of everyday practices, prevailing narratives and cultural objects, which are then reconfigured, reclaimed and recontextualized to reveal hidden and unmentionable narratives.
---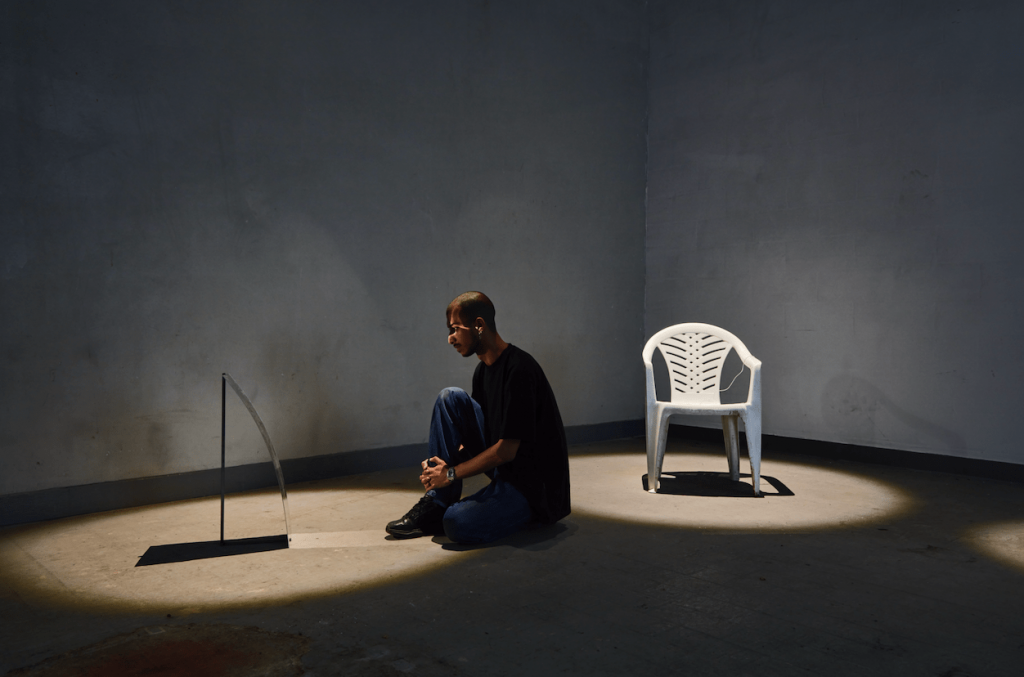 Le Bateau

B-Anchored
The graphic novel "Art Attack" and the movie "Captain Mermaids" are artworks inspired by the story of the sailboat "B, The Hundred," built in 2021 by Le Bateau duo. The two works underline a reflection that fuels the duo practice: How can innovative, upcycled boat collective creation help narrate, understand, and twist sociocultural sexist behaviors and traditions? 
The movie "Captain Mermaids" conveys footage from their sailing trip and interviews from B's community that reflect their relationship with the watercraft. They produced a film embodying their research in its physical matters and the imaginaries it stimulates. The book "Art Attack" takes a similar approach, unfolding the imaginaries from one event of B's history, when the boat was exhibited at the Stedelijk Museum. They created a gripping tale of a museum thrown into chaos by a boat's unknown inhabitants.
Artist Bio: 
Le Bateau duo (Laëtitia Delauney and Aurélia Noudelmann) have a strong curiosity for the conception of experimental boats, often materialized as hybrid spaces, which facilitate new dialogues of creation. Their research conveys the reappropriation of male-dominated crafts. They aim to rethink this patriarchal heritage through learning, skill-sharing, and proposing alternative designs. They are captain mermaids. From march 2024 on, they will be leading a participatory worksite to create a new boat, in a whale shape.  Join and contact them on @_lebateau_ ! 
---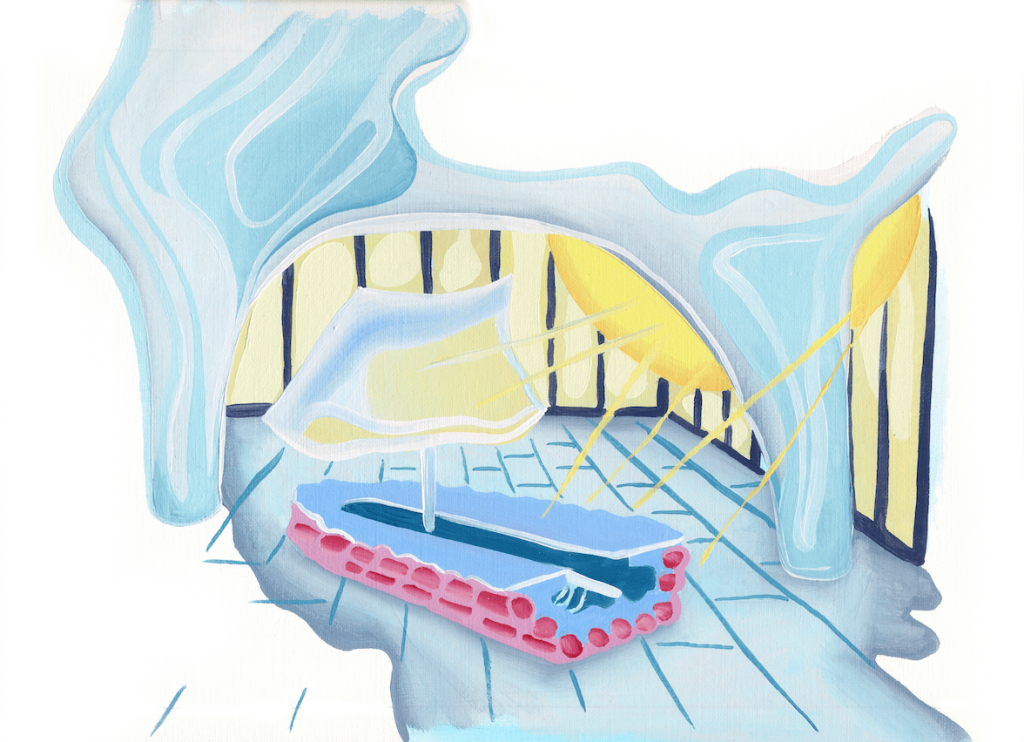 Mira Thompson

Who Cares? – On Receiving Care
Who cares? presents a collection of drawings, singer and performer Mira Thompson exploring the perspective of being on the receiving end of caregiving practices. She conveys intimate acts and encounters of personal care into sequential, comic-style narratives. She illustrates the conflicting feelings and complexities that come with needing care in her daily life, while countering simplistic thinking when it comes to giving and receiving care. 
The scenes are portrayed from Thompson's point of view both from how she sees it as well as how it might look from the outside. The drawings balance between cheeky and earnest, showing how both portrayals are ways of coping with the realities of a given moment. The viewer is brought to a seemingly ordinary situation of being assisted with brushing her hair in a public space, when someone comments 'you are really a queen, aren't you?!' Other drawings give a glimpse into intimate moments of receiving care where there's peaceful silence. 
Thompson started making the drawings out of a desire to articulate these relational, affective encounters of being on the receiving of care that are hard to describe in words, or the grief that's experienced from witnessing overt or internalized ableism. Asking for help is always considered difficult, but when this help is necessary and considered one-sided, it's different. Having to relate to people who are providing care means navigating power relations – is it possible to ask for the care that's desired or is that seen as asking too much? Can I truly express myself or does that mean a risk or loss of needed care? 
Artist Bio:
Mira Thompson (Amsterdam, 1993) is a singer, songwriter and performer. Informed by the tradition of vocal jazz, she is drawn to narrative song and strong poetic and visual elements within music. During her time at HKU Utrecht Conservatory, she developed a fascination for the different ways in which the voice can function as an embodied instrument. Whether written, spoken or sung, Mira wields language to evoke deep and buried feelings with an earnest yet witty approach. In 2019 she released her first EP Festina Lente. Since 2008 she has performed nationally at Mozaïek Theater, Frascati, Casco Art Institute: Working for the Commons, among others, and has toured in Germany and France.
Within her own artistic practice or that of others, cross-disciplinary collaboration is at the heart of Mira's work. She writes on subjects of disability, language and activism to contemplate a more accessible world, and has published, both print and digital, in Metropolis M, Parool, Change Now, International Documentary Filmfestival Amsterdam, and One World. 
Invested in embodied learning and disability justice, Mira brings into question notions of accessibility and its universality through lectures, workshops and consultancy to organizations, tutors, and students. In addition to providing private singing lessons, she teaches and researches for Amsterdam University of the Arts: Amsterdam School for Theatre and Dance, and DAS Graduate School. Mira is a member of Feminists Against Ableism. She also does access work including voice narration, image descriptions, live captions and transcription.
---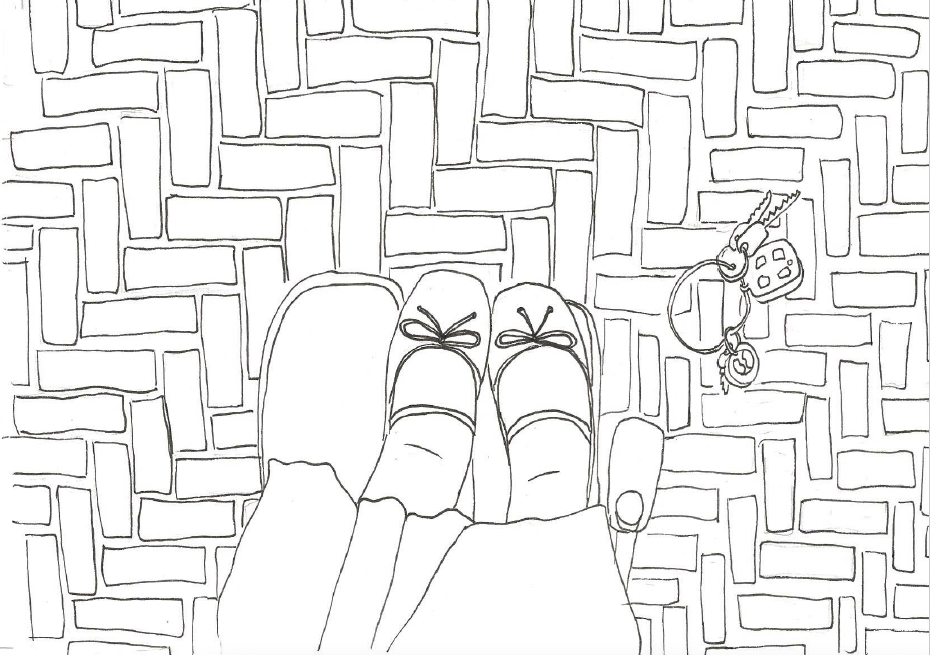 Manuela Benaim
shapeshifting
​​Shapeshifting is an opportunity for humans to embody each other, as a tool for self discovery. We are souls trapped in a human costume, this is an invitation to blur the edges of your body and wear someone else's skin. 
Artist Bio: 
I see humanity as a singular source of energy, separated by a perishable membrane we call Body. My name is Manuela, I was born in 1996 in Caracas, Venezuela.
I am a Sculptor and visual artist, I work with life-casting, sculpting, spfx, painting and garment making to make figurative art. 
---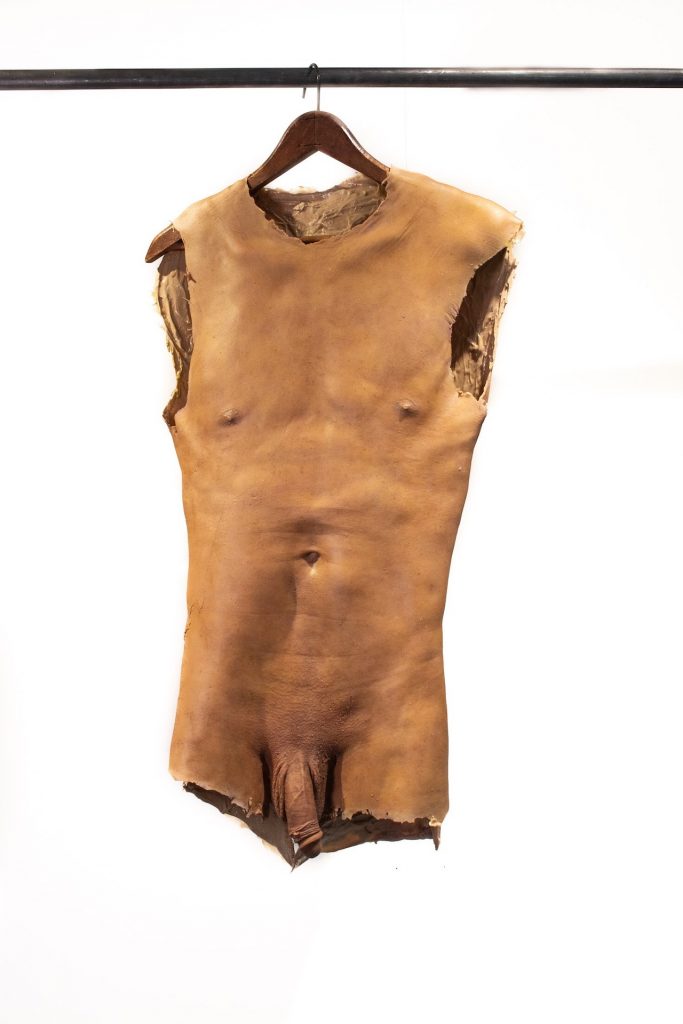 Anna Buyvid

No Backup for 601 Days 
The main subject for the show and discussions is uncovering the notion of fear and enclosed spaces. It expands from the apparent global situation to more profound social and political aspects of limitations, propaganda and manipulation. 
As a Ukrainian-born curator, I have a distinct understanding of the "War in Europe" context. And at the same time, I feel that the response to the situation is much broader than those personally affected by the crisis. How do we experience catastrophe away from catastrophe?
Artists try to touch several questions in a comprehensive environment, thinking together and reviling our fears. What is the way to change research's scope to bring it to the different perceptions in terms of rapidly changing reality, especially now? What collectively are we doing? Or not doing? How can we redefine borders when we find ourselves in an enclosed space? Can we term them "transitional spaces for individuals"? And how artists' responses will change the perception of admitting their limitations.
Artist Bio:
Anna Buyvid is a Ukrainian-born curator and researcher based in Amsterdam.
Her curatorial practice is set on the format of self-organizing and alternative exhibition solutions, and research is in sync with curatorial work on the notion of borders. Anna's goal is to address what can be done through interventions to understand the functional impact and role of boundaries in today's world, where there are no "natural" borders – all are social constructions delimited by governments and institutions. 
"I consider curating as a discursive practice, inalienable from ideological and socio-political aspects. At the same time, research becomes a media, a category or a form, so new formats of its representation are a vital part of development."
---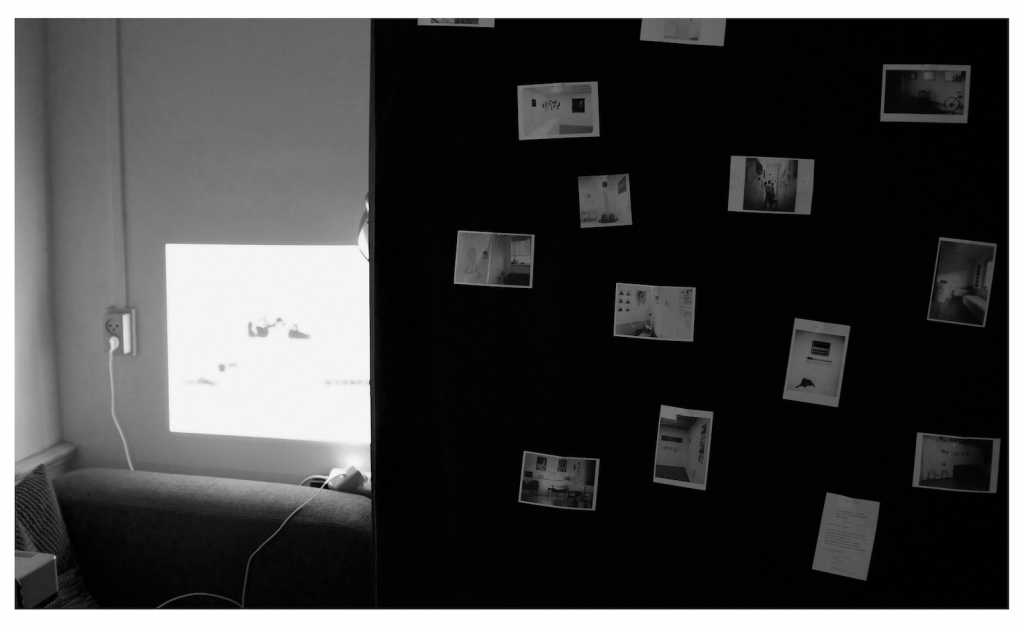 Juliette Hengst

'De mythe van de Spierbal' + workshop 'How to Steekar'
The catchphrase goes 'Think Smart Not Hard'. It makes me wonder how vital the supposed inherent difference in strength between sexes is when it comes to completing tasks that seem to require it. A person with no car and no 'male testosterone muscle Strength' of their own has to find ways to make do, and my artistic practice as a sculptor certainly does, for the collection and use of heavy found materials. My city gives me mattresses, couches, fridges and solid wooden doors, which with the right knowledge can all be transported alone.
As an AFAB person I know how it is to be expected to have no physical strength and have that shape your real capabilities, but now as a more-masculine presenting person, people are quick to assume that there is something different about me that gives me more strength than a cis-woman. 
The difference in physical strength between genders and its consequences seems concrete, decided and unavoidable, but if you look closely it has very little to do with bare muscle power. The mysterious reality and perseverance of this idea is what I am playing with in 'De mythe van de Spierbal', and the 'How to Steekar' workshop.
Artist Bio: 
Juliette Hengst (they/she) is a visual artist born in Oldenzaal and raised in the Middle east, recently graduated from KABK. The body and electricity, both ubiquitous and intimate, are currently the main subjects of her artistic practice. Through these matters they explore the conventions of danger, when danger is or isn't tangible, and why people do exactly what is dangerous. Cutting up, playing with and rearranging the rules of safety codes, conceptions of rationality or reason, ancient or present storytelling, and scenes from her neighborhood in The Hague together with a philosophy of foraging for material birth Hengst's work.
---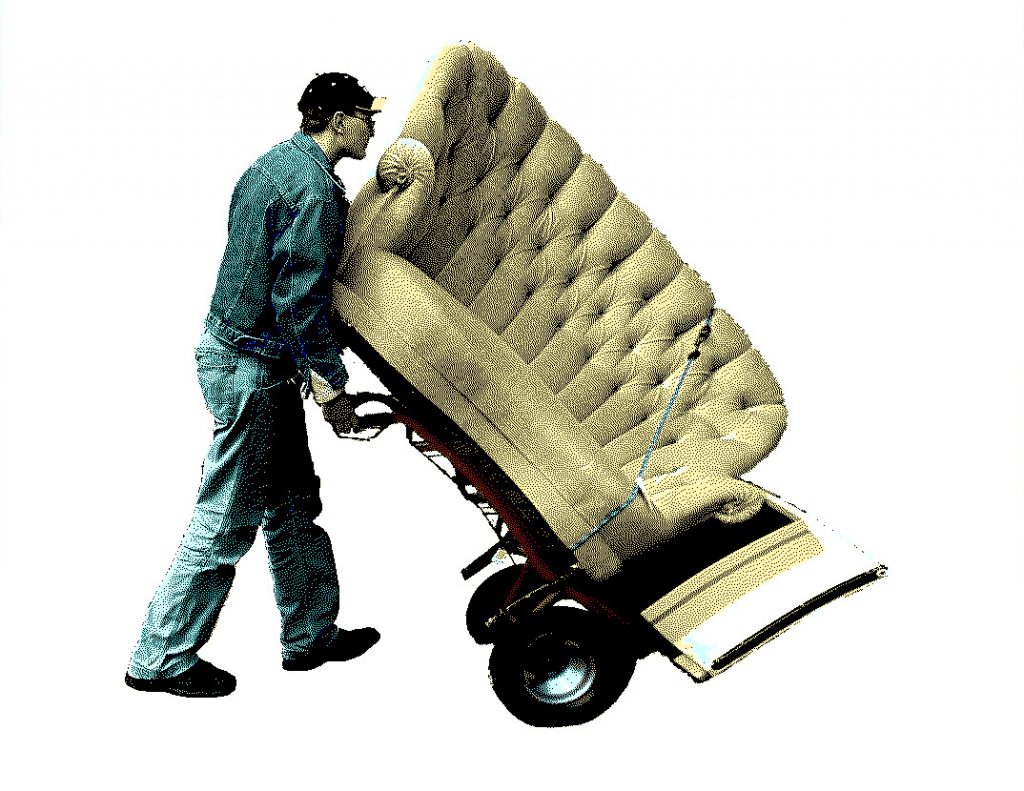 PUBLIC PROGRAMME
Friday 20 Oct:
Baba Boys X GarageNoise
Radioshow/
pop up shop (12:00-19:00)
Together Karmel Sabri ,founder of streetwear brand Baba Boys, and Yara Said ,founder of the radio show GarageNoise, collaborate to curate an event which will amplify nuanced and overlapping themes of making noise, using humour to address political situations, and appropriating masculinity. The space will showcase collages by Yara Said and evocative 35mm photography by Karmel Sabri which both delve into the intricate politics of The Levant and masculinity, harmonizing seamlessly with the Baba Boys ethos. Baba Boys will curate a pop up shop in the space where people can browse and buy pieces from the collection. At the heart of the event lies a day-long radio show intervention during ADE, hosted by the charismatic Noise Diva, Yara Said, and streamed through Radio Al Hara. Collaborating with Yara's radio show GarageNoise, we'll amplify the voices of exceptional DJs from the Middle East, fostering cross-cultural connections and global engagement beyond Amsterdam. Think taxi music meets noise. Join us in cultivating our vibrant community through immersive experiences that spark dialogue, cultural exchange, and artistic appreciation.
Artist Bio:
Yara Said (1991) graduated in Fine Arts at the University of Damascus and holds a Master's from Sandberg Institute. Next to artist, sound designer and DJ, she's is creative director at Salwa. This organisation designs programmes for upcoming artists with a migration background.
Karmel Sabri (1995) received a bachelors of fine arts from The School of the Art Institute of Chicago  and holds a Master's of art and design from Sandberg Institute. Karmel's interdisciplinary practice is rooted in the theme of celebration as a method of resistance. She is an event producer, DJ, and the founder of streetwear brand Baba Boys. 

---
Alvaro Ugarte
Curing the Institution
1hr participatory performance (17:00)
The project "Curing the Institution", taps into the notion of curing art institutions and their social and power structures in order to reimagine institutional hierarchical systems and their representation. By connecting both staff members and visitors at W139 into a series of "toques toques" – a common practice in Mexico, where collective electroshocks are offered in bars and restaurants as entertainment – the project aims to transform the psychic, mental and emotional state of the participants through a horizontal, collective exercise. The burst of electricity running through the bodies generates shared emotions and physical reactions, acting as a social glue between the participants. "Curing the institution" has been successfully implemented before at Hangar, Lisboa (2021), Jan van Eyck Academie, Maastricht (2022), LagoAlgo, CDMX (2023) and HIAP, Helsinki (2023).
Artist Bio:
Alvaro Ugarte (1984, MX) Is a visual artist interested in analyzing mental structures and social behaviors. His artistic practice often begins as social experiences by staging scenarios or situations to function as devices of engagement between members of a given community. Consequently, the material outcomes, which are often unpredictable due to the nature of the actions and its collective dimensions, may take the form of sculptures, installations, actions, sounds or any other documentary format.
---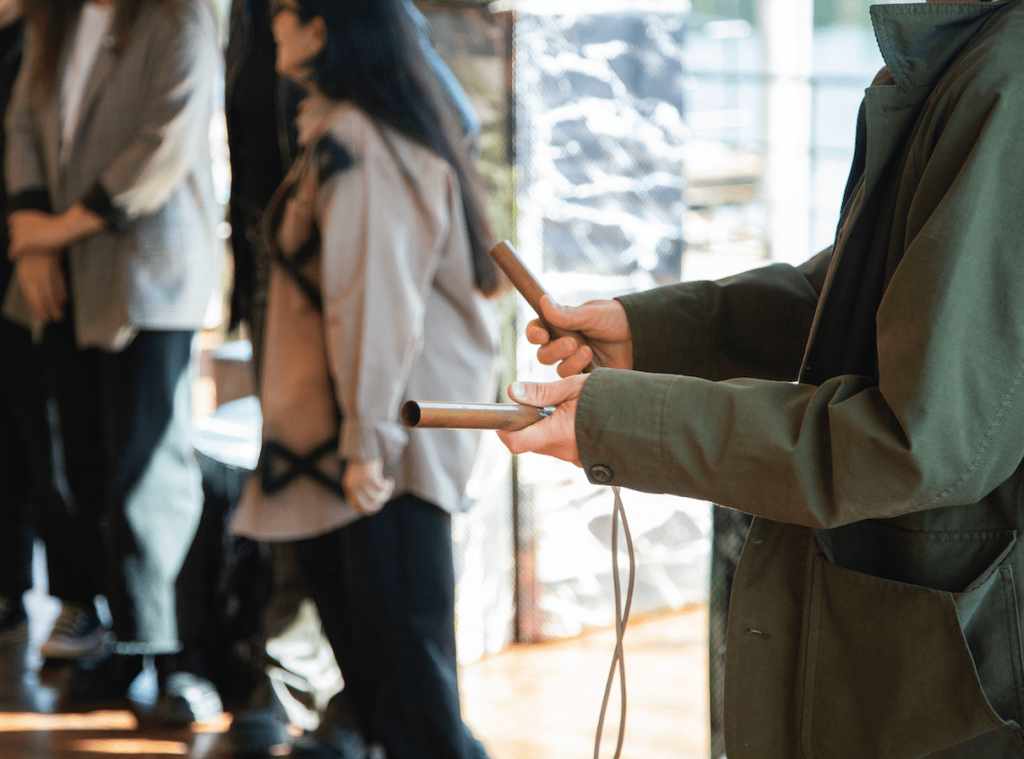 Saturday 21 Oct
Zhana Assaad
Critical Care Reading
Workshop (14:00-17:00)
Zhana's Tarot reading workshop uses as a method the idea of critical hope; the ability to assess one's environment from a perspective of justice and equity — values which are highly present in the tarot — as one simultaneously envisions the possibility for a better future. The tarot, as a series of symbols and archetypes, encompasses the entirety of human experience. Interpretation is key and while the tarot can be used for divination, in this workshop it will be used as a form of self care while utilizing themes of critical care in order to shape a more hopeful outlook on certain negative connotations that might arise. Accompanied by an installation on the complexities of the western and eastern origins of occult practices, the workshop focuses on learning in detail the Celtic Cross reading structure. Then, up to 3 cards from various positions will be chosen and analyzed in relation to each other. This unconventional way of reading the cards opens up possibilities for a more intuitive approach as well as curious incidents. In a time when we yearn for more communal and understanding spaces, let us join and find new ways to take care of ourselves and each other.
PS. Limited capacity. 
Artist Bio:
Zhana Assaad (1996, LB/UKR) is an interdisciplinary artist whose mediums include textile and sound installations. Currently based in the Netherlands, her practice uses Islamic mysticism, individual cultural traditions and values and occult practices to create a belief-system that supports her in darker times. Alongside internal psychology, her research takes into account the complexities of inner experience, growth and personal politics while allowing entry into a world or myths, visions and rituals. 



---