WEEK 2
Thomas Mohr
To Make up a Balance
To connect the past with the present moment. Thomas wants to meet you. He will be present in the large space of W139 to discuss his work in progress:To Make Up A Balance. In 2021, Mohr has started to process his archive of more than 600.000 pictures taken by himself since 1985. The motifs are various, touching on all kinds of subjects: from the most personal to events which are part of the collective memory, from trash to art, travelling from here to there. In 1988, Mohr has taken his first pictures at W139. Time to complete the circle.
So far 174,528 images are processed in a system of 144 units as a first step of compression. It will take quite some years to complete the task. Conditions coming with increasing age can slow down the process. And photographing hasn't stopped. It may be just utopian.
The visitor is invited for an individual presentation as a possibility for a conversation. Questions could be: What do we remember and why? How do we relate to crises? How do we relate to change? What is one's reality? Can we choose a point of view? What can be expected from an artist?
Artist Bio:
Moving, changing, transformation, experience. Exploring processes of perception and memory systematically in performance, painting, video, installations.From 1985 onwards a growing archive containing more than 600000 pictures regarding a wide range of events of transition from a collective meaning to very personal moments. Distributed by LIMA. Screenings at various festivals since 2009: IFFR/Rotterdam, JMAF/Tokio, Ars Electronica, Transmediale Berlin, IFF Japan, NeMaf/Seoul, IKFF/Hamburg, Jihlava IDFF, HAFF/Utrecht, Media Art Biennale Wro, Rencontres Paris/Berlin, EMAF, Atonal Berlin, Projects with music at Stedelijk Museum, Orgelpark Amsterdam, Edith Russ Haus Oldenburg, CCAM / Scène Nationale de Vandœuvre
---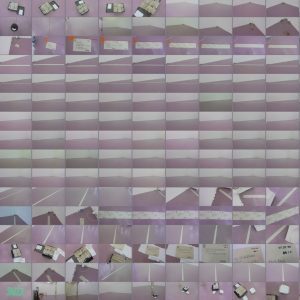 Nieuw Jurk & the Wee-Wee's
Abracadabra Garments
Nieuw Jurk processes the fashion trauma of being stuck in the system through making installative and sculptural work of worn clothes and discarded textiles, with a focus on building a sustainable art practice on a social-cultural, communal, and production level. In her most recent works, she exposes the fashion industry as one of the most oppressive systems of contemporary society — for workers, consumers, designers, ecosystems, and non-human animals.
Abracadabra Garments appeared to Jurk as a vision with W139 as the scenery, located in the sucking core of the hypnosis spiral: Amsterdam's commercial area. In this fashion-hypnosis Pop-Up, the (shopping) public can discover and immerse themselves in the latest trends that must be followed in order to become perfect and worthy. Get rid of your fashion guilt and dump your last-season apparel on the growing piles of discarded clothes, making the immensity tangible. 
Collaboration and exchange are essential for Nieuw Jurk's way of working. For Abracadabra Garments, Nieuw Jurk brought together a temporary collective of so-called weirdos. Featuring: soft sculptor Aga bringing the fashion victims to life; hypnosis tent builder Tudor; video performance icon Zen Archer; and film wizard Tibrian. 
In honour of Ruud van der Peijl – King of Style, wardrobe inheritance
Thanks to:
Sjoerd Vocking, 3D-printed lamps & props
Julia Walter, jewellery art
Emilio Valdes, music and performance text contribution
Artist Bio:
Nieuw Jurk is a transdisciplinary artist who throws her artistic, public, and private body into battle to analyze and emphasize injustice and hypocrisy in social and cultural behaviour and structures. In her work, she employs and unravels the implicit codes and language of clothes and textiles; shaping imaginary worlds based on real-life absurdism — magnifying human behaviour fueled by destructive systems. She crashes the hidden rules of outer appearance that shape and control our lives; the dictatorship of modern society that grips us in our fragile urge to belong. Not dodging any confrontation, Jurk shows us there's a way out.
---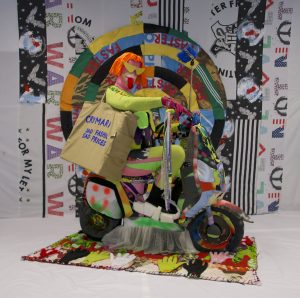 Margherita Soldati and Hanna Steenbergen Cockerton
BURNOUT* MANIFESTATIONS *   For the lack of a better word
Hanna and Margherita, connected on their joint experience of burnout. Both utilise their art practices as a transformative means for personal healing and expression but also as a means for sparking conversations with a broader audience.
'BURNOUT* MANIFESTATIONS' is their collaborative project that aims to give burnout a tangible and visible space. By recreating their studio setups in the gallery, they illustrate the ongoing, process-led nature of healing. Visitors are invited to join, chat, and engage with the artists as they work on their projects. Hanna's ink drawings, 'The Confessionals/Het Mag er Zijn' and Margherita's 'Alchemy of Resilience, part 2' demonstrate each artist's individual journey. No two burnouts look the same. Their shared vision is to break the stigma that surrounds burnout, fostering solidarity, understanding, and generating awareness within the creative community. Partnering with W139 in Amsterdam, provides a platform for open conversations about the actual effects of burnout on peoples' mental health and well-being. Our working sessions have designated times, recognizing the importance for a healthy work/life balance and generating space for downtime and rejuvenation. 'BURNOUT* MANIFESTATIONS' stands as an authentic representation of resilience and serves as a space for acknowledgment and awareness.
Artist Bio:
Hanna Steenbergen-Cockerton's (UK/NL, 1989) artistic methodology involves using painting not only as a tool for self-exploration but as an act of resilience, navigating between physical, psychological, and emotional ways of production and labour in order to create strength and sustainability in individuals, communities and spaces.
Margherita Soldati (IT/NL, 1991) is a multidisciplinary artist based in Amsterdam and co-founder of Absurd Beings Collective. With a profound sense of care and curiosity for the intersection of art and well-being, Margherita's work centers on the transformative potential of materials and their profound connection to the human senses.

---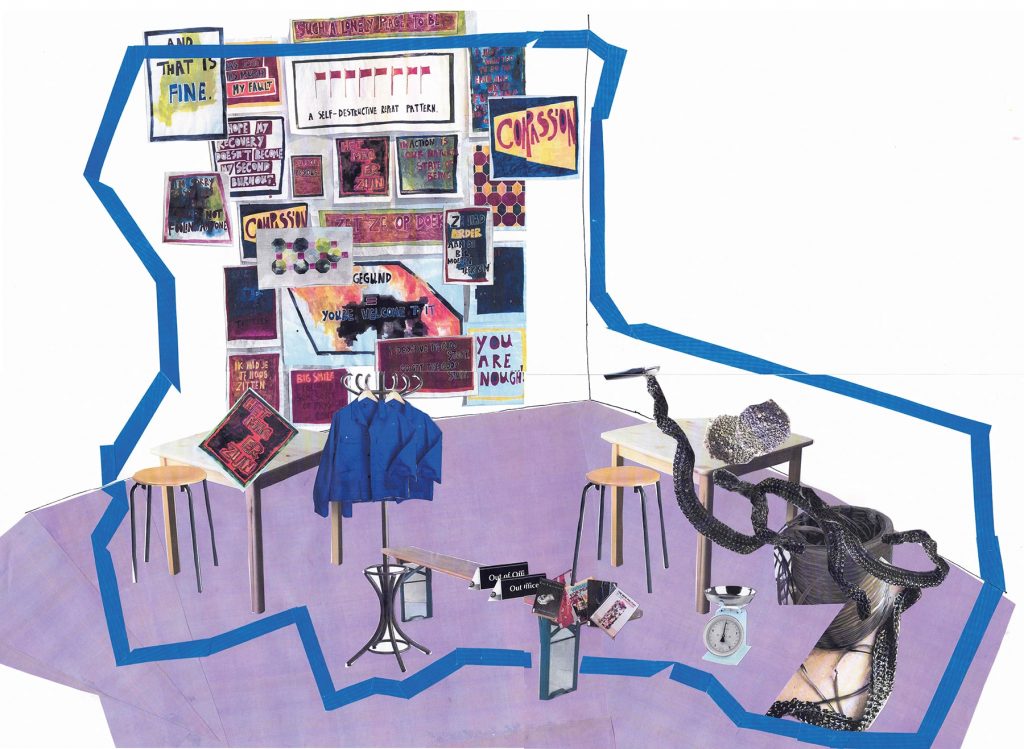 Rasha Dakkak
to walk along the wall – المشي جنب حائط
To walk along the wall is part of a lengthy process to extract my voice from the layers it gathered due to adapting to a fear-driven culture. As I come from a stateless household, uncertainty is a recurring motif, leading to self-imposed barriers against perceived authorities.
This culture had norms, including valuing education for status. The equation was simple: more education and English proficiency grant greater access. While this calculation holds some accuracy, my journey through the teachings of academic institutions has highlighted a significant limitation. Over the years, my engagement with these corpus-based structures has hindered my ability to express myself fully. It constrained my thought process by urging me to mimic the language of scholars, artists, etc., modifying depending on the context and living between languages an endless dubbed series of thoughts. 
The work's title is an ancient proverb circulating since the Fatimid ruler of Cairo built an extensive wall around the city to protect the ruling class, suggesting to stick to walls: to safety and security while avoiding interfering with the established power structures. 
A phrase I constantly heard from my parents.  
Artist Bio:
Rasha Dakkak is a Palestinian researcher and maker with publishing and curatorial initiatives alongside working in art and design education. Her research and artistic practice center on the interplay of language, imagery, and education as nuanced soft power tools, disclosing the subtle yet potent dynamics that underlie the creation of canons and narratives and influence the formation of knowledge and its accessibility.
She was formerly trained in visual communication and holds graduate degrees in fine art and design from Sandberg Instituut in Amsterdam and The FHNW Academy of Art and Design in Basel.
---
PUBLIC PROGRAMME
Friday 22 Sept:
Walk in: 17:00
Performance at 18:00
Ksenia Perek
White Cube / Manifesto, 2023
15 min Performance
White Cube / Manifesto, 2023 originates from Perek's critical understanding of the 'White Cube' paradigm, comprising its thematics, modes of expression, audience engagement, and the formation of artist's profiles. The performance presents the audience to a narrative journey to an Art heaven, where the artist explores intriguing questions surrounding trends, aesthetics, gallery life, competition and artistic ingenuity. Additionally, the 15-minutes performance elaborates in sculptural costume and free use of an electric guitar. "Imagine. Out of blue. Far in the ceiling; The Art heaven opens. Blue, pink and rainbow clouds… the techno music plays louder and louder (…) The beam-light transpasses a thin layer of press releases suspended above my head. I see a beautiful sculpture… a unicorn… on top of it – a mermaid, then a chihuahua and on top of that… a small non-binary snail with a permanent housing contract stuck in his shell. (…) I say: "HELLLO?" They say: "WHAT's your question"? …." – opening text, White Cube / Manifesto, 2023
Artist Bio:
(b.1993, Poland) is an Amsterdam-based performance artist.
Having graduated from the Fine Arts department (2018, Gerrit Rietveld Academie, Amsterdam, NL), she treats her art performances as an artwork, equal to a painting or a sculpture. She actualises forms such as an interview, letter and a manifesto. Perek elaborates in installation, sculptural costume and free use of an electric guitar. 
In her work she searches for a spectrum of possible positions of fine art and performance art towards collective (political and artistic) memory.
Since 2019 Perek has been represented by ADA gallery in Rome. 
---