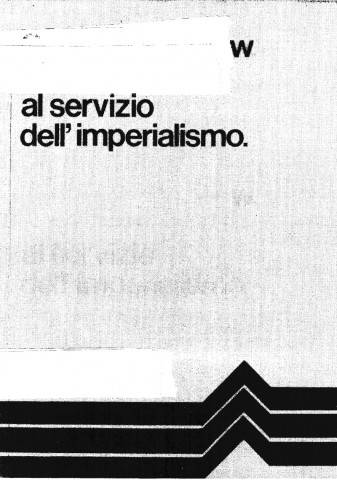 w serves imperialism
December 15, 2017

-

January 21, 2018
w serves imperialism
15/12/2017 – 21/01/2018
Participating artist(s) André Avelãs, James Beckett, Cornelius Cardew, Nicolas Collins, DNK-Ensemble, Gijs Gieskes, Experimental Jetset, Joseph Kudirka, Brian McKenna, Jonathan Mikkelsen, Koen Nutters, Mike Ottink, Tristan Perich, Gert-Jan Prins, Natalia Domínguez Rangel, Paulo Raposo, Jasna Veličković, Bas van Koolwijk
Opening: Friday the 15th of December, 20:00 – 01:00
Showing a single "opening specific" audiovisual installation by Jonathan Mikkelsen, followed by the full exhibition the next day.
w serves imperialism focuses on audiovisual works occurring on a timeline, a physical album that alters with each experience due to a given artworks context in sequence. This experiment is a curatorial gesture toward creating a democratic space for a new reception, hoping to break with exhibition norms to result in a heightened focus and absorption of content. The format is inspired by The Museum of One Painting in Russia, which since 1983 shows only one work at a time. To be able to experience an art piece to the fullest, one needs both time and concentration. It is in this sense that the show attempts to provide optimal circumstances.
The title of the exhibition is a redaction of Stockhausen Serves Imperialism, a book written by the composer Cornelius Cardew. After a period of fierce experimentalism at the heart of the upper-echelons of European modern music in the 1950's and 60's, Cardew realized that he wanted to take the freedom he found in the inner workings of his music and apply them it to precarious social situations, to engage in the plight of real people. Denouncing his earlier work as bourgeois, and as being under the influence of Maoist / Marxist doctrine, he created a situation which left no space for anything but workers songs. Ironically, the political undertones of his earlier works are, in fact, the strongest examples of a utopian and emancipatory reasoning.
Cardew's work is woven throughout the fabric of the exhibition, appearing in performance, print, sound, score and text. His spirit inevitably challenges the status quo, clarifying an inherent political property of all art. It is in this sense, that this show pursues the inner-workings of a piece of art as very political indeed, even if the thematic content of the piece is not so by nature.
The current state of media consumption renders us subjects of a sinister attention economy, making multitasking and superficial scrolling norms. This is the manner in which we often move through exhibitions as well, supposedly browsing art with a mere 9 seconds dedicated per artwork. With w serves imperialism, we seek an antithesis, a conceptual approach of curating conscious and qualitative art experiences that provides the time and space to engage in-depth. A screen creates a sound. A score creates the potential for action – simplicity… space.
Within this logic resides a refusal to create a hierarchy or a master-narrative through which to read and experience. Instead each piece carries the same value and importance as the whole. An individual work can be seen as premonitory, existing inside a larger structure, which maintains relationships to its makers, composers, performers and the audience.
The W139 entrance will be transformed into an in-house printing and record cutting workshop, with content reflecting the transitory nature of the sequences being playing out in the main space. These recordings can be purchased alongside a small publication, which functions as index and appendage to the various artworks on display.
A series of events will expand on the substance of the exhibition, including performances of Cardew's pieces by the DNK-Ensemble, pianola concerts of so-called impossible music by composers such as Conlon Nancarrow and more to be confirmed.
Program
Friday the 22nd of December 2017, 20:00: black MIDI | Pianola pieces by Tom Johnson, Conlon Nancarrow and others | Sorting Algorithms.
This event will be an evening about music that is humanly "impossible" to play and that exploits the limits of technology. The evening will focus on compositions that take in consideration the graphical aspect as much as the sound result.
It will feature real time performances of black MIDI pieces – a musical genre showing MIDI compositions with millions of notes and intricate visuals that test the processing powers of computers. The pieces will be rendered in real time, adding the real possibility of a system freeze or crash. Can a computer make musical content that exceeds possibilities of human beings?
We will also explore the possibilities of a Pianola, also known as a mechanical piano, by including several pieces played on an actual Pianola in W139.
Next to that the evening will also include visualization and audibilization of Sorting Algorithms, which are algorithms that put elements of a list in a certain order, crucial to any computer operation. The transposition of this process into a visual and audio context creates purely mathematical proto-compositions.
Friday the 12th of January 2018, 20:00: CARDEW (A SCORE IS A SCREEN… …TOWARDS A BETTER WORLD).
Treatise by DNK Ensemble (Seamus Cater / Koen Nutters / Martijn Tellinga / Reinier van Houdt)
The great learning (Paragraph 7) by DNK Ensemble and 32 volunteers
A score is a screen… … towards a better world
Open scores and graphic notation as a parallel of a less hierarchical and authoritarian society.
Cardew was an English composer who tried to erase his own experimental work because of his Marxist background. He was convinced that it did not further the cause of the working man, or propose a better way to give shape to society.
These performances aim to illuminate the fact that experimental art can indeed connect with the world. Art could serve to create better circumstances for the working class. The open-ness of the structure and process of performing a piece of music spreads a sense of equality and collaboration. The practice of collaborative composition is used as a proposition for creating a better future together.
Treatise (DNK Ensemble)
The DNK Ensemble will perform a graphic score by Cornelius Cardew created to challenge interpreters to create their own world of meaning inside the open signs and shapes used by the composer.
The Great Learning (DNK Ensemble and 32 participants)
A work from Cardew's late experimental phase is composed to be played by The Scratch Orchestra. This piece is based on a text by Confucius and calls for as many (amateur) singers as possible to participate. It challenges each of them to find their way through the space and through the simple seeming text-score. See https://vimeo.com/58869858 for an example.
These projects are all collaborative and experimental works. They are created out of an open environment using non-specific instructions by the composer, to be interpreted by the performer.
Wednesday the 17th of December 2018, 20:00: TRANS/FORMATION AND TRANS/CENDENCE IN AUDIO-VISUAL FEEDBACK.
Jasna Veličković – Velicon
Gert-Jan Prins and Bas van Koolwijk – Synchronator HD
Bas van koolwijk – FDBCK/AV
Feedback and improvisation The concept of 'feedback' is integral to electrical engineering, but also to cybernetics, modern politics, marketing and so on. Traditions of electro-acoustic music which make use of feedback systems bring whole new levels of chance and complexity to the forefront and make improvisation an operational requirement.
Audiovisual transcendence as an extension of feedback-music, audio-visual feedback is an artistic medium which is based around the simultaneous transformation of sounds into images and images into sounds. Experiencing the self-sustaining feedback system describing itself through image and sound has something mysterious and mesmerizing. This transcendent experience shows the spiritual component to the use of music and technology throughout our history and traditions.
Program: Gert-Jan Prins & Bas van Koolwijk – synchronator HD
Launch of the HD version of the Synchronator, a box that turns sound signals into video output. Bring earplugs, if it's not loud enough to vibrate your skin then it's not being presented properly.
Bas van Koolwijk – FDBCK/AV
Solo live performance in which Van Koolwijk generates a feedback control circuit between the audio and the video signals, making audio and video become two facets of a self-sustaining data stream. External control is established by manipulation of parameters for the interpretation of image>sound and sound>image. The application with which this is done, makes no use of camera or movie input. All sound and image data are generated real-time within the feedback system using digital video basics.
Jasna Velickovic – Velicon
Jasna will perform a solo for a video-feedback expanded version of her Velicon instrument.
Sunday the 21nd of January 2018, 20:00: FINISSAGE: w serves imperialism.
Cardew Lecture / Performance on Cornelius Cardew by Koen Nutters & Joseph Kudirka.
AVELAS 32, Spatial work throughout the whole W139 for 32 players on Avelas-made noise machines.
w invites imperialism, all works on! A swan song of an exhibition / Recording of a 12" record.
Cardew is a performative lecture about the life and work of Marxist composer Cornelius Cardew. Kudirka and Nutters will interview friends and colleagues of the late composer. Aim is to investigate the ways in which experimental art and music today may revolve around an alternative community which does not necessarily serve the bourgeoisie.
This performance format is created by exactly the open spirit that this project is longing for in the rest of society. A collaborative open form that does not tell people what to think but instead creates the opportunity for new points of view to come into existence.
Avelas 32 (Avelas / Nutters with 32 participants)
The piece Avelas 32 is part of a series of collaborations between Koen Nutters and André Avelãs in which Nutters writes temporal and spatial arrangements for different numbers of noise machines made by André Avelãs.
This collaborative piece invites the participants not only in the process of creating the instruments but also in the decision making process of how the piece will sound and how the sounds will be structured in the performance. 32 people will make decisions based on their perception of what is needed at all times during the performance.
Earlier performances of this piece were a quartet, an octet and a version for 16 players. This leaves us to create, compose and perform the next version for 32 players, each with their own noise machine. To create this number of noise machines we will organise a workshop at W139 where Avelas can collaborate with participants of the show and other interested participants to build the necessary 16 extra noise machines. The ensemble of 32 performers will consist of both fellow artists and participants from the audience.
w invites imperialism, all works on!
As a final gesture, opposing all the rules and guidelines of the show, all the works will be turned on simultaneously for 10 minutes. A 12″ vinyl record will be made of the recording of this "swan song".
Photos by Chun-Han Chiang