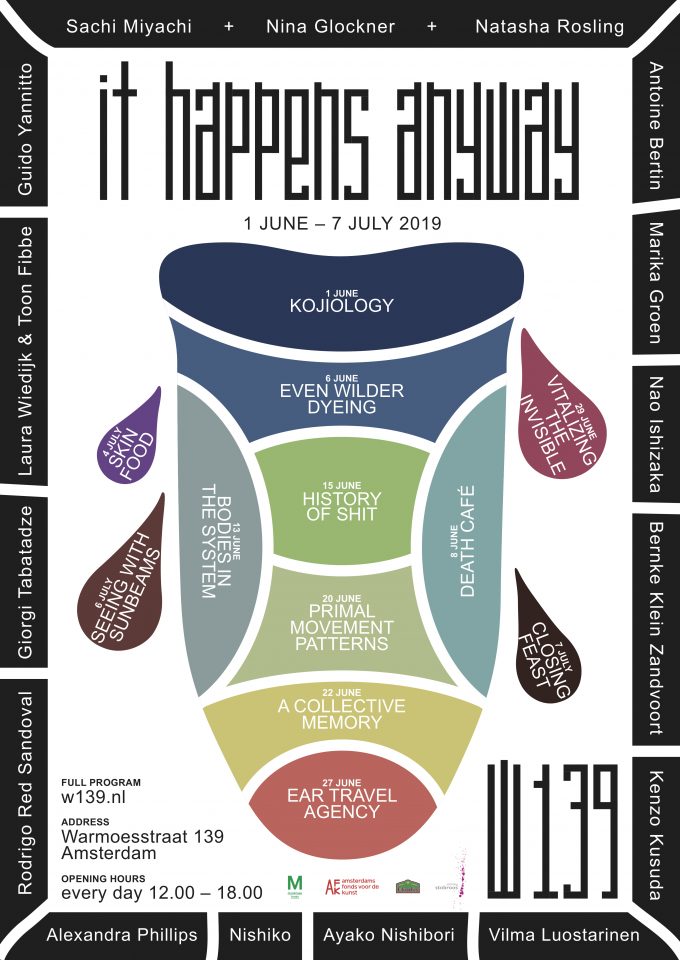 It Happens Anyway
June 1, 2019

-

July 7, 2019
It Happens Anyway
01/06/2019 – 07/07/2019
participating artists Antoine Bertin, Nina Glockner, Marika Groen, Nao Ishizaka, Kenzo Kusuda, Vilma Luostarinen, Sachi Miyachi, Ayako Nishibori, Nishiko, Alexandra Phillips, Natasha Rosling, Rodrigo Red Sandoval, Giorgi Tabatadze, Laura Wiedijk & Toon Fibbe, Guido Yannitto, Bernke Klein Zandvoort
A collaboration between Sachi Miyachi, Nina Glockner and Natasha Rosling, transforming W139 into a collective body, inhabited for 5 weeks by a further 14 artists, performers, cooks and writers.
The sprawling physical environment and interwoven events invite you to investigate the porous boundaries between the body and architecture; sensation and emotion; the skin and the imagination. Inspired by the alchemy of fermentation – taking ingredients, adding salt, adding what's in the air, adding time, and watching them transform – It Happens Anyway seeks to cultivate meaningful forms of connectivity, and explore what feeds our basic human need to create.
The public program takes place every Thursday and Saturday.
Public program
31/05/2019 20.00 – 01.00 Opening
01/06/2019 16.00 – 18.00 Kojiology
Hands-on talk with fermentation expert Marika Groen.
06/06/2019 15.00 – 19.00 Even Wilder Dyeing
Experimental natural dyeing workshop with artists Guido Yannitto and Lucila Kenny.*
08/06/2019 16.00 – 18.00 Death Café
Informal space to discuss death and (finite) life, including the launch of 'Body Cake'.
13/06/2019 16.00 – 19.00 Bodies in the System
Guided reading group on 'Bodies in the System' by Vanessa Agard-Jones, with artists Laura Wiedijk & Toon Fibbe.
15/06/2019 16.00 – 18.00 History of Shit
Thought experiments with Natasha Rosling exploring our relationship with bacteria, inspired by Dominique Laporte's 'History of Shit'.
20/06/2019 16.00 – 19.00 Primal Movement Patterns
Movement workshop with Laban movement analyst, dance therapist and co-founder of EMOVE Institute Marieke Delannoy.*
22/06/2019 16.00 – 18.00 A Collective Memory
Performative talk with Giorgi Tabatadze taking user-generated biographies to create a fictional persona.
27/06/2019 16.00 – 18.00 Ear Travel Agency
A slow listening experiment across and beyond bodily surfaces with artist Antoine Bertin.*
29/06/2019 14.00 – 17.00 Vitalizing the Invisible
Movement workshop with choreographer and dancer Kenzo Kusuda, enhancing the elasticity of the body and imagination.
04/07/2019 16.00 – 18.00 Skin Food
Tactile talk with artist and chef Nao Ishizaka and artist and food experience designer Vilma Luostarinen.
06/07/2019 16.00 – 18.00 Seeing with Sunbeams
Lecture performance by artist and writer Bernke Klein Zandvoort, followed by conversations on publishing as digestive activity with Nina Glockner.
07/07/2019 14.00 – 18.00 Closing Feast
Including contributions by Vilma Luostarinen, Alexandra Phillips, Kenzo Kusuda, Bruno Wilkinson and others.
All events are suitable for all levels of experience, those marked with * have limited places and are on a first come, first serve basis.