Taking place on March 8 at W139, A Reality Through Words and Images is a group screening programme of experimental documentaries, essay films, and poetry by Iranian artists. The screening programme directly or indirectly introduces ideas about permeability and entropy, political environment, the female body, displacement and ruination through excursions into family history. With video work by Mehraneh Atashi, Amirali Ghasemi, Mahoor Mirshakkak, VidAmir, and Gelare Khoshgozaran, whose works embrace the radical aesthetics of documentary and contemporary art. 
Below you will find a list of the featured artists' and their works:
Gulistan (Rose Garden) | 06:40 | by Mehraneh Atashi, 2011
Based on a poem written by Saadi, a 13th century Persian poet: "The night was spent at the garden with a friend; such a pleasant setting with tree branches meeting above, as if pieces of crystal and the cluster of pleiades were hanging from its vines. In the morning, when the thought of returning exceeded the desire to stay, I saw my friend ready to leave for the city with a lapful of flowers, basil, and hyacinth. I said: "As you know, flowers do not last and unfulfilled are the promises of the garden. Men of wisdom advise against attachment to that which is ephemeral." "So, what is to be done?" asked my friend. I replied: "For the pleasure of observers and the delight of those present, I shall compose the gulistan ('The flower garden') whose pages the autumnal wind cannot rend and whose vernal bliss the passage of time cannot turn to the woes of winter."
Mehraneh Atashi (b. Tehran, Iran) Atashi holds a BFA in Photography from Tehran University of Art, IR and completed the two-year residency at the Rijksakademie in Amsterdam, NL. Mehraneh's work unfolds between the time of the self and the time of the world. Through an excavation of memories, archiving and documentation of the self. Her works have been exhibited internationally.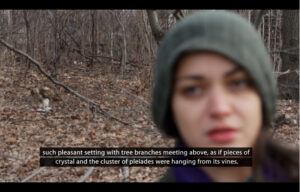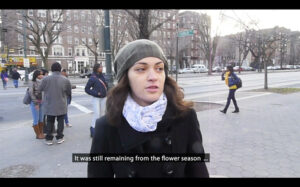 Sediment | 18:00 | by Vida Kashani and Amir Komelizadeh, 2019
'Sediment' is a short docu-fiction film. In this film, which takes place both in Iran and the Netherlands, there is a focus on girls and women in two cultures—Iranian and Dutch—which provides the viewer another way to look at diversities. There is a sense of sameness, rather than individuality, that emerges, despite their differing social and cultural environments. But at the same time, the viewer is aware of their very real social, economic and cultural divides. The film is a visualisation of gaps and struggles in the stories and the upbringing of women which causes social injustices in both cultures. 
Vida Kashani (b. Tehran, Iran) and Amir Komelizadeh (b. Tehran, Iran) have a collaborative artistic practice under the name 'VidAmir', that moves from Iran outward to places such as the Netherlands, where they have been living since 2011. VidAmir's practice encompasses the practices of art, filmmaking, installation, and is united conceptually by interests in poetry, storytelling, archive, and politics which provoke new imaginaries that are equally bound to aesthetics. VidAmir centre collaboration in their practice; they have thus far completed several projects in intensive collaborations with musicians, philosophers, and citizens. Their work has been screened/exhibited internationally.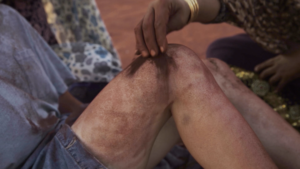 Beak of Lies | 06:05 | Amirali Ghasemi  and Mahoor Mirshakkak, 2020
'Beak of Lies' is based on a poem of the same name by Amirali Ghasemi. It has been a while that he has been collecting his empty asthma inhalers, which are used in the film to visualise the poem. Mahoor Mirshakkak recorded the audio and video of the piece as Amirali Ghasemie re-performed the part. 'Burning Things' is an archival installation/expanded cinema project. It was developed and executed in the quarantine period as a self-assigned residency program at New Media Projects. 
The gloomy and bizarre words emulate events surrounding us in 2020 besides the political climate that made it even worse. The calm atmosphere of the analog lab creates an immediate unbalance when the mechanical aspect of making Photograms (without paper) creates a passing moment: the words will only last a few seconds. Though it is enough for the performer to read them, the words will inevitably disappear into the void. 
Amirali Ghasemi (b. Tehran, Iran) is a curator, media artist and a graphic designer based between Tehran & Berlin. Ghasemi has shown his photographs, videos, design works in various festivals and exhibitions internationally. As a curator he has been directing many exhibitions, workshops, and talks for Parkingallery projects, such as *Deep Depression (2004-06), Sideways (2008).
Mahoor Mirshakkak (b. Tehran, Iran) is a multimedia artist, filmmaker and sound designer who lives and works in Tehran. She holds a bachelor's degree in painting from the Faculty of Fine Arts in Tehran University.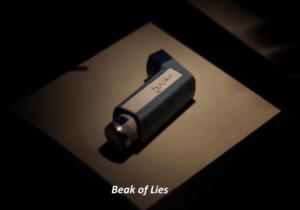 Royal Debris | 35:00 | by Gelare Khoshgozaran (b. Tehran, Iran), 2022
Located at 3005 Massachusetts Ave N.W. Washington D.C., the former embassy of Iran in the US has been shuttered for four decades. The vacant and abandoned building embodies a contradiction: it is a ruin due to its deteriorating condition caused, in large part, by the ongoing US sanctions on Iran, and it is privileged with an exceptional protection thanks to its 'foreign mission' status. Taking the building's symbolic and material status as its departure point, Royal Debris is a rumination on borders, displacement and ruination through excursions into family history, architecture, poetry and contemporary arts.
Gelare Khoshgozaran (b. Tehran, Iran) is an artist, filmmaker and writer whose work engages with the legacies of imperial violence. She uses film and video to explore narratives of belonging outside of the geographies and temporalities that have both unsettled our sense of home, and make our places of affinity uninhabitable. Gelare has exhibited internationally and is an editor at MARCH: a journal of art and strategy.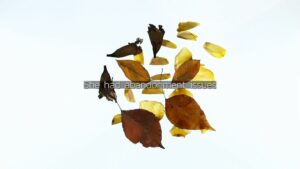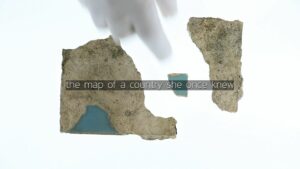 Wednesday 8 March from 20:00 to 22:00
The programme is curated by Vida Kashani, an Iranian independent filmmaker, writer, multimedia visual artist, and producer based between Amsterdam and Groningen. She holds a master's degree in Arts and Design, moving image direction, from the Sandberg Institute. She is often inspired by her socio-political encounters, hence is interested in telling untold stories, focusing on issues such as gender, being a woman, and inhabitants of neo-liberal cities. She tells these stories through a poetic approach which stems from her Persian background. 
Thinking in the aftermath of Jina's (woman, life, freedom) uprising, Vida Kashani has curated an evening of screenings by Iranian artists in the hope of offering some insight into the situation in Iran through films and video art. The current Iranian protest is a reaction towards the death of Jina Mahsa Amini, a young woman of Kurdish descent who died after being arrested by morality police for improper hijab. There have been demonstrations in more than 160 cities, making it the largest wave of protests in years. This evening seeks to create solidarity with the struggles of incredibly courageous Iranian people fighting for equality, freedom and human rights. 
During the evening you can donate money, which will go to non-governmental organisations based in Iran that allocate their funds to women's rights activists organisations such as Mehrafarin organisation and Nedaye Mandegar. 
If you would like to attend this event please reserve a (free) ticket via Eventbrite, this is so we know how many people to expect.