Publieksprogramma Tournament of the Unknown
18 november, 19:00-22:00
Opening Turning Towards Fluidity: Tournament of the Unknown
Tijdens de opening  gaan de deuren open om 19:00 en beginnen we om 19:30 met een inleiding door kunstenaar en initiatiefnemer Gabriel Fontana, curator Margarita Osipian en onze MC voor de avond, Joana Cavaco. Vervolgens beginnen we het tournament met een uniek optreden van Queer Choir Amsterdam, waarna Kexin Hao zal volgen met een enerverende opwarming die ons zal klaarstomen voor de spelen die speciaal door Gabriel zijn ontworpen. snufkin zal de avond muzikaal begeleiden.
Om 20:30 beginnen we met het toernooi. Je kunt meedoen als speler of je kunt het toernooi bekijken vanaf de tribune en de speler aanmoedigen. We zullen Multiform, Fluid Field en Sonic Crosse spelen. In Multiform zijn aanpasbare uniformen het hart van het spel, en verstoren deze de traditionele aspecten van stabiele teams. In Fluid Field krimpt en groeit het sportveld in een veelvoud van vormen door middel van laser mapping technieken. In Sonic Crosse, een herziene versie van de traditionele sport Lacrosse, produceren speciaal ontworpen rackets met sensoren een generatieve soundscape dat luisteren centraal stelt in het spel.
29 november, 19:00-22:00
The Platform Presents Iran vs USA
Een gesprek met onderzoeker Nathanja van den Heuvel en Gabriel Fontana. Tijdens dit gesprek zullen zij hun bevindingen uit het Multiform project en hun gezamenlijke onderzoek naar sport en queer pedagogies toelichten. Dit wordt gevolgd door een live screening van de WK voetbalwedstrijd Iran vs USA. The Platform zal de wedstrijd bemiddelen, en zelfs ontregelen, door het aanbrengen van audiovisuele lagen. Twee DJ's doen een DJ Versus waarin ze strijden tegen elkaar en back to back spelen. Moody Mehran is een Iraanse DJ en Claire Clover komt uit de VS. Tijdens de DJ versus experience zal er een live augmented visual overlay aangebracht worden over de WK-wedstrijd.
The Platform wil, zoals hun naam al aangeeft, een platform geven aan dingen die er toe doen. Ze kozen voor een screening van de WK wedstrijd Iran vs USA als reactie op en ondersteuning van de revolutie in Iran. Dit evenement is non-profit, en van elk ticket gaat 2 euro naar de Iraanse organisatie Jina Collective. — Koop je ticket hier.
8 december, 20:00-22:00
Power Plays
Tijdens dit avondvullende filmprogramma vertonen we drie werken die zich bezighouden met de geopolitieke, technologische en ruimtelijke voorwaarden van sportculturen – waarbij we de Power Plays in en buiten het stadion met elkaar in gesprek brengen. Thisplace van Pia Lindman onderzoekt hoe de omgeving van het stadion zich verhoudt tot de sociale interactie die het zou moeten huizen. In The Ball, The Field, The Arena neemt Florian van Zandwijk het voetbalspel—de grootste geglobaliseerde manifestatie van georganiseerd spel—als metafoor voor de onlosmakelijke relatie die de mens heeft met cultuur, spel en onze technologische ontwikkelingen. En More out of Curiosity van Ronnie Close richt zich op de fanatieke voetbalsupporters van Egypte, de Ultras, in hun rol als een van de hoofdrolspelers in politieke debatten. — Koop je ticket hier.
More out of Curiosity — Ronnie Close
26:07 minutes, single-screen,16:9, HD Digital Video, 2014.
One of the key players in the new emergent political debate are Egypt's fanatical football supporters, the Ultras. Although affiliated to different teams in the domestic league they often joined forces in street protests to remove Hosni Mubarak in January 2011. The controversy over the 2012 Port Said incident when 72 Al-Ahly fans were killed in an orchestrated attack forced the Ultras back onto the streets. They mounted a successful political protest campaign against the state forces that culminated a year later in legal conviction and a sense of retribution.
More Out of Curiosity is a film work drawing on documentary narratives to frame the capacity of resistance in current social movements. This film is constructed from video footage drawn from a number of sources, including the Al-Ahly Ultras themselves who shared their video archive material. The assemblage of images of street protests, football games, riots and banner making helps stitch together a narrative to expose their unique local subculture in an overlapping meta-documentary format. The film work is bookended by the Port Said incident and the court verdict a year later. This structure is divided into seven scenes which define and categorize the video imagery. No voiceover resists the direct deciphering of the video material and the film operates on an instinctive, visceral level driven by a charged soundtrack.
Game-Time — Pia Lindman
This particular section of the series is the shot of the US Open. "Thisplace" is part of the NYMoMA collection, courtesy of the artist and New York MoMA, 2002
Many of Lindman's video works focus on how the built environment relates to the social interaction it is designed to contain. She is using a video camera to record changes of light and movements in space and time. The video is filmed from a fixed camera position and the video footage is then made transparent and cut into one-minute segments. These segments are then layered on top of each other. During one minute the viewer sees the entire 60-minute video in real time, however simultaneously as multiple layers.
Among others, she has shot baseball stadiums and other sports arenas in New York, contrasting the monumental structure of the stadiums to the fluctuating density of the audience.
The Ball, The Field, The Arena — Florian van Zandwijk
18:41 minutes, single screen, 2019.
In his book Homo Ludens (1938) Dutch cultural theorist Johan Huizinga suggests that play is both a primary and a necessary condition for generating culture. The game of football—the biggest globalised manifestation of organised play—is taken in The Ball, The Field, The Arena as a metaphor for the inseparable relationship humans have with culture, play, and our own technological developments. By zooming out from the ball to the field into the arena, the work shows that human culture is not only shaped via play but that our play is equally shaped by the technology we create—the two engaging in a mutual relationship with one another.
9 december 15:30-18:00
Spectacle of Sports
Kom langs bij W139 om de kwartfinales van het WK te kijken met bemiddeling door kunstenaar en onderzoeker Florian van Zandwijk. Een voetbalstadion is tegelijkertijd een microkosmos en een uitvergroting van de maatschappij waar het middenin staat. Omringd door een TV-studio set-up zal Florian een voor- en nacompetitie analyse doen waarin hij het gebruik van technologie in en rond voetbal koppelt aan een bredere politieke, maatschappelijke en culturele context. Deze performance-lecture is de eerste manifestatie van zijn nieuwste onderzoek naar dataverzameling, surveillance, media-aandacht en de effecten van technologie binnen de voetbalsport. — Koop je ticket hier.
18 december, 14:00-18:00
Slotmanifestatie van Turning Towards Fluidity: Tournament of the Unknown
Tijdens dit evenement worden drie spelen gespeeld: Sonic Crosse, Multiform en Anonymous Allyship. In Anonymous Allyship creëert anonimiteit een situatie waarin spelers niet weten wie bij hun team hoort als een onderzoek naar het gevoel van saamhorigheid en de manieren waarop mensen in een groep presteren. Joana Cavaco zal onze MC zijn, er zal muzikale begeleiding zijn van snufkin, een opwarm-performance van Kexin Hao en Queer Choir Amsterdam zal een maand van toernooien afsluiten met een uniek optreden.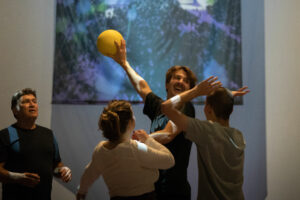 SUPPORT US
practical information
19 November until 18 December 2022
Tuesday to Sunday 12:00-18:00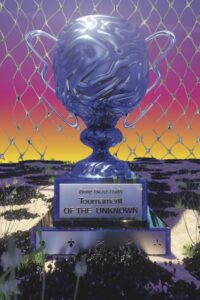 Queer Choir Amsterdam is an artistic initiative that premises the creation of a brave space to celebrate our unique identities and voices. Through their rehearsals and performances they express their ideas for the futures we desire and the narratives they want to share. The queer community often gathers and functions in spaces of celebration and night life all of which were greatly affected during the pandemic, this gave them an incentive to create our their safe space beyond these confines, one that is run by and for queer people. Queer Choir Amsterdam was founded by artists Shreya de Souza, Mylou Oord and Sarah Naqvi and is conducted by Vera Morais. Queer Choir Amsterdam is currently carried on by Shreya, Mylou and Vera.
Kexin Hao is a visual artist and designer born in Beijing and based in The Netherlands. Her practice is a marriage of graphic design and performance art. Having initiated and being involved in various creative projects across China and Europe, Kexin challenges not only geometrical borders but also disciplines of design, film, performance, and music, as well as physical boundaries between art and non-art space. Using a daring visual language, the work is a constant swing between intimate close-up on personal stories and zoom-out to collective narratives; between a past of political heaviness and a flashy modernity rendered in humour and sarcasm. In her recent works, Kexin investigates in the themes of body, rituals, health, archive, and collective memory.
Nathanja van den Heuvel works at VU University Amsterdam as PhD advisor of the Faculty of Humanities. Her research interests include, but are not limited by, feminist theory, aesthetics, the philosophy of play and eco-philosophy. She is founder of OPA (Open Performance Academy) and worked together with the social designer Gabriel Fontana on the development of Multiform, an educational toolkit that aims to counteract taken for granted forms of exclusion in the context of PE classes.
The Platform is an eclectic event organization that hosts a variety of events in Amsterdam on the intersection between art, music & fashion.. Combining different contemporary youth-cultures and focussing on giving a 'Platform' to young – independent – creatives, enabling them to show their work for a diverse audience in a safe and expressive environment. The Platform continues their path, opening-up the creative industry together with the help of new and exciting collaborators.
Moody Mehran is an Iranian DJ who is difficult to label. Mostly because he walks a quite individual path when it comes to his musical inspiration. This inspiration isn't driven by a single style or musical genre. Although his roots as a DJ derive from the love for Chicago House, his focus nowadays ranges most of the (electronic) music spectrum. All the variables in his taste do have one major thing in common: finding and sharing real, authentic and exceptional records that have, or will, stand the test of time. Over the years he developed an eye to find those outstanding records.
Claire Clover is a DJ hailing from Nebraska, based in Amsterdam. She has a unique music style influenced by her years spent living in the US, UK, and the Netherlands. Never limiting herself to just one genre, you can expect a blend of techno, acid, breaks, house, ghettotech, electro, trance, and more. Claire aims for versatility to respond with beats that reflect the mood, setting the vibe with anything from soulful grooves to fast-paced dance floor weapons."
Florian van Zandwijk is an artist from The Netherlands. Our human and technological sensorial perceptions are inseparably connected and constantly shaping each other in today's digital age; this fact usually serves as the basis for Van Zandwijk's projects. With a simple intervention or through written or visual essays, Van Zandwijk researches topics from his own perception and hypothesis about present human and non-human Ways of Seeing. In this way van Zandwijk tries to provide insight into and make a statement about contemporary themes involving the biases and limited capacities of human and technological perception. Such themes are; social media, mass-surveillance and computer vision.
Upcoming
28 January to 19 March
DEAD SKIN CASH – SALIM BAYRI AND GHITA SKALI