Dinsdag 7 maart van 18.00-19.00
Zes kunstenaars worden uitgenodigd om te reageren op de vraag "Who can afford to not sell their own skin?" door een playlist van audiovisueel materiaal samen te stellen voor dit wekelijkse programma van screenings.
Henna Hyvärinen (geboren in Iisalmi, Finland) is een kunstenaar, momenteel wonend in Amsterdam.Hyvärinen gebruikt video, performance en tekst om autofictionele verhalen te creëren. Ze gebruikt humor en haar interesse in het absurde om dichter bij thema's te komen die anders misschien ongemakkelijk of griezelig aanvoelen. Hyvärinen maakte deel uit van collectieven en artist-run initiatieven zoals het muziekperformance duo echo+seashell, en artist-run ruimte en collectief Sorbus (2013-2020) in Helsinki. Ze studeerde in 2014 af met een MFA aan de University of the Arts in Helsinki en was in 2017-2019 reisdent aan het residentieprogramma De Ateliers in Amsterdam, waar ze samen met medebewoners Root Canal oprichtte, een nomadisch kunstenaarsinitiatief.
Instagram: @hyvarinen.henna52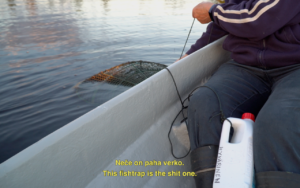 Video still uit Pussycat Soup (2022).
Foto's zijn door de kunstenaars ter beschikking gesteld.
Trigger warning: Screening omvat thema's omtrent de dood — Screening is niet geschikt voor jong publiek/kinderen.