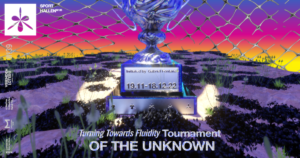 Van 19 november tot 18 december 2022 vindt Gabriel Fontana's Turning Towards Fluidity: A Tournament of the Unknown plaats in W139. Gedurende deze periode, die samenvalt met het WK Voetbal 2022, daagt A Tournament of the Unknown het binaire denken en de gevestigde sociale normen uit door middel van queer sportevenementen, workshops en performances.
A Tournament of the Unknown zal ons uitdagen om de manier waarop wij denken, ons gedragen en hoe we ons tot elkaar verhouden te herzien, en zo te komen tot hernieuwde opvattingen over het samenzijn in de maatschappij.
Zowel tijdens de opening als de finissage is er gelegenheid om actief deel te nemen aan het toernooi. Daarnaast zullen verschillende groepen, variërend van scholen, organisaties uit de buurt tot culturele instellingen, worden uitgenodigd om deel te nemen aan de spelen die in W139 gaan plaatsvinden. Naast het toernooi zal in W139 sporthal een tentoonstelling en een publieksprogramma plaatsvinden, zodat de ruimte ook tussen de wedstrijden door wordt geactiveerd. We tonen een selectie kunstwerken en organiseren een publieksprogramma met lezingen, een filmavond en gemodereerde WK-kijksessies.
De tentoongestelde kunstwerken, waaronder installaties, textiel en videowerken, zullen ingrijpen in de sporthal en nieuwe ingangen bieden voor sport als microkosmos van de samenleving. Daarnaast hebben we een selectie kleding en accessoires samengesteld van onafhankelijke ontwerpers en kunstenaars die zich bezighouden met het snijvlak van sport en mode. Merchandise, speciaal ontworpen voor de tentoonstelling, zal ook verkrijgbaar zijn in de W139 shop.
Deelnemende kunstenaars zijn o.a. Joana Cavaco, Ronnie Close, Delphine Dénéréaz, Martynas Gailiušas, Nathanja van den Heuvel, Kexin Hao, Davy de Lepper, John Lucas, The Platform, Claudia Rankine, snufkin, Julius Thissen, Paul Whitty, Florian van Zandwijk, Versatile Forever, Sample.CM en Queer Choir Amsterdam.
Visuele identiteit door Sheona Turnbull and TAL.
Supported door VriendenLoterij Fonds, Creative Industries Fund NL, Mondriaan Fonds, City of Amsterdam en Concrete.
STEUN ONS
praktische info
19 november tot 18 december 2022
dinsdag t/m zondag 12:00-18:00

(vrijdag 2 december zijn we gesloten)
Publieksprogramma
18 november, 19:00-22:00
Opening Turning Towards Fluidity: Tournament of the Unknown
Drie spelen, speciaal ontworpen door Gabriel Fontana, zullen gespeeld worden tijdens de opening terwijl Joana Cavaco ons als MC door de avond begeleiden. Ook zal snufkin de avond van muziek voorzien en zijn er unieke performances van Kexin Hao en Queer Choir Amsterdam.
29 november, 19:00-22:00
The Platform Presents Iran vs USA 
Een gesprek met onderzoeker Nathanja van den Heuvel en Gabriel Fontana, gevolgd door een live screening van de WK voetbalwedstrijd Iran vs USA. The Platform zal de wedstrijd bemiddelen, en zelfs ontregelen, door het aanbrengen van audiovisuele lagen. Twee DJ's doen een DJ Versus waarin ze strijden tegen elkaar en back to back spelen. — Koop je ticket hier.
8 december, 20:00-21:30
Power Plays
Tijdens dit avondvullende filmprogramma vertonen we drie werken die zich bezighouden met de geopolitieke, technologische en ruimtelijke voorwaarden van sportculturen – waarbij we de Power Plays in en buiten het stadion met elkaar in gesprek brengen.— Koop je ticket hier.
9 december, 19:30-22:00
Spectacle of Sports
Kom langs bij W139 om de kwartfinales van het WK te kijken met bemiddeling door kunstenaar en onderzoeker Florian van Zandwijk. Omringd door een TV-studio set-up zal Florian een voor- en nacompetitie analyse doen waarin hij het gebruik van technologie in en rond voetbal koppelt aan een bredere politieke, maatschappelijke en culturele context. — Gratis entree.
18 december, 14:00-18:00
Slotmanifestatie van Turning Towards Fluidity: Tournament of the Unknown
Tijdens dit evenement worden drie spelen gespeeld. Joana Cavaco zal onze MC zijn, er zal muzikale begeleiding zijn van snufkin, een opwarm-performance van Kexin Hao en Queer Choir Amsterdam zal een maand van toernooien afsluiten met een uniek optreden.
Aankomend
28 januari t/m 19 maart
DEAD SKIN CASH – SALIM BAYRI AND GHITA SKALI