Dit evenement is voorbij.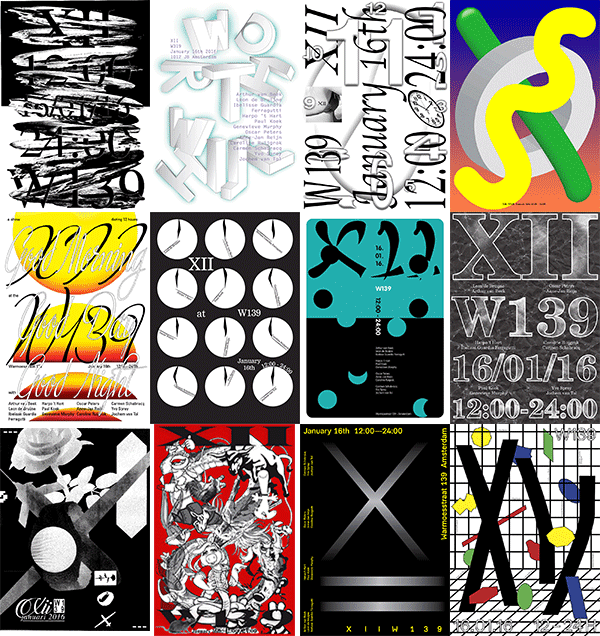 XII
16/01/2016
Deelnemende kunstenaar(s) Harpo 't Hart, Ibelisse Guardia Ferragutti, Paul Koek, Genevieve Murphy, Oscar Peters, Anne-Jan Reijn, Caroline Ruijgrok, Carmen Schabracq, Yvo Sprey, Leon de Bruijne, Arthur van Beek, Jochem van Tol
Op zaterdag 16 januari 2016 barst W139 geleidelijk aan volledig uit zijn voegen met XII. Van 12:00 tot 00:00 staat XII geen seconde stil. Twaalf werken die sluipend uitzetten of stilletjes ineenkrimpen, met moeite in balans blijven, juist beheerst tot leven komen, of sterven en zichzelf plotseling vernietigen. Al deze werken maken samen een tentoonstelling die geen moment hetzelfde is.
Wees er bij vanaf de geboorte en blijf tot aan het glorieuze slotstuk. Ervaar de ontwikkeling die de werken maken in dit tijdsverloop. Welke werken vallen van ellende of uitputting uit elkaar? En welke werken spreiden juist met trots hun veren zodra ze de finish passeren? Kom naar W139 en voel je welkom om twaalf uur te blijven en het zelf te aanschouwen.
In deze groepstentoonstelling staan time-based werken centraal. Twaalf uur vliegt zo voorbij en tegelijkertijd is het een eeuwigheid. Hoe verschillend deze kunstenaars de tijd beleven, zo verschillend is hun werk. Elke kunstenaar brengt deze beleving tot uitdrukking met kinetische werken, grafische werken, videowerken, performances of composities waarin ieders eigen strijd met de tijd in de werken geopenbaard wordt.
XII is een metamorfose, die als een zwerm vogels steeds van vorm verandert. Een plek waar de haastige voorbijganger door een onverwachte verbazing zijn stappen bedaard; en waar een vertraagde bejaarde in het moordende tempo van een reusachtige bandschuurmachine zijn gelijke vindt. Het is onophoudelijk hakkelen, mee rennen of observeren. Je bent erbij, je ervaart en beleeft het. Onherroepelijk verstrijken de twaalf uren. Zoals de tentoonstelling aan het begin was, zo is zij aan het einde niet.
XII is mogelijk gemaakt door AFK, Stichting Stokroos en Gerrit Rietveld academie.