Dit evenement is voorbij.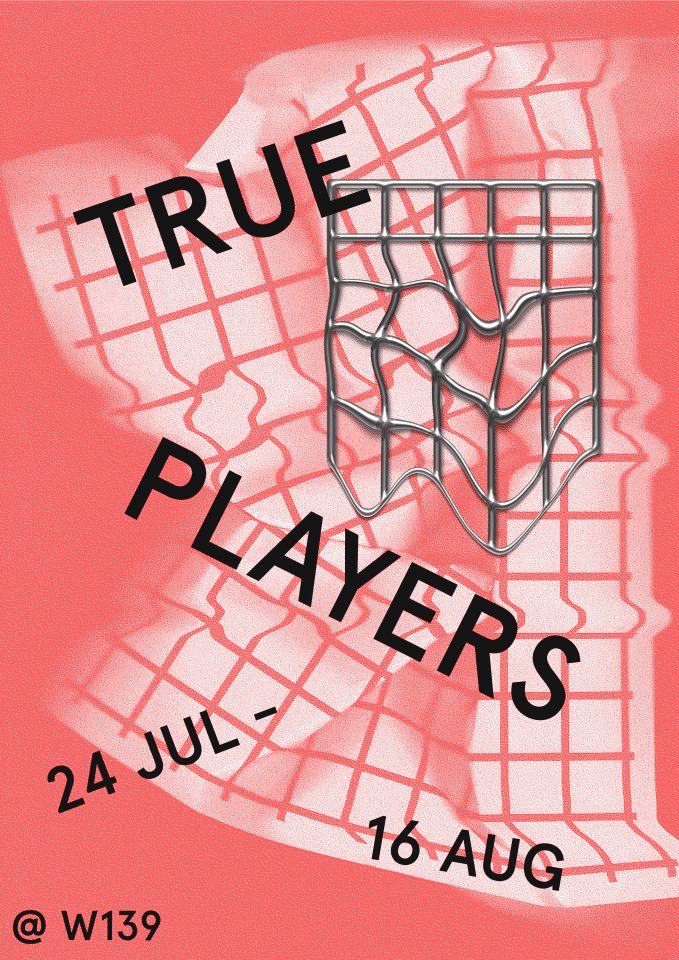 True Players
juli 24, 2015

-

augustus 16, 2015
True Players
24/07/2015 – 16/08/2015
Deelnemende kunstenaar(s) Darja Bajagić, Paulien Barbas, Simeon Barclay, Erica Baum, Borden Capalino, Stuart Middleton, Marlie Mul, Ruairiadh O'Connell, Joanna Piotrowska, Suzanne Posthumus, Clunie Reid, Will Sheridan Jr., Aam Solleveld
Er is een moord gepleegd in een oude villa. Maar wie is de dader, en wat was het moordwapen? Gebeurde het in de bibliotheek, de keuken of de danszaal? Dit is het mysterie dat de spelers van het bordspel Cluedo proberen op te lossen en tevens het vertrekpunt van de expositie True Players, die op 24 juli opent in W139. De tentoonstelling, gecureerd door Suzanne Posthumus (NL), neemt de drie variabelen van het spel – lichaam, voorwerp en omgeving – onder de loep en kijkt naar de onderlinge relaties tussen deze begrippen.
Een ruimtevullend raster, gemaakt door Aam Solleveld (NL), transformeert de galerie tot een speelbord of een optische illusie, die de ruimte en de getoonde objecten vervormd.
Binnen dit kader worden bezoekers uitgedaagd te zoeken naar clues, tekens en betekenissen. Zo zijn er in de werken van Marlie Mul (NL), Paulien Barbas (NL) en Borden Capalino (US) letterlijk afdrukken en sporen te vinden. Andere werken, zoals die van Clunie Reid (UK), Simeon Barclay (UK), Darja Bajagić (YU) en Erica Baum (US) proberen te achterhalen hoe waarheid en betekenis geconstrueerd worden door afbeeldingen en symbolen te ontleden. Het werk van Ruairiadh O'Connell (UK) en Stuart Middleton (UK) richt zich op de huiselijke omgeving en verdachte interieurs. En Will Sheridan jr. (US) en Joanna Piotrowska (PL) tonen de soms ongemakkelijke verhouding die wij als mensen aannemen ten opzichte van onze omgeving.
Een spel van geluiden wordt verzorgd door Het geluidshuis en is er een bijdrage van de OBA in de vorm van een tijdelijke bibliotheek met detectives.
True Players wordt mede mogelijk gemaakt door het Amsterdamse Volkshotel, culturele ontmoetingsplek voor dandy's, dichters en onderwaterlassers. Volkshotel verzorgt een eigen set in True Players waarin één van de hotelkamers onderdeel wordt van de expositie. Het hotel nodigde kunstenaar Royale Belleville uit om zijn fantasie de vrije loop te laten in deze set.
Grafische vormgeving door Mary Ponomareva.
Opening vrijdag 24 juli, 20.00
Tentoonstelling t/m 16 Augustus, dagelijks geopend 12:00 – 18:00
Links