Dit evenement is voorbij.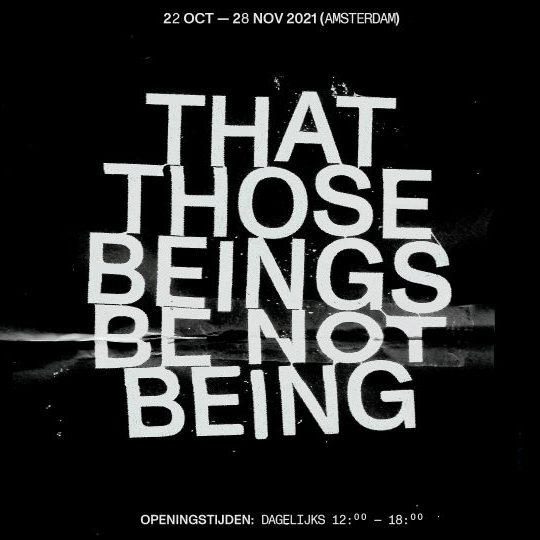 THAT THOSE BEINGS BE NOT BEING
oktober 22, 2021

-

december 12, 2021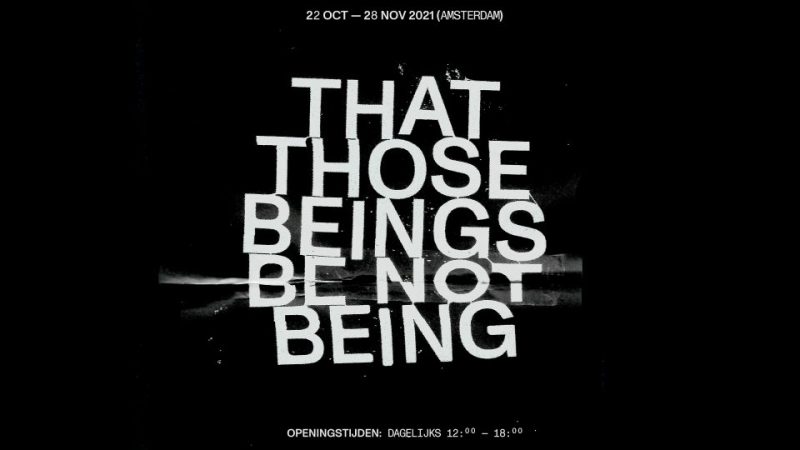 THAT THOSE BEINGS BE NOT BEING
22 OKTOBER – 12 DECEMBER
Guy Briller, Salim Bayri, EMIRHAKIN, Karam Natour, PHILTH HAUS, Chris Kore, Sarah Naqvi, Veronika Babayan, Müge Yılmaz, Ludmila Rodrigues, Marly Pierre-Louis, Tracian Meikle and Tobi Balogun, Philipp Gufler, Hilda Moucharrafieh and Dina Mohamed, Fabulous Future, Foundland Collective, Hwang Kim
Onze huidige tijd is verzadigd met polarisatie en dichotoom denken – met ons, of tegen ons, liberaal of conservatief, goed of fout, alles of niets. Tweedelige denkwijzen doen zich vaak voor wanneer complexe ideeën en vraagstukken te veel worden teruggebracht tot tweevoudige antwoorden. Omdat we, in plaats van het omarmen van veelzijdigheid, gebonden zijn aan het denken over, en binnen, vaste categorieën die zich niet evolueren binnen de tijdsgeest of zich aanpassen aan onze voortdurend veranderende omgevingen.
Deze ontwikkeling van tweedelig denken heeft wereldwijd invloed gehad op samenlevingen en structuren, over sociale, politieke, economische en ecologische grenzen heen. De gevolgen van de tweedeling zijn ernstiger geworden met de versnelde geglobaliseerde mobiliteit van de afgelopen decennia, terwijl het sociale netwerk steeds meer gemengd en heterogeen is geworden. Maar hoe wordt onze omgeving werkelijk beïnvloed door de politiek en de ontwikkelingen van polarisatie? Wat zijn de strategieën die nodig zijn om mens en ecosysteem te laten samenleven in de gedeelde ruimte die we bewonen?
De tentoonstelling en het publieke programma brengen lokale en internationale kunstenaars met elkaar in dialoog die ons uitdaagt om verder te kijken dan het tweedelige denken, door te kijken naar bemiddeling binnen overlappende en kruisende ruimtes – 'the inbetween', het nog niet bestaande en het wordende. De kunstenaars werken met video, print, beeldhouwkunst, performance en interactieve omgevingen en gaan in op vragen rond tweestemmigheid en de sociaal-politieke complexiteit van hun omgeving door middel van humor, het vertellen van verhalen, discussie en het creëren van alter ego's en fictieve ruimtes.
De titel 'That Those Beings Be Not Being' is ontleend aan een hoofdstuk uit Édouard Glissant's Poetics of Relation, waarin hij stelt dat "we moeten schreeuwen om het recht op ondoorzichtigheid voor iedereen. Voor Glissant is 'ondoorzichtigheid' een onbekendheid – een anders-zijn dat niet kwantificeerbaar is, een pluriformiteit die categorieën van identificeerbaar verschil overstijgt en zich verzet tegen hyperzichtbaarheid en de drang naar het hebben van een totaalbeeld.
---
He says: I am from there, I am from here,
but I am neither there nor here.
I have two names which meet and part…
I have two languages, but I have long forgotten
which is the language of my dreams.
*Mahmoud Darwish
---
Publiek Programma
24 Oktober | 13 – 19h
8.8 kilometers – A walk from W139 to Four Sisters | guided walk
Müge Yilmaz
Meer informatie
23, 24, 30, 31, oktober & 6, 7, 13, 14 november | 14 – 17.15h
Tracing Erased Memories | video wandel performance
Hilda Moucharrafieh en Dina A.Mohamed
Meer informatie 
28 & 30 oktober & 5, 12, 28 november & 12 december | 15 – 17h
WHO'S GOING TO DIE IF I KILL MY SELF? | performance
EMIRHAKIN
Meer informatie
28 oktober | 19.30 – 21h
The Alter Ego | gesprek
Karam Natour, Salim Bayri en PHILTH HAUS. 
Gemodereerd door: Margarita Osipian en Fadwa Naamna
Meer informatie
12 November | 17 – 18h
Curatoriele Tour | Margarita Osipian
13 november | 15 – 17h
Pastegh – Fruit Leather and Undulating Storytelling | workshop
Veronika Babayan
Meer informatie
17 november
Real-time History | vertoning en gesprek
Foundland Collective met Hanna Rullmann
Moderated by: Margarita Osipian
Meer informatie
26 november
Pizzas for the People | Film vertoning en pizza dinner
Hwang Kim
Meer informatie
12 december
THAT THOSE BEINGS BE NOT BEING – Finissage
Meer informatie
12 december | 13 – 14h
Zine Launch
The Wild
Geen reservering nodig.
Meer informatie
---