Dit evenement is voorbij.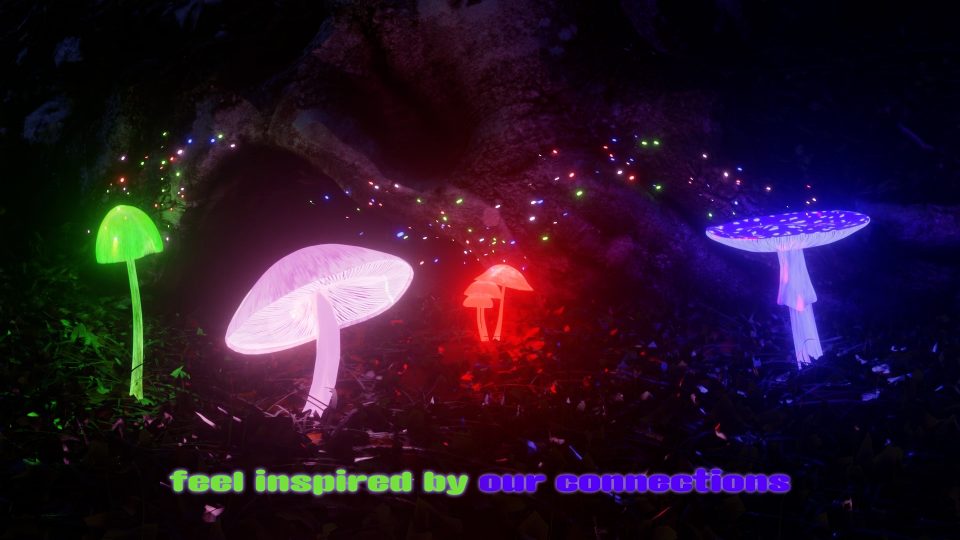 Sisters of The Wind
februari 24, 2021

-

februari 28, 2021
SISTERS OF THE WIND
Online, live vanuit W139
24-28 Februari 2021
Een collectieve wereld-scheppende reis om onze aardse verbindingen nieuw leven in te blazen.
Een werk van Juliette Lizotte aka jujulove
Sisters.°·
Let me take you to my world.•º
---
Sisters of the Wind is ontstaan vanuit een artistiek onderzoek naar heksen, ecofeminisme en sciencefiction, uitgevoerd tussen 2018 en 2021. Een verhaal dat zich door zeven video's afspeelt en op twee verschillende vormen kan worden ervaren: als een wereld-scheppende online workshop in de vorm van een rollenspel of als interactieve audiovisuele voorstelling.
Sisters… ˜o˚ ''.)* '   ''.'··º   ° '' ' ' ·' '0'  .º•.· ·.˜  *,',˚˚   ˚oº°•˜ The wind is returning, as it always does. Sometimes it blows so hard that it carries artifacts away from the cities it tore apart, seeds from far away places, trees that didn't have enough time to grow stronger… That's why you always seek a protected area to settle in, relocating as the wind comes and goes in waves. You are witches. You pay attention to the world and try to make sense of this life together through the phases of the moon from maiden to mother to crone. In your community, the feminine spirit dominates, and all gender expressions are celebrated. When your precarious life is threatened by an unsettling prophecy announcing a deadly wind that will prepare the earth for a new cycle, will you go on a journey to find the source of this wind? What will you discover on the way? How will this transform you, your sisters, and the earth forever?
Laten we samen aan dit prachtige avontuur beginnen!
In de huidige context van een wereldwijde pandemie is het belangrijk om nieuwe en veilige manieren te vinden om samen te zijn en onze verbindingen te versterken. Hoewel deze experience in een fysieke vorm ontwikkeld werd, voelde het relevant om deze aan te passen in online omgeving – een nieuwe manier om ons dichter bij elkaar en de wereld om ons heen te brengen.
xºx°
jujulove
---
Online workshop 'werelden scheppen' en rollenspel sessie
Donderdag 25 februari | 15-18h
Zaterdag 27 februari | 15-18h
Ik nodig  je uit om mijn wereld de jouwe te maken en samen uit te breiden. Duik in de verbazende wereld van Sisters of the Wind en belichaam een van de heksen die deze bewoond…
Op jitsi and etherpad
Het is geen vereisten om voorkennis of ervaring van rolspellen te hebben.
---
Interactieve audiovisuele 

performance live op Twitch

Woensdag 24 februari | 17.30h
Vrijdag 26 februari | 17.30h

Zondag 28 februari | 14.30h

Met een speciale performance van Annabel Reid
Ga mee op een interactieve reis door de wereld van Sisters of the Wind, die elke dag tijdens de workshopsessie heruitgevonden zal worden.
MELD JE HIER AAN

Maak een Twitch account aan om te doen, of kijk mee als toeschouwer!
---
Interview door Emma van Meyeren
---
Bio
jujulove is een wereldschepper, een ecofeminist, een heks, een orakel… Geïnspireerd door feministische sciencefiction, manga, popcultuur en fantasie, opent jujulove een eigen parallelle wereld in 170 bpm.
jujulove aka Juliette Lizotte is een videomaker, ontwerper en DJ gevestigd in Amsterdam. En tevens een actief lid van  Hackers & Designers.
---
Credits
Video's bedacht, geregisseerd en bewerkt door Juliette Lizotte
Kostuums van Karen Huang
Make-up door Elisabeth Mesnier
3D-animatie in samenwerking met Philip Ullman
Bewegingsonderzoek en choreografie voor Nightflight in samenwerking met Annabel Reid
Scenario-ontwikkeling voor The Abyss in samenwerking met Antonia Brell
Met Annabel Reid, Beatriz Conefrey, Clémence Hilaire, Gregoire Devidal, Ivan Cheng, Juliette Lizotte, Karen Huang, Luan Barros, Manfreddi Coppolecchia, Sanae Oujjit, Sumin Lee en Susan Kooi.
Soundtrack door jujulove in samenwerking met Fabian Reichle en met de steun van Arif Kornweitz
Rollenspel ontwikkeling met de genereuze steun van Susan Ploetz
Performance ontwikkeling met de vriendelijke begeleiding van Joy Mariama Smith, kostuum door Karen Huang, schoenen door limo-haar, make-up door Elisabeth Mesnier.
Set Design in samenwerking met Fabulous Future
Typografie: Impakt Nieuw 2019 en Spooky Hairy door Jung Lee Typefoundry
Met dank aan: Margarita Osipian, W139, Rosa Poelmans, Melanie Bonajo, Manon Bachelier, Georgie Sinclair, Jo Kali, Emma van Meyeren, Anja Groten, Daniel van der Velden
Dit project is mede mogelijk gemaakt door de steun van de Talent Development Grant van het Stimuleringsfonds.