Dit evenement is voorbij.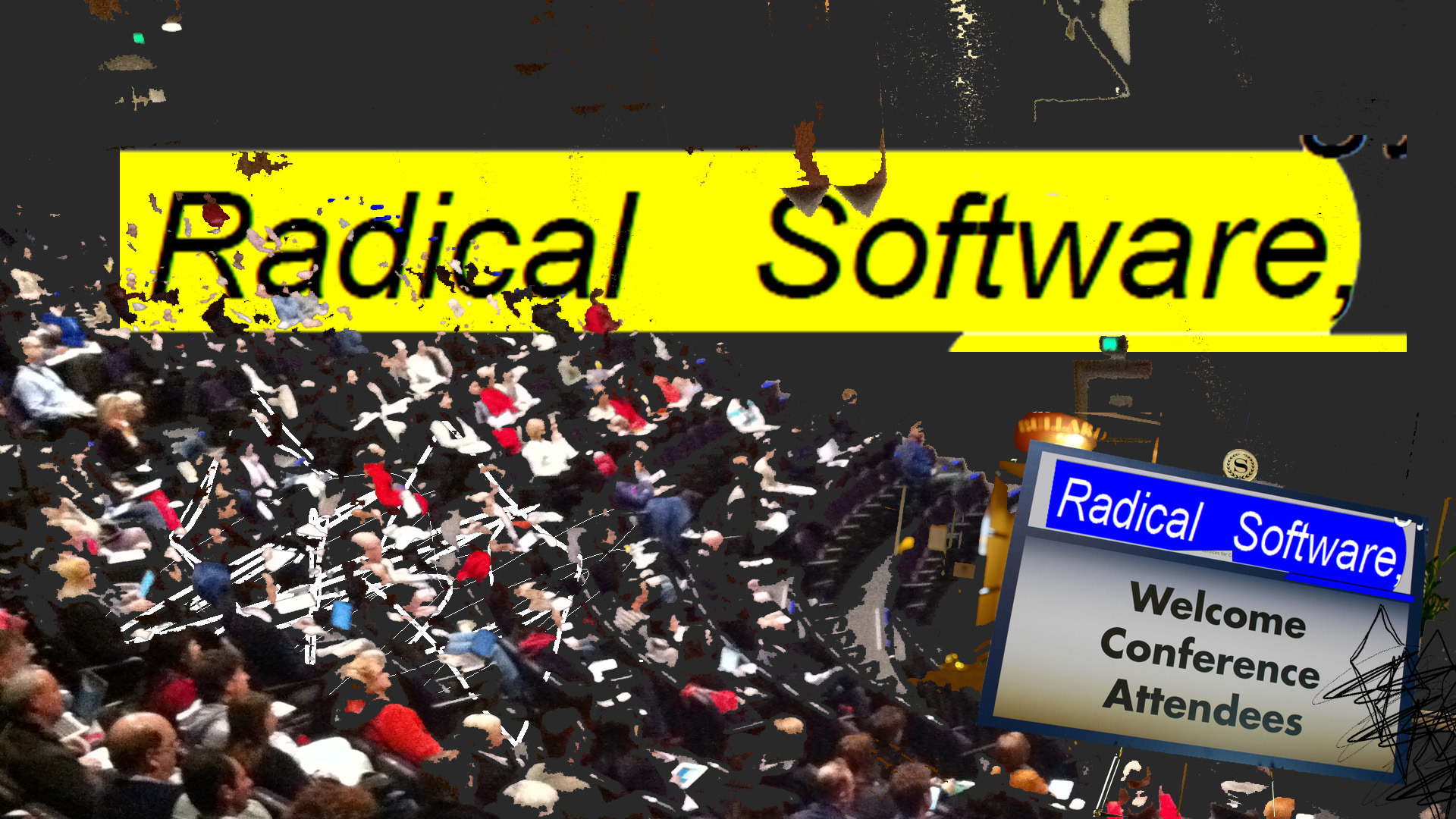 Radical Software
augustus 25, 2014

-

september 7, 2014
Radical Software
25/08-2014 – 07/09/2014
Deelnemende kunstenaar(s) André Avelãs, DJ Turbot Van Lullen, Hans-Christian Dany, Barbara Dubbeldam, Linda Franke, Fyoelk, Goodiepal, Bruno Hiss, Ken Jacobs, Geoffrey Lillemon, Lost Property, Lee Mackinnon, Mik Quantius, Leandro Nerefuh, Rachel O'Reilly, Jelena Vesić, Daniël de Zeeuw, Caetano Carvalho
Blue crystals, happy Dark Ages and Dirty Dishes…
The Society for Preservation of Future Ruins (ehCaetano), in samenwerking met W139, Barbara Dubbeldam en Daniël de Zeeuw, presenteert Radical Software. Een somatosensorische ervaring en manifestatie gericht op de belangrijkste technologieën om ons heen en hun politieke onderbouwing. Van de politieke fabel van de cybernetica tot aan mothers little helper.
Radical Software is een reeks van kunstvoorwerpen, lezingen, gesprekken en muziekoptredens. Geen gadgets, een paar gimmicks… Niet aanbevolen als u epilepsie heeft.
Blauwe kristallen… Vergeet het flikkerende blauwe licht afkomstig van de woonkamer waar iemand tv aan het kijken was. Het hypnotische scherm flikkert door de bewegende beelden en geluiden. Het pratende hoofd achter het glazen scherm definieert onze notie van normaliteit, rationaliseert gevallen van geweldpleging tegen de menselijkheid.
Bent u een technoptimist of een depressimist? – vroeg ze.
Daar we de realisatie van een cybernetische ecologie naderen glipt de utopische belofte van de mens – opnieuw verbonden met natuur en bevrijdt van arbeid door de technologische vooruitgang – door onze vingers. Het werd vervangen door een realiteit bestaande uit alomtegenwoordige consumentisme, eindeloze non-tijd van 24/7, het kapitalisme en technologische vormen van vrij zwevende controle. All watched over by machines of loving grace. Binnen de cybernetische droom wordt individueel gedrag opgevat als iets geprogrammeerd en herprogrammeerbaar, "de overlevingsdrang van het systeem maakt het individu mogelijk en het individu moet daaraan bijdragen."
Blauwe kristallen… die de doorsnee persoon in staat stelt zich aan te passen aan de verplichte routines van onze technologische cultuur, beheren onze oplettendheid en productiviteit, terwijl kinderen en soldaten kunnen presteren wat er van hen verwacht wordt.
"As with sophisticated uses of videotape and computers, [dope] gives access to radically different ways of knowing. For better or worse, it's perhaps the best psychological software we'll have until the electronic media are made more accessible" schreef Michael Shamberg.
Hoe stel je nieuwe interfaces van handelingen samen, apparaten die toegang bieden tot nieuwe manieren van weten, flikkerende gefragmenteerde en zintuigelijke 'Radical Software' voor the happy dark ages?
Laten we naar de bioscoop, 'Lucy' zien… – zei hij.
Programma
maandag 25 augustus: 19:00 lezing van Rachel O'Reilly & Jelena Vesić / 21:00 muziek van DJ Turbot van Lullen.
woensdag 27 augustus: 

19:00 lezing van Goodiepal / 20:00 muziek van Mik Quantius.

vrijdag 29 augustus: 

19:00 lezing van Hans-Christian Dany / 20:00 muziek van André Avelãs.

donderdag 4 september: 

19:00 lezing van Lee Mackinnon / 21:00 muziek van Fyoelk