Dit evenement is voorbij.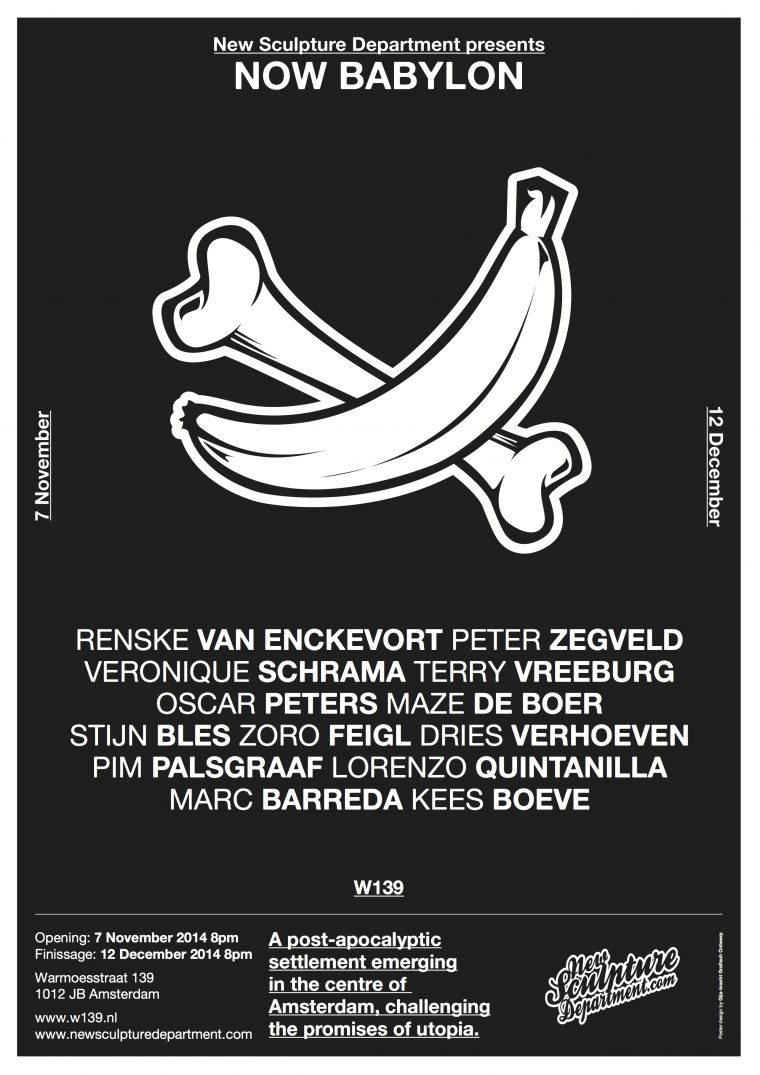 NOW BABYLON
november 7, 2014

-

december 12, 2014
NOW BABYLON
07/11/2014 – 12/12/2014
Deelnemende kunstenaar(s) New Sculpture Department (Kees Boevé, Lorenzo Quintanilla, Marc Barreda), Stijn Bles, Zoro Feigl, Pim Palsgraaf, Oscar Peters, Veronique Schrama, Dries Verhoeven, Terry Vreeburg, Peter Zegveld, Maze de Boer, Renske van Enckevort
NEW SCULPTURE DEPARTMENT bouwt nederzetting in W139. NOW BABYLON: Challenging the promises of utopia.
Een post-apocalyptische nederzetting zal de komende weken ontstaan in artist-run space W139 in Amsterdam. NOW BABYLON is een groeiende installatie van beeldhouwcollectief NEW SCULPTURE DEPARTMENT (NSD).
NOW BABYLON is een work-in-progress. Samen met 12 kunstenaars bouwt NEW SCULPTURE DEPARTMENT anderhalve maand aan een nieuwe wereld. "De titel is afgeleid van New Babylon van de kunstenaar Constant. Wij reageren hiermee op de flater van alle utopieën van de afgelopen eeuw. Niks robots en wereldvrede. Maar energie- en voedseltekorten, klimaatveranderingen en overbevolking", aldus Kees Boevé, die samen met Lorenzo Quintanilla de kern vormt van NSD.
Het site-specifieke NOW BABYLON is een experiment. De opening is het startschot voor een onderzoeksperiode naar dit thema. "Wij geven nieuwe waarde aan waardeloze materialen. En samen met de deelnemende kunstenaars onderzoeken wij hoe die nieuwe wereld eruit moet komen te zien met daarbij horende nieuwe regels en nieuwe communicatievormen. Het resultaat zal gedurende het verloop van de tentoonstelling gepresenteerd worden. Onze werkplaats maakt deel uit van de tentoonstelling, zodat er altijd doorgewerkt kan worden. De bezoeker betreedt een bouwplaats van een minder florissante toekomst en zal wie weet zelf deel uitmaken van deze toekomst."
Onder andere kunstenaars Peter Zegveld, Maze de Boer en Zoro Feigl maken werk voor NOW BABYLON. Verder is er een videowerk te zien van Dries Verhoeven, wiens controversiële Grindr-installatie 'Wanna Play?' in Berlijn onlangs werd stopgezet wegens protest.
Kees Boevé en Lorenzo Quintanilla ontmoetten elkaar op de Gerrit Rietveld academie in Amsterdam. Beiden waren ontevreden over de studiemogelijkheden aan de academie dus richtten zij begin 2011 een schaduwafdeling op: NEW SCULPTURE DEPARTMENT. De focus van NSD ligt op een combinatie van vakmanschap, concept, materiaalgebruik en driedimensionaal werken. Het beeldhouwcollectief was eerder al te zien in W139 met hun werk Nieuw Amsterdams Perspectief (2012).
Programma
Opening: Vrijdag 7 november 2014 van 20:00 – 01:00
Post-apocalyptisch Thanksgiving Diner: Donderdag 27 November van 19:00 – 23:00
Artist Talk in NOW BABYLON: Joep van Lieshout, Donderdag 11 December van 19:00 – 22:00
NOW BABYLON NOW: de finissage vindt plaats op vrijdag 12 December van 21:00 – 01:00
Artikelen: