Dit evenement is voorbij.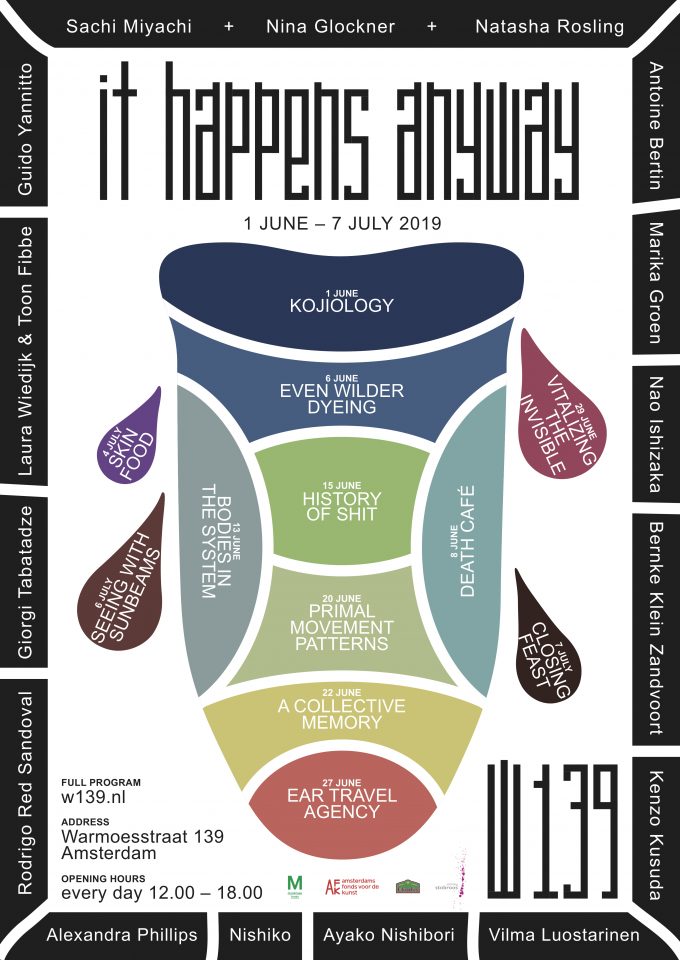 It Happens Anyway
juni 1, 2019

-

juli 7, 2019
It Happens Anyway
01/06/2019 – 07/07/2019
deelnemende kunstenaars Antoine Bertin, Nina Glockner, Marika Groen, Nao Ishizaka, Kenzo Kusuda, Vilma Luostarinen, Sachi Miyachi, Ayako Nishibori, Nishiko, Alexandra Phillips, Natasha Rosling, Rodrigo Red Sandoval, Giorgi Tabatadze, Laura Wiedijk & Toon Fibbe, Guido Yannitto, Bernke Klein Zandvoort
Sachi Miyachi, Nina Glockner en Natasha Rosling transformeren W139 in een collectief lichaam dat voor een periode van 5 weken door 14 kunstenaars, performers, koks en schrijvers zal worden bewoond.
De uitwaaierende fysieke omgeving en daarmee verweven events nodigen uit om de poreuze grenzen tussen lichaam en architectuur, gewaarwording en emotie, huid en verbeelding te verkennen. Geïnspireerd door de alchemie van fermentatie – het samenbrengen van ingrediënten onder de invloed van zout, tijd, en dat wat er in de lucht hangt – tracht It Happens Anyway betekenisvolle vormen van verbinding te cultiveren en te beproeven wat onze basale menselijke behoefte om te creëren voedt.
Het publieke programma vindt iedere donderdag en zaterdag plaats.
Programma
31/05/2019

 20.00 – 01.00

 

Opening

01/06/2019 

16.00 – 18.00

 

Kojiology
Hands-on talk met fermentatie expert Marika Groen.

06/06/2019 

15.00 – 19.00

 

Even Wilder Dyeing
Workshop over experimenteel natuurlijk verven 

met kunstenaars Guido Yannitto en Lucila Kenny.*

08/06/2019

 16.00 – 18.00

 

Death Café
Open conversatie over de dood en het (eindige) leven met

de launch van 'Body Cake'.

13/06/2019 

16.00 – 19.00 Bodies in the System
Leesgroep over Vanessa Agard-Jones' 'Bodies in the System' met kunstenaars Laura Wiedijk & Toon Fibbe.

15/06/2019

 16.00 – 18.00

 

History of Shit
Denkexperimenten met Natasha Rosling op zoek naar onze relatie met bacteriën geïnspireerd op Dominique Laporte's 'History of Shit'.

20/06/2019 

16.00 – 19.00

 

Primal Movement Patterns
Body movement sessie met Laban bewegingsanalyst, danstherapeut en mede-oprichter van EMOVE Institut Marieke Delannoy.*

22/06/2019 

16.00 – 18.00

 

A Collective Memory
Performatief gesprek met Giorgi Tabatadze waarbij user-generated biografieën worden gebruikt om een fictief persona te creëren.

27/06/2019

 16.00 – 18.00

 

Ear Travel Agency
Een langzaam luister experiment over en voorbij aan lichaamsoppervlakken met kunstenaar Antoine Bertin.*

29/06/2019

 14.00 – 17.00

 

Vitalizing the Invisible
Bewegingsworkshop met choreograaf en danser Kenzo Kusuda om de elasticiteit van het lichaam en de verbeelding op te rekken.

04/07/2019

 16.00 – 18.00

 

Skin Food
Tactiel gesprek met kunstenaar en chef Nao Ishizaka en kunstenaar en food experience designer Vilma Luostarinen.

06/07/2019

 16.00 – 18.00

 

Seeing with Sunbeams
Performatieve lezing door kunstenaar en schrijver Bernke Klein Zandvoort, gevolgd door een gesprek over publiceren en verteringsactiviteiten met Nina Glockner.

07/07/2019

 14.00 – 18.00

 

Closing Feast
Tijdens het Closing Feast wordt de transformatie van rijst, wol, hout, vlees, woorden, geluiden, geesten en spieren gevierd en gedeeld met iedereen. Met bijdragen van 

Vilma Luostarinen, Alexandra Phillips, Kenzo Kusuda, Bruno Wilkinson en anderen.
Alle evenementen zijn geschikt voor alle niveaus. Evenementen gemarkeerd met * hebben een beperkt aantal plaatsen, toegang op basis van wie het eerst komt, wie het eerst maalt.