Dit evenement is voorbij.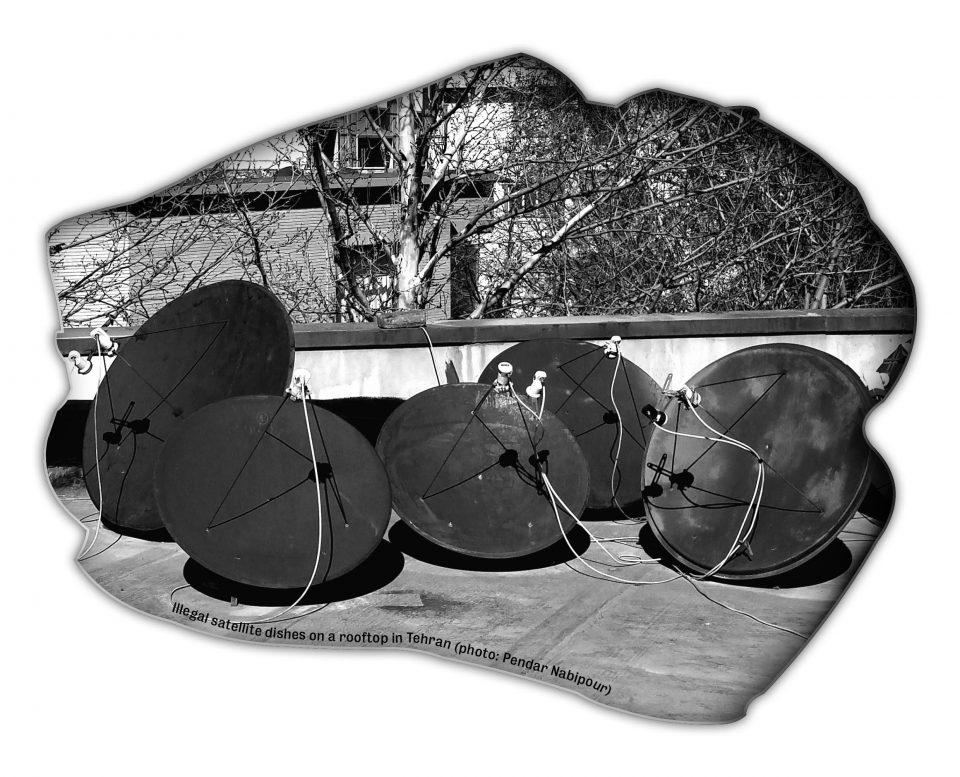 Ideology Meets Implementation
oktober 13, 2017

-

november 18, 2017
Ideology Meets Implementation
13/10/2017 – 18/11/2017
Deelnemende kunstenaar(s) Mojtaba Amini, Vasily Bogatov, Ehsan Fardjadinia, Barbad Golshiri, Yoeri Guepin, Joseph Hughes, Mehregan Kazemi, Dimitra Kondylatou, Taisiya Krugovykh, David Maroto, Pendar Nabipour, Mojtaba Tabatabaie, belit sağ, Dorine van Meel
De wereld waarin we leven lijkt te zijn vastgelopen in verouderde structuren. De ideologische systemen die aan de basis liggen van onze maatschappijen, zijn nog altijd gebaseerd op (Westerse) noties van postmodernisme, postkolonialisme, post marxisme, post democratie – een waar tijdperk van uitstel, waarin we de noodzakelijke veranderingen, moedwillig lijken te vertragen. We zijn ons bewust van de noodzaak om te veranderen, maar vaak kiezen we ervoor om weg te kijken. We doen ons beklag over de manier waarop 'dingen zijn georganiseerd', terwijl het ons tegelijkertijd niet lukt om onszelf te organiseren, op onze eigen voorwaarden. Een staat van collectieve verwaarlozing.
Hoe kunnen we deze tijd van uitstel doorbreken? Hoeveel impact kunnen we hebben op individueel niveau, ten overstaan van het grotere systeem? Zijn we een direct product van de ideologieën die onze sociale omgeving bepalen, of zijn we wellicht ook ingesteld om er tegen te ageren? Is het mogelijk om het ideologische systeem waar elk van ons in leeft te identificeren, zodat we daarbinnen fouten kunnen uitbuiten om de interne tegenstellingen te benadrukken? Hoe kunnen we zeker zijn dat het systeem niet elke kritische actie – in eerste instantie bedoeld om het systeem te ondermijnen – absorbeert? En misschien wel het belangrijkste, hoe kunnen we beginnen met samenleven in gemeenschap met elkaar?
Ideology Meets Implementation laat zien hoe ideologische systemen daadwerkelijk functioneren wanneer ze in de praktijk worden gebracht. De implementatie van een ideologisch systeem, uitgevoerd bijvoorbeeld door vertegenwoordigers van de staat, is niet altijd zichtbaar voor degenen die binnen dit regime leven. Ideologieën zijn gebaseerd op ideeën die gekristalliseerd worden in normen, die vervolgens de politieke en culturele principes van een gegeven maatschappij dicteren. Het achterliggende theoretische kader staat echter vaak in scherp contrast met de concrete realiteit van deze implementatie in het alledaagse leven.
Voor deze tentoonstelling hebben we een groep gevormd van internationale kunstenaars en activisten die in hun praktijk kijken naar specifieke, huidige ideologieën en deze bekritiseren en bevragen via verschillende vormen van media en interdisciplinaire evenementen. De kunstwerken adresseren bepaalde machtsstructuren die onze maatschappijen kenmerken: zo wordt er bijvoorbeeld een analyse gemaakt van de wijze waarop overheden en media taal inzetten om discipline af te dwingen en ons in bepaalde categorieën onder te verdelen; of wordt er gekeken naar de wijze waarop de staat haar macht uitoefent om onze bewegingsvrijheid in te perken, met name voor diegenen die genoodzaakt zijn grenzen over te steken; maar ook wordt er ingegaan op de meer indirecte middelen die de staat inzet om haar burgers zowel fysiek als mentaal te controleren en te censureren.
Ideology Meets Implementation biedt tevens ruimte aan het Non-Fascist House: een podium voor 'zelf-georganiseerd' leven, waar gedurende de tentoonstelling een divers programma van performances, discussies, leesgroepen, lezingen en film screenings plaatsvindt. Dit programma gaat specifiek in op historische en hedendaagse vormen van fascisme en anti-fascistische tegenbewegingen, op islamofobie en racisme specifiek in de Nederlandse context, op kunst en activisme in Rusland, en op de rechten van LHBTQ mensen in West-Azië en Noord-Afrika.
De tentoonstelling Ideology Meets Implementation creëert ruimte voor uitwisseling, en breekt het conventionele onderscheid tussen activist en kunstenaar, kunstwerk en evenement, publiek en deelnemer, op actieve wijze open.
Wij nodigen je van harte uit om in dialoog met ons te gaan en te delen in deze manier van samenleven.
Opening, vrijdag 13 oktober
20:00: Opening
21:00: Openingswoord door Pendar Nabipour
22:00: The Distribution of the Sacred System door Barbad Golshiri
23:15: "Round Heads and Pointed Heads" performance on Stage for Tragedy | Scene one – "Crisis in the Land of JAHA", "Rise of IBERIN" and "Allegation of the Lord of Boxes"
Publieksprogramma
imi-public-programme-schedule.pdf(1.14 MB)
Evenementen zullen alleen in het Engels zijn.
Zaterdag 21 oktober, 15:00-18:00: Open Source Government by Pendar Nabipour. Open Source Government aims to directly involve members of a society in the structuring of their government or society through open-sourcing their respective legislation. The project invites thinkers, artists, programmers, developers, social scientists, political scientists, financial professionals, lawyers and other individuals to take part in a conversation with the aim of designing a collective blue-print that can facilitate the constitution of an open-sourced society. For Ideology Meets Implementation Nabipour and Showroom MAMA will coordinate a public session in the form of a seminar at W139. Open Source Government
Zaterdag 28 oktober, 18:00 – 22:00: Empathy Tournament by David Maroto. David Maroto's playable installation Empathy is an art project in the form of a board game that includes questions and answers for two players. The players are confronted with seemingly daily situations that contain dilemmas in which desire, doubt, fantasies and beliefs are central . The winner is the one with the ability to empathize with the opponent and anticipate their reactions.
Whereas Empathy is displayed in the exhibition and available for visitors to play at any time, the Empathy Tournament constitutes a one-day public event in which eight players interact with each other and four copies of the game. The winners of the first round will play in the semi-finals, leading to a grand finale in which the best two "Empathy" players will measure their abilities against each other. The evening will start with a short introduction by David Maroto and will culminate with a prize-giving ceremony for the most empathic participant.
If you want to play, please book at communication@w139.nl. The game works best when played with friends, so it's recommended to book in pairs, though individual players are welcome as well. The "Empathy Tournament" is also a performance open to members of the public who do not wish to play but enjoy watching the development of the game, discussing it and even making bets about the results. Everyone is most welcome to join.
PERFORMANCES
Vrijdag 13 oktober, 23:15: Non-Fascist House at Stage of Tragedy "Round Heads and Pointed Heads" performance. Scene one: "Crisis in the Land of JAHA", "Rise of IBERIN" and "Allegation of the Lord of Boxes".
Zaterdag 4 november, 19:30: Scene two: "Contemporary Subversive Insurgency" hosted by Quinsy Gario with the participation of Angela Bartholomew and more.
Zaterdag 11 november, 19:30: Scene three: "Public Trials".
Zaterdag 18 november, 19:30: Final Scene: "Living Death March", "Deportations" and "The Land of JAHA's Future".
The powerful allegory of the Nazi regime's racial policy in Brecht's Die Rundköpfe und die Spitzköpfe (1934) is adapted by Ehsan Fardjadniya into a large group performance that takes place in the four scenes above.
Performers: Noah Voelker, Fernanda Romann, Angelo Custódio, Eva Pyrnokoki, Pedro Matias, Arthur Guilleminot, Elisabeth Raymond, Anthony Nestel, Thais Di Marco, Fleur Mollo, Fazle Shairmahomed, Floris Schafer, Veniamin Kazachenko, Irini Pigaditi, Gerolamo Lucente, Toby Paul, James Hewitt, Leonie Kuipers, Kamran Novin, Olivia Malena Vidal and Maria Montesi.
Adapted text and directed by: Ehsan Fardjadniya.
Zondag 19 november, 19:30: Public discussion: How to carry on the "Non-Fascist House".
FILM SCREENINGS
Zondag 15 oktober, 18:30-22:00: Screening I : Russian Actionism and Prison System with programmer Taisiya Krugovykh & Vasily Bogatov. Taisiya Krugovykh & Vasily Bogatov will talk about and screen videos on a new wave of political activism in Russia: the Voina art group, Pussy Riot and Petr Pavlensky. If one's artistic practice is political actionism in Russia, sooner or later one will go to jail. All of the aforementioned individuals and groups were imprisoned.
Taisiya Krugovykh is a video artist, performer, specialist in film editing theory and member of Gogol's Wives art group. She films people who have woken out of comas and those who have been released from prison, as well as her parents and herself. She also works with linguistic projects connected to the theme of migration.
Vasily Bogatov works and lives in Moscow. He is a film director and member of Gogol's Wives art group. He collaborated with Russian radical performance groups Voina and Pussy Riot as a videographer and clip-maker.
Zondag 22 oktober, 18:30-22:00: Screening II : LGBTQI+ in West-South Asia & North Africa with programmer Sophie Hoyle. Sophie Hoyle will present moving-image works made by and exploring the experiences of LGBTQI+ people and communities in the West-South Asia and North Africa, dealing with identity, cultural attitudes, social inequalities and political activism.
Sophie Hoyle is a London-based artist and writer whose work and research explores an intersectional approach to post-colonial, queer, feminist and disability issues. Hoyle explores experiences of being part of the South-West Asian and Northern African diaspora in order to relate interpersonal experiences to wider structural violence.
Zondag 29 oktober, 18:30-22:00: Screening III : Monument in Flux with programmer Amirali Ghassemi. Amirali Ghasemi will present Monument in flux, which gathers artists, filmmakers and video essayists living across the globe, from North America to New Zealand, via Iran. We witness how monuments are in the state of constant flux from the ancient Tomb of Cyrus the Great to unsteady contemporary pedestals. We observe how revolutions can promise hope and change, and how these promises fade in the course of time, generating a sense of flux that washes away everything that is solid.
Amirali Ghasemi is a curator, media artist and designer. He has directed exhibitions, workshops and talks for Parkingallery & Limited Access Festival. He works with photography, video, interactive projects and texts. His long-term curatorial project, IRAN&CO, consists of an on-going exhibition and a collective archive devoted to the representation of Iranian art beyond the country's borders. In summer 2014, Ghasemi co-founded New Media Society, a network-based research platform, library and video archive in Tehran. New Media Society.
Zondag 5 november, 18:30-22:00: Screening IV: How to talk about "WE" with programmer belit sağ. belit sağ will present a selection of videos that deal with racist violence in Europe, including the story of a woman who lit herself on fire in protest against the racism she lived through in the 1970s and the 1980s, as well as a selection of videos made for the People's Tribunal against a Neo-Nazi group that killed ten people in the course of eight years in mid-2000s.
belit sağ is a videomaker and visual artist living in Amsterdam. Her work has been presented in art spaces and film festivals including Toronto/Rotterdam/San Francisco International Film Festival (2016/2017); EYE Filmmuseum, Amsterdam (2015); MOCA, Taipei (2016) and Tütün Deposu, Istanbul (2014).
Zondag 12 november, 18:30-22:00: Screening V: Open Call. The final week of the screening program will be organized via an open call. For the launch of this final screening week, selected participants will be invited to a panel discussion to introduce their work. The open call will be announced on October 29th via W139's website and social media platforms.
The rest of the week, the Sunday program will be available in the exhibition space for the audience who missed the original event.
LEZINGEN EN LEESGROEPEN
Donderdag 2 november, 19:00-21:00: Public Reading Group: Muslim Feminist Perspectives by Alina Jabbari. In this public event Alina Jabbari and participants will collectively read a number of texts by Islamic and Muslim feminists. The objective in organizing this reading group is to create a space for people to come together, critically engage with these texts and think through what they (can) mean for our daily lives as Muslims. Please note that respect, care and understanding will serve as guidelines during the discussion! 20 participants max. If you would like to participate, please send an email to communication@w139.nl. Alina Jabbari is the founder of Haar Minaret, an inclusive, women-centered, queer affirming, anti-racist and pluralist masjid.
Donderdag 9 november, 19:30: Public Dialogue: Deconstruction of White Privilege & United Non-Racial Movement moderated by Mercedes Zandwijken. Series of dual dialogues about current Dutch and international racial matters.
Mercedes Zandwijken is the initiator and director of Keti Koti Tafels. She is a specialist in developing and setting up think tanks and innovative projects as well as in initiating and directing dialogues on various polarizing subjects. In her work as a social therapist, Zandwijken works tirelessly on civic participation, network development and social cohesion.
Donderdag 16 november, 19:30: Conversation circle: Decolonizing the Globalized Dutch Art Institution. In the Netherlands, the politics of knowledge production has been crucial to recent developments in the art landscape. During this event, a conversation about the implications of transforming contemporary art institutions will take place by asking the following questions: How have globalised Dutch art institutions positioned decolonial curatorial concerns and art practice? What happens when artists, theorists and curators of colour are invited to these platforms and use these spaces to present their ideas and work? Furthermore, how does this praxis coincide with the desire for a re-examination of organisational functions and forms, curatorial concerns and art practices? And finally, what does a decolonial art institution look like?
Organised and conceptualised by Katayoun Arian.
Katayoun Arian (Tehran, 1984) is a researcher, curator and writer with a background in art history (Leiden University) and a Masters degree in social science/anthropology of organisations (Vrije Universiteit, Amsterdam). Her projects range from exhibitions, discursive events and screenings to reading circles and other forms of interdisciplinary and collaborative work. Recent curatorial projects include Grada Kilomba: Illusions at Witte de With Center for Contemporary Art, Rotterdam (2017), I Speak in Tongues at 37PK, Haarlem (2017) and Voices Outside the Echo Chamber: Questioning Myths, Facts and Framings of Migration, Framer Framed, Amsterdam (2016). Previous projects include Kitchen139, a ten-day collective project as part of The Grand Domestic Revolution – User's Manual (GDR) at W139, Amsterdam, a long-term research project by Casco, Utrecht (2011) and The End of This Story (And the beginning of all Others), Framer Framed, Amsterdam (2015).
Dit project is mede mogelijk gemaakt dankzij financiële ondersteuning van het Amsterdams fonds voor de kunst, Mondriaan Fonds, en CBK Rotterdam.