Dit evenement is voorbij.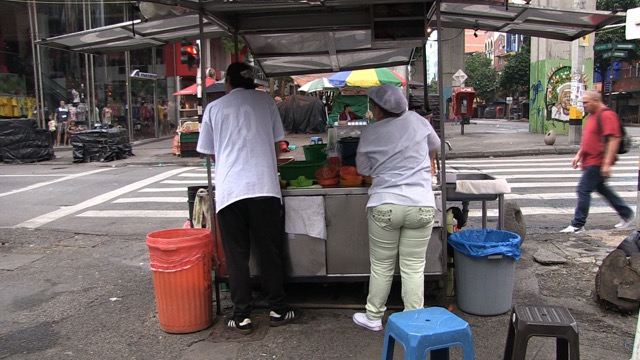 Double juicers
september 21, 2018

-

oktober 28, 2018
Deelnemende kunstenaar(s) Su Tomesen
Man cannot be free if he does not know that he is subject to necessity, because his freedom is always won in his never wholly successful attempts to liberate himself from necessity.
Hannah Arendt, The Human condition
Voor haar solopresentatie in de Polar room in W139 heeft Su Tomesen een aantal korte videowerken samengebracht. De naamgever van deze tentoonstelling, Double juicers, ontstond in dezelfde periode als het net voltooide vierluik Street vendors: Medellín, Tirana, Johannesburg, Yogyakarta. Een serie stedelijke portretten waarin Tomesen de inventiviteit en volharding van de mens belicht binnen de context van een urbane micro-economische cultuur. De installatie in de Polar room staat ook in het teken van dit onderwerp.
De afzonderlijke werken richten zich op de inventiviteit en het aanpassingsvermogen in mensen door situaties en handelingen naar voren te brengen waar wij gewoonlijk niet bij stilstaan. Het zijn taken die wij onszelf opleggen, aan overgeven, maar vooral ook toe gedwongen worden om te overleven, die door Su Tomesen worden getoond als bakens van scheppingsvermogen.
'Necessity is the mother of invention', zoals het Engelse gezegde luidt. Dit blijkt een sterke intuïtie te zijn die door Tomesen in haar werk wordt benadrukt. Door zich te richten op simpele handelingen en relaties tussen mensen, wekt Tomesen de indruk dicht bij de essentie te komen van ons bestaan. Haar camera registreert taferelen op een ontvangende manier. De aanwezigheid van de camera veroorzaakt natuurlijk een reactie, een houding of een verwachting in haar onderwerpen maar verstoort de urgentie van de dagelijkse routine niet. Deze blijft grotendeels onverstoorbaar doorgaan. Een korte blik die hierop gevestigd wordt veroorzaakt een rimpeling, een theatraal moment te midden van het gedruis en gewoel dat met het afwenden van de camera als een golfslag terugkeert tot de orde van de dag.
De tentoonstelling Double juicers biedt hiermee een venster op een universele houding van de mens. Een die niet opgeeft, en begrijpt dat wij in ons handelen moeilijk onderscheid kunnen maken tussen wat wij willen en wat wij moeten. Dat onze vrijheid vervat ligt, zoals Hannah Arendt het verwoordt, in onze gebondenheid aan noodzaak.
Opening Double juicers: vrijdag 21 september 20.00 uur tot 01.00 uur
Tentoonstelling dagelijks te bezoeken van 22 september tot en met 28 oktober
Foto's door Konstantin Guz