Dit evenement is voorbij.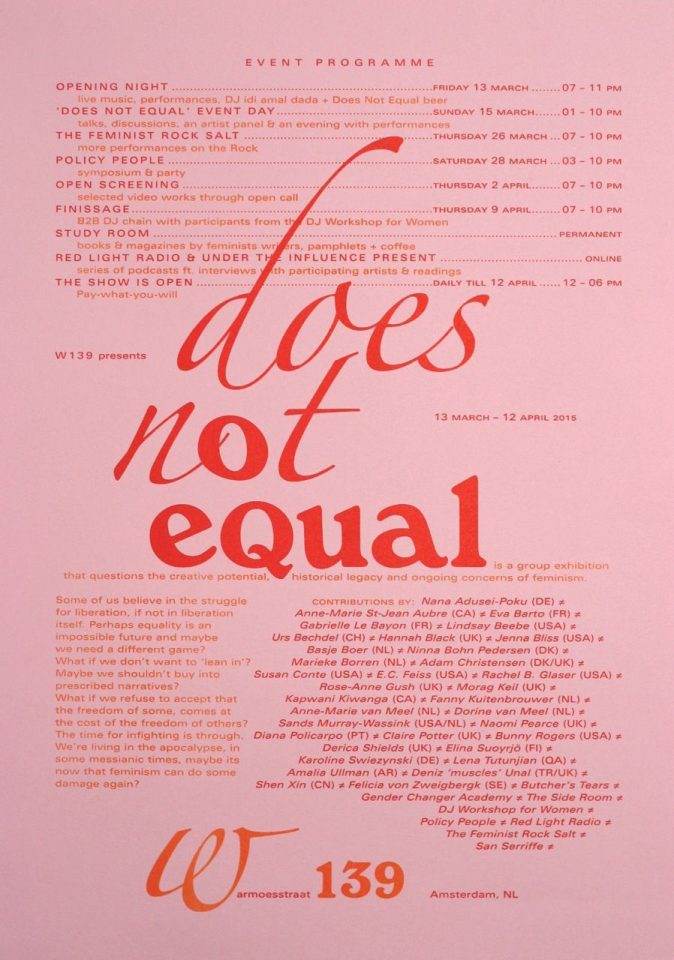 Does Not Equal
maart 13, 2015

-

april 12, 2015
Does Not Equal
13/03/2015 – 12/04/2015
Deelnemende kunstenaar(s) Deniz Unal, Nana Adusei-Poku, Eva Barto, Urs Bechel, Lindsay Beebe, Hannah Black, Jenna Bliss, Basje Boer, Nina Bohn Pedersen, Butcher's Tears, Adam Christensen, Susan Conte, DJ Workshop for Women, E.C. Feiss, Gender Changer Academy, Rachel B. Glaser, Rose-Anne Gush, Morag Keil, Kapwani Kiwanga, Fanny Kuitenbrouwer, Gabrielle Le Bayon, Sands Murray-Wassink, Naomi Pearce, Diana Policarpo, Policy People, Claire Potter, Red Light Radio, Bunny Rogers, San Serriffe, Anne-Marie St-Jean Aubre, Elina Suoyrjö, Karoline Swiezynski , The Feminist Rock Salt, The Side Room, Lena Tutunjian, Amalia Ulman, Shen Xin, Felicia von Zweigbergk, Anne-Marie van Meel, Dorine van Meel
Some of us believe in the struggle for liberation, if not in liberation itself. Perhaps equality is an impossible future and maybe we need a different game? What if we don't want to 'lean in'? Maybe we shouldn't buy into prescribed narratives? What if we refuse to accept that the freedom of some, comes at the cost of the freedom of others? The time for infighting is through. We're living in the apocalypse, in some messianic times, maybe its now that feminism can do some damage?
Does Not Equal is een groepstentoonstelling die de creatieve mogelijkheden, de historische erfenis en het actuele belang van feminisme onderzoekt. Meer dan 35 internationale kunstenaars, theoretici en schrijvers zijn betrokken bij het project, dat naast een doorlopende groepstentoonstelling bestaat uit een programma van live performances, lezingen, filmvertoningen en een studieruimte met feministische literatuur en theorie.
De bijdragen aan Does Not Equal tonen sterk verschillende, soms tegenstrijdige benaderingen van de problematiek van vrouwelijke subjectiviteit en gendergelijkheid. Zo richt de tentoonstelling zich op het politieke karakter van de gezondheidszorg, de organisatie van intimiteit in badhuizen, subjectieve vrouwelijke figuren zoals de Middeleeuwse heks, queer praktijken in China, en de eisen die de maatschappij stelt aan vrouwelijke schoonheid. Maar ook de wijze waarop kolonisatie het menselijk lichaam tot object heeft gereduceerd en de erfenis van radicale politieke groeperingen blijven niet onderbelicht.
Gezien de overweldigende aandacht voor feminisme in populaire cultuur lijkt de term, toegeëigend door beroemdheden en massamedia, zijn mogelijke impact te zijn kwijtgeraakt. Terwijl hashtags als YesAllWomen een soort van universele solidariteit weten op te roepen, poogt Does Not Equal juist recht te doen aan de realiteit van verschil en de inherente strijd die daarmee gepaard gaat, om te zoeken naar datgene wat ons binden kan.
Does Not Equal is een groepsproject geïnitieerd door W139 en kunstenaar Dorine van Meel.
Programma
OPENING – vrijdag 13 maart 19:00 – 23:00. Performance van Adam Christensen en muziek door DJ idi amal dada.
DOES NOT EQUAL EVENT DAY – zondag 15 maart 13:00 – 22:00: Symposium programma
13:00 Rose-Anne Gush
13:45 E.C. Feiss
15:45 Nana Adusei-Poku
17:00 Kunstenaars panel door Elina Suoyrjö met deelnemende kunstenaars Jenna Bliss, Ninna Bohn Pedersen, Gabrielle Le Bayon, Diana Policarpo and Shen Xin. Let op, er is een gelimiteerd aantal zitplekken voor het symposium. We adviseren je om vroeg te komen.
Sprekers: Rose-Anne Gush. Rose-Anne Gush is a University funded PhD Candidate in the School of Fine Art, History of Art and Cultural Studies at the University of Leeds and holds an MA from the Visual Cultures department, at Goldsmiths, University of London. Her project, provisionally titled Artistic Labour of the Body: Austrian Postwar Art, Aesthetic Theory and Psychoanalysis, addresses the feminist practices of VALIE EXPORT and Elfriede Jelinek, attending to the relation of artistic labour to the body, new technologies in art that is said to break with Modernism and the role of the 'body' in the work of Walter Benjamin, Theodor Adorno and Silvia Federici among others.E.C. Feiss: E.C. Feiss is a writer currently based at the Jan van Eyck Academie in Maastricht. Her work has appeared in Afterall, Open!, Texte zur Kunst and Radical Philosophy, amongst others. Recent and forthcoming projects include: lectures as part of CASCO's Books of Change launch event, Politics of Attachment ASCA (Amsterdam School of Cultural Analysis) and co-organization (with Karisa Senavitis) of a publication and symposia project Policy People which will take place at W139 Gallery in Amsterdam during Does Not Equal, March 28th, 2015. See policy-people.com. She is a tutor in Critical Studies and the School of Missing Studies, both at the Sandberg Instituut, Amsterdam. She holds an MA from the Visual Cultures department, Goldsmiths, University of London.
Nana Adusei-Poku: Nana Adusei-Poku is Research Professor in Cultural Diversity at Rotterdam University and Guest Lecturer in Media Arts and Master Fine Arts at the University of the Arts, Zurich. She was a scholarship doctoral student at Humboldt University, Berlin, working on the curatorial concept post-black in relation to contemporary Black artists called " Rooted in but not limited by"- Re-iterations of Post Black Art, following degrees in African studies and gender studies at Humboldt University, and in media and communications at Goldsmiths College, University of London. She has been a visiting scholar at the University of Ghana, Legon. Her research interests are in cultural studies, visual culture, Black diaspora art history, postcolonial, critical race theory and queer of color critique. As part of an interest to expand the means of knowledge production, Nana is developing collaborative Peformance lectures, which use the realm of the aesthetic in order to counter classical academic notions of presentation and communication. As part of the interdisciplinary transnational artist Collective HOWDOYOUSAYYAMINAFRICAN, she is currently working next to her Professorship as curatorial fellow at Witte de With Centre for Contemporary Arts in Rotterdam on a show with the Collective, which will open on May 21st.
Elina Suoyrjö: Elina Suoyrjö is an independent curator and writer. Her curatorial practice evolves around working site-specifically in close dialogue with artists. She is currently working on a PhD research on affects, energies and feminist curatorial strategies at Middlesex University in London.
Diner, 18:00: (vegetarische) Soep en salade Does Not Equal-style, gemaakt door Arda en Fanny. Betaal-wat-je-wilt!
THE FEMINIST ROCK SALT PRESENTS – donderdag 26 maart 19:00 – 22:00
The Feminist Rock Salt has landed!
The Feminist Rock Salt is the place for performance
The Feminist Rock Salt does what it likes
The Feminist Rock Salt loves Lynda 4eva
Come on board, come inside
See yaa! Performances op the rock door Diana Policarpo & Deniz 'muscles' Unal, Anna Maria Pinaka en Axelle Stiefel.
Anna Maria Pinaka (GR): Find me available. You can. Why is this art. It's pouring out of me. Cause this is what a flow is. Sitting with A talking about An. I said why not? Why can't we let that happen and then we see how it goes from there what we do with excess. Said no no no. Could smell tragedy coming. The abyss or something and was right cause then it felt like the abyss. Every time I over do it it turns into abyss. But I just don't know how to do it and not overdo it.Diana Policarpo (PT): Diana Policarpo will present a site-specific performance on the 26th of March for The Feminist Rock Salt, that will incorporate sound and spoken word.
Axelle Stiefel (CH): Axelle Stiefel will sing for you into the science fiction of a love song. A rock might well serve as a point of transfer. And an « I » as a vehicle for transportation. Since the exploration is the wet regime of corporeality, the journey it promises resembles the activity of sweat going through the pores of the skin of materiality. Flesh, Maurice Merleau-Ponty writes is not matter, is not mind, is not substance. To designate it, we should need the old term « element », in the sense it was used to speak of water, air, earth, and fire. »
Deniz Unal (TR/UK): For the duration of the show, Deniz will be known as Deniz 'muscles' Unal. 'Muscles' for short, will create a site and time specific performance in and around the set of The Feminist Rock Salt. 'Muscles' will treat the Gallery as a rehearsal and production space culminating in a performance on the 26th of March. For the performance 'muscles' will present the latest installment of the Health-E series.
POLICY PEOPLE – zaterdag 28 maart 15:00 – 22:00: Policy People is een gezamelijk onderzoeksproject geïnitieerd door schrijver E.C. Feiss en ontwerper Karisa Senavitis. Policy People gaat over raakvlakken van preventie en participatie. De intentie is om beleidszaken te ondervangen en daarmee ruimtes te creëren om beleidsprocessen aan te vechten. Het vertrekpunt van Policy People ligt bij de discussie over beleid in het boek The Undercommons: Fugitive Planning and Black Study (Minor Compositions, 2013) van Fred Moten en Stefano Harney Het project begon aanvankelijk door in opdracht geschreven teksten en interviews door Ayesha Hameed, Jonathan Michel Metzl, Interboro, Claire Pentecost en Gillian Harkins + Erica Meiners. Elk gaan ze op praktische of theoretische wijze in op beleid binnen biopolitieke kaders: voedsel, gezondheid, grenzen, educatie en huisvesting.Programmade in opdracht geschreven teksten zullen gebruikt worden tijdens het symposium, met bijdrage van: Egbert Alejandro Martina, Hannah Black, Marina Vishmidt and other guests. Het materiaal dat geproduceerd wordt voorafgaande aan, en tijdens het symposium wordt gebundeld in een publicatie. http://policy-people.com. Lees meer over de guest speakers en moderators op de engelse versie van deze pagina. Let op: er is een beperkt aantal plekken beschikbaar tijdens het symposium, we raden je aan om vroeg te komen. Entree: Betaal-wat-je-wil.
OPEN SCREENING – donderdag 2 april 18:30 – 22:00: Korte video's over feminisme. Een screening van de video's die geselecteerd zijn via de open call. Het werk wat vertoond zal worden is gemaakt door 17 internationale kunstenaars gevestigd in Nederland. De kunstenaars zullen aanwezig zijn om deel te nemen aan de discussies na afloop van elke screening. Het vrouwelijk perspectief in de Hollywood mainstream. Kunstenares Basje de Boer geeft een lezing waarin ze in zal gaan op het vrouwelijke perspectief in de mainstream cinema, geillustreerd door film fragmenten.
Programma, 18:30 – 19:30 Introductie en screening 1 gevolgd door een discussie. Caroline Marceron Interior with a woman reading. Mie Frederikke Fisher Christensen and Margaux Parillaud Well it Looks as if You are Armed for Battle. Ela Szota and Arta Balina Infinite Universe. Marieke Warmelink Ordinary secrets. Karimah Ashadu So Many Things. Eline Tsvetkova Elena.
19:30 – 20:00 Lezing van Basje Boer
20:00 – 20:30 Pauze
20:30 – 21:30 Screening 2 gevolgd door een discussie. Avan Omar Washing machine, Mickey Yang A-A-A, Marieke Zwart 45°, Sofi Lindroos and Boyon Kang Art Cells, HellFun Blame The Ancestors, Margaret Haines COCO, Pauline Curnier Jardin The vision of Dédé of Arc
22:00 Afsluitende borrel
geselecteerd video werk via de open call & lezing door Basje de Boer
FINISSAGE – donderdag 9 april 19:00 – 22:00: the DJ Workshop for Women will present a long back to back DJ chain with old and new participants from the workshops. DJ Workshop for Women: The DJ-ing Workshop for Women provides a safe space for women to learn, experiment and exchange about music, technology, software and skills. The workshops are open to women of all ages, genders and persuasion – facilitated once every month at Butcher's Tears, Amsterdam, by Amal Alhaag and Maria Guggenbichler.
The Side Room: The Side Room is a space for diverse actors' close and long-term artistic, cultural and political dialogues, collaborations and friendships. A literal side room to the bar of the brewery Butcher's Tears in Amsterdam, The Side Room is made possible through their generous support. It is maintained by Amal Alhaag and Maria Guggenbichler. http://butchers-tears.com. B2B DJ chain met deelnemers van de DJ Workshop for Women
PERMANENT STUDY ROOM: geniet van een kopje koffie en struin door de boeken in de studieruimte, gesitueerd in de voorruimte van W139. Kunstboekhandel San Serriffe: Kunstboekhandel San Serriffe biedt een selectie boeken van feministische kunstenaars aan.
Boekhandel Het Fort van Sjako: Boekhandel het Fort van Sjakoo is sinds 1977 gevestigd in het centrum van Amsterdam. Een breed scala aan links-politieke en maatschappijkritische onderwerpen vult de winkel. Tijdens Does Not Equal zal de boekhandel een selectie van feministische klassiekers aanbieden, als ook boeken over queer theorie, "black feminism", post-koloniale theorie & anarchisme.
Studiemateriaal: curator Anne-Marie St-Jean Aubre biedt boeken uit haar eigen bibliotheek aan om te lezen en te bestuderen. De boeken behandelen allemaal het thema van de vrouw als "bedrog": een traditioneel beeld bepaald door het dominante discours. De nadruk ligt op het verhalende aspect van ieders identiteit en de suggestie dat de zelfsturing van het subject bestaat uit de wijze waarop zij/hij het levensverhaal construeert.
Essays: Policy People presenteert 6 teksten rondom Fred Moten en Stefano Harney's boek The Undercommons: Fugitive Planning & Black Study.
Podcasts: Under the Influence, een project van schrijfster Naomi Pearce, maakt een aantal podcasts met kritische reacties, lezingen, performances en interviews met kunstenaars uit de tentoonstelling. De podcasts zijn te beluisteren in de studieruimte en op de website van de W139.
Pamflet: kunstenares Anne-Marie van Meel en kunsthistorica Fanny Kuitenbrouwer bieden een pamflet in beperkte oplage aan, die bezoekers gratis kunnen meenemen. Het pamflet is gebaseerd op drie 'gesprekken' tussen de twee, waarin zij etiquetteregels bespreken en hun maatschappelijke implicaties. Wat zeggen deze regels over de relatie tussen man en vrouw? Waar eindigt beleefdheid en begint de ongelijkheid? En hebben ze nog enige relevantie vandaag de dag?
Autobiografiën: Als onderdeel van haar lopende onderzoek historische vrouwen, biedt kunstenares Dorine van Meel autobiografiën aan van vrouwelijke kunstenaars, dichters en revolutionairen om te bestuderen. Met tekst van o.a. Emma Goldman, Paula Modersohn-Becker, Margaret Bourke- White, Helene Cixous, Michele Bernstein en Kim Gordon.
Kunstenaars boeken te koop: Lindsay Beebe, The Nightmare Doesn't Care, 100% Biz, 2011
Rachel B. Glaser, Pee on Water, Publishing Genius Press, 2010
Rachel B. Glaser, Moods, Factory Hollow Press, 2013
Maria Guggenbichler & Rosalie Schweiker, Clever Men's Art, 2013
Sands Murray-Wassink, Profeminist White Flowers, 2007
Bunny Rogers, Cunny Poem Vol. 1, Small Batch Books, 2014
Claire Potter, Mental Furniture, VerySmallKitchen, Hastings, 2014
een selectie van boeken en pamfletten door feministische schrijvers en koffie in de voorruimte.
RED LIGHT RADIO & UNDER THE INFLUENCE PRESENT: Een serie van online podcasts van interviews met deelnemende kunstenaars en lezingen. Under The Influence: gedurende de tentoonstelling zal schrijver Naomi Pearce een serie podcasts produceren getiteld Under the Influence, waarin kritische reacties, lezingen, performances en interviews met deelnemende kunstenaars aan bod komen. De podcasts zijn een extensie van haar recente onderzoek naar de manieren waarop de verschillende noties van invloed, vrouwelijke vriendschappen en feministisch erfgoed samenkomen. Het is mogelijk om een 'slechte invloed te zijn', of om 'onder invloed te staan van iets slechts', weggeleid van goed gedrag: slecht gedragen, slecht denken. Naomi wil proberen om aan de vrouwen te denken over wie ze leest en waarover ze schrijft, degenen die nog steeds haar (en van andere kunstenaars) denkwijzen vormen, wellicht zijn ze slechte invloeden. Naast de audio opnames in de podcasts die in samenwerking met de andere kunstenaars worden gemaakt, zullen de podcasts ook materiaal bevatten die Naomi vindt in het Aletta Instituut voor Vrouwengeschiedenis en het IHLIA, Internationaal Homo/Lesbisch Informatiecentrum en Archief. Daarin wordt de focus specifiek gelegd op correspondentie en administratieve documenten- marginale teksten, de discussie die zich ontvouwt rondom evenementen. Het toepassen van het archief materiaal is conventioneel gebaseerd op academische sensitiviteit, feitelijke accuratie en het ontdekken van specifieke 'waarheden' – een soort archeologische actie, het ontdekken van verborgen geschiedenissen. Daarentegen probeert Naomi de karakters in het archief te identificeren, wellicht over te identificeren, door middel van het verkeerd lezen, te vaak lezen, en in verleden tijd te lezen. Correspondentie tussen mannen geeft vaak bewijs van een vrouwelijke invloed. Aan de andere kant, zouden vrouwen zogenaamd 'in contact blijven met elkaar'; ze delen allen, biechten en vertrouwen. Waarom moeten we intimiteit ondermijnen om artistieke invloed te verkrijgen? Under the Influence zoekt naar manieren om onze invloeden op elkaar en tussen vrouwen van verschillende generaties narratief te maken.Part 1: We will misread influence as evidence of our friendship. Finding and discovering are acts of desire. Een lezing door Alice Hattrick en Naomi Pearce. Deze tekst was oorspronkelijk onderdeel van het event Feminist Art Panel in het Centre for Feminist Research aan de Goldsmiths Universiteit. Londen, in November 2014. Het kijkt terug op een periode van onderzoek naar het materiaal in The Women's Art Library.Diana Policarpo: kunstenaar Diana Policarpo zal een andere podcast produceren met een selectie van nummers en geluidscollages door vrouwelijke kunstenaars.
27 maart: Does Not Equal on Red Light Radio: 12:00 – 13:00. Diana and Naomi presenteren een mixtape van hun 'feminist influences'. Muziek, gesproken woord en soundscapes. Met speciale dank aan Jesper Buursink & Red Light Radio. Een serie online podcasts van interviews en readings met de deelnemende kunstenaars
Openingstijden
De tentoonstelling is dagelijks geopend van 12:00 – 18:00.
Entree
Betaal-wat-je-wilt
We nodigen je uit om, wanneer je de tentoonstelling waardeert, een contributie te maken en te betalen wat je wilt wanneer je de tentoonstelling verlaat.
Recensies
Metropolis M
Volkskrant
Kunstbeeld
Does Not Equal is mede mogelijk gemaakt door het AFK en MTS Audiovisueel