Dit evenement is voorbij.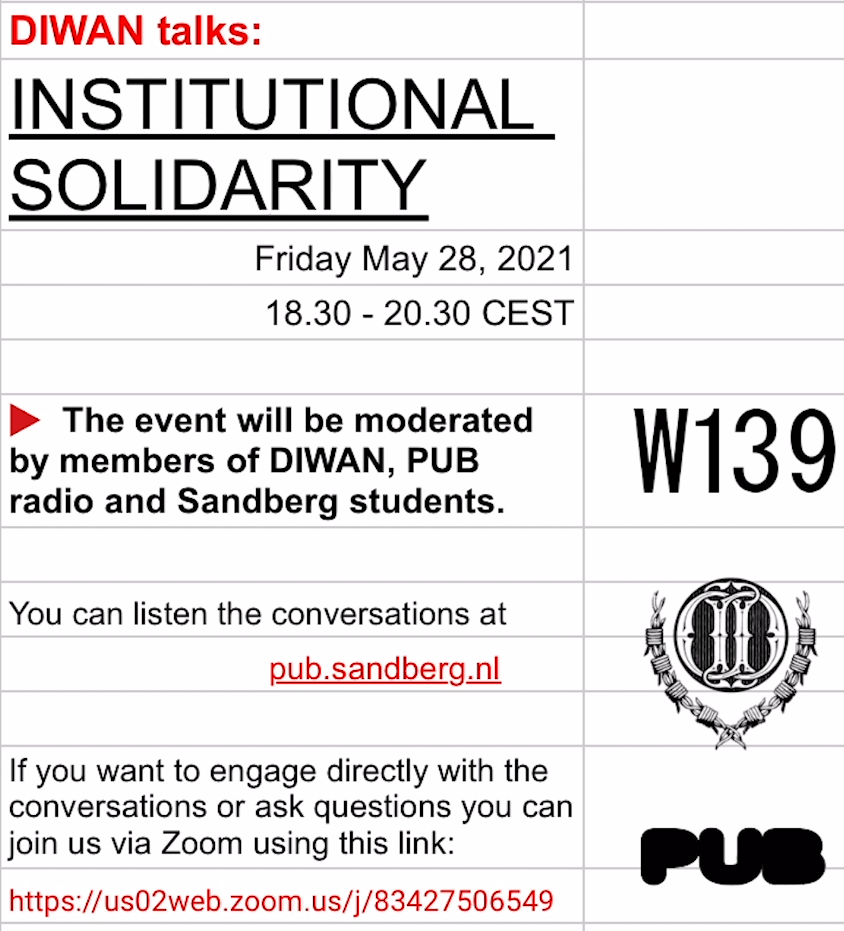 DIWAN talks: Institutional Solidarity
mei 28, 2021 @ 6:30 pm

-

8:30 pm

UTC+1
DIWAN talks: Institutional Solidarity
Friday May 28, 2021
18.30 – 20.30 CEST
DIWAN for Arts and Dialogue deals with urgencies and pressing questions which the art field, institutions, and practitioners are confronted with. For our second event we aim to respond and reflect on institutional solidarity, especially as it has come into focus during the last weeks due to the escalating violence against the Palestinian people.
DIWAN will be sharing a physical space with the students of Disarming Design and opening up the conversation across radio waves and digital channels with students, artists and cultural practitioners—independent as well as institutional workers.
Our aim is to engage in an open conversation about the role of art and educational institutions in regards to struggles for liberation. What are our expectations and underlying assumptions of the institutions that we are a part of? How, and to what extent, can the institution carry, support, and care for the multiplicity of voices within it? What are the ethical responsibilities of institutions? How can they be held accountable for their implementation of decolonial and political practices (or the lack of)?
The event will be moderated by members of DIWAN, PUB radio and Sandberg students.
For this event, we are being hosted by PUB radio, a trans-departmental initiative funded and run by students of the Sandberg Institute. You can listen to the conversations via pub.sandberg.nl.
---

DIWAN for Arts and Dialogue is a platform co-initiated by Fadwa Naamna, Hilda Moucharrafieh, Ehsan Fardjadniya, Margarita Osipian, and Emirhakin, and works in collaboration with the W139 artistic core group (2021-2023).
DIWAN for Arts and Dialogue aims at supporting young contemporary art and design practitioners, especially those in the diaspora, in the development of their projects and artistic practice. The platform's foundational focus is to facilitate navigating the Dutch art scene for post-graduate artists and curators, and tackle the collective struggles of residency permits, housing, and project funding, amongst others. DIWAN departs from the common experiences of its founders and seeks to stimulate public discursive events and knowledge exchanges that relate to these issues. 
RADIO STREAM DOCUMENTATION