Dit evenement is voorbij.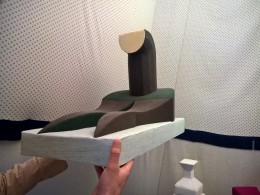 De werkelijkheid door nul
juli 8, 2017

-

augustus 13, 2017
De werkelijkheid door nul
08/07/2017 – 17/08/2017
Deelnemende kunstenaar(s) Wout Neutkens, Sylvie Verdierre
Opening vrijdag 7 juli 2017, 20:00 – 01:00
Elke steek van de naald is een uitstel van twijfel… elke rol garen… de lengte van de draad leidt dichter tot een uitspraak… een idee… dat ondanks de precaire conditie van het spreken toch consolideert…
Het karton wordt bekleed met een huid van stof waardoor de draad… (de draad is het bloed dat er leven in pompt) de dans van de naald… roept de groei van de sculpturen over zich af… met de beweging van de naald… schrijven we de ruimte vol… creëren er ruimte mee… Karton is het skelet, de huid is de stof… de draden zijn de bloedvaten, en de naald de ziel of het nu… De naald is god… als het klaar is heb je een wezentje… die zich voegt in de groep… de gratie van de mensen die het zien…  zij zien dat het een geheel en een enkeling is… (in gesprek met Wout en Sylvie)
Naar mate materiële en immateriële omgevingen tot een verlengde van de mens worden gerekend, zijn zij ook bevangen door schichtige zelfreflectie… een limbo van cultureel conservatisme, een wereld van uitgesproken wetten en obscure conventie. Het podium voor ironie en zelfingenomen escapisme… het aarzelend post-moderne…
Toch zijn vele van ons eropuit om zich aan deze ongemakkelijke toestand te kunnen onttrekken, en vinden in plaats daarvan een motivatie om te leven en te handelen die los van de sociale validatie en affirmatie processen van een bepaalde groep of samenleving kan opereren.
De werken van Wout Neutkens en Sylvie Verdierre en hun ontstaansproces zijn hier een goed voorbeeld van. De werken zijn een soort uitwassen van hun leven. Het zijn gezwellen, erecties… geboortes en visioenen…  voortdurende transities tussen abstractie en realiteit d.w.z. simplificaties die tot een beter begrip dienen te leiden van een bepaald onderwerp, modellen en berekeningen, en aan de andere kant een overgave aan de complexiteit van de wereld.
Zo komen natuurwetenschappelijke, emotionele en esthetische overwegingen nauw met elkaar in verband te staan. Als gematerialiseerde oftewel, gerealiseerde denkprocessen zijn de beelden van Wout en Sylve dan ook voelbaar beladen…
Alle werken in De werkelijkheid door nul zijn voor het eerst publiekelijk te zien.