Dit evenement is voorbij.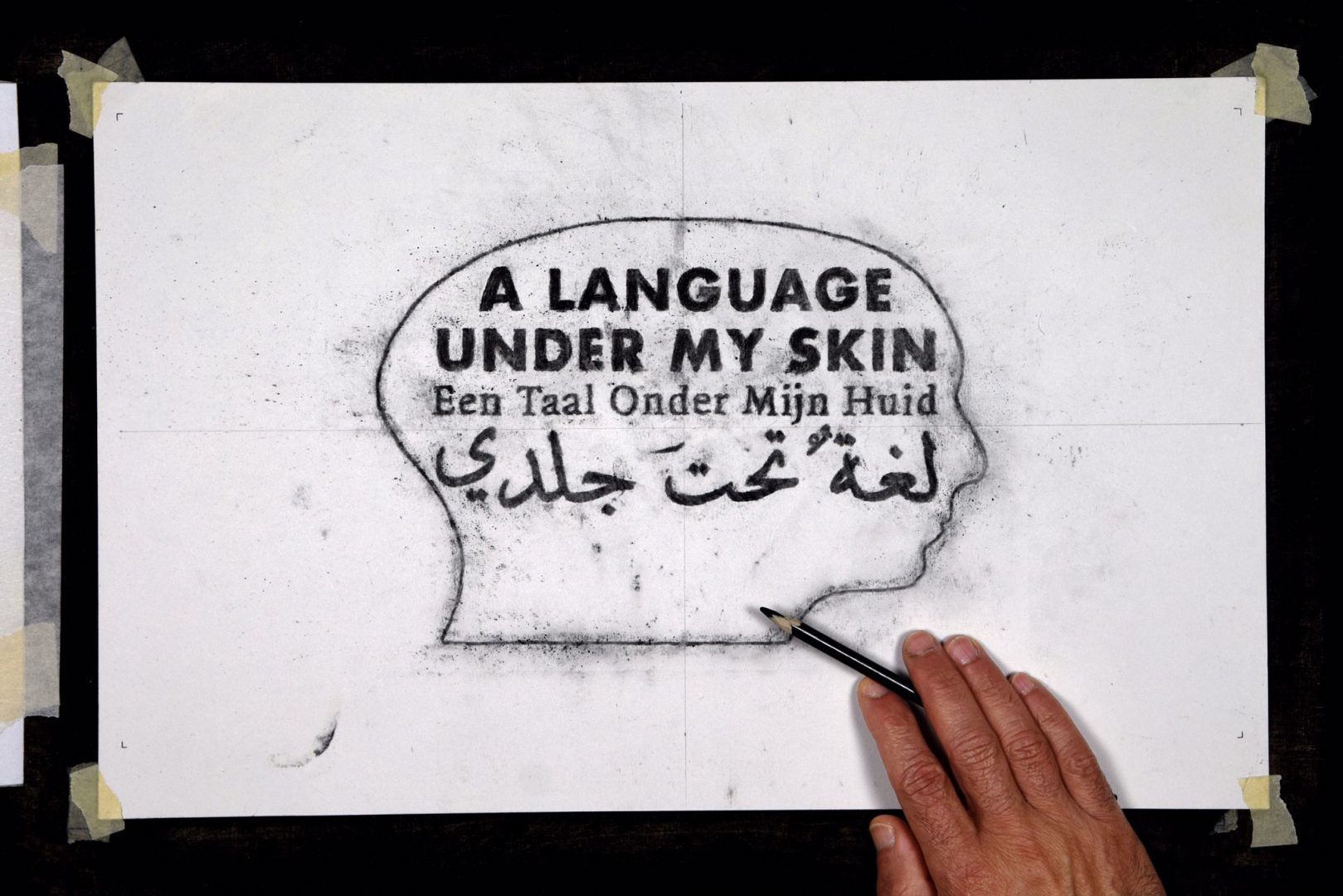 A LANGUAGE UNDER MY SKIN – Sadik Kwaish Alfraji
mei 14, 2022

-

juli 31, 2022
14 MEI – 31 JULI (VERLENGD)
SADIK KWAISH ALFRAJI
A LANGUAGE UNDER MY SKIN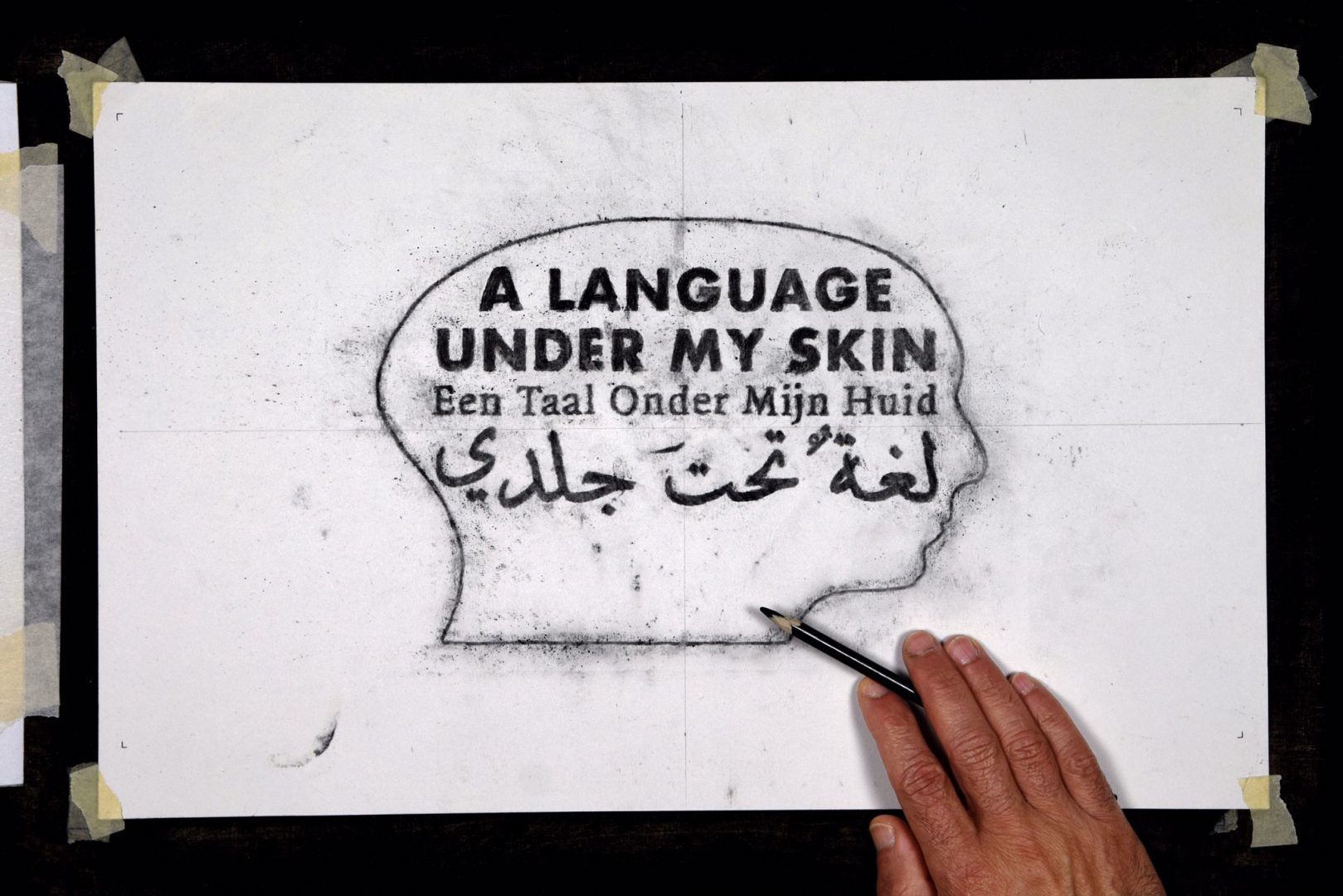 "I am both a stranger and a native to the same land, to the same mother tongue. This century told us too many times to stay alone, to cut all ties, never to look back, to go and conquer the moon: and this is what I did. This is what I do." – Etel Adnan
We worden geboren in een wereld, een leefomgeving en in omstandigheden die buiten onze controle liggen – we worden geboren in taal. De taal (of talen) die we spreken beïnvloeden hoe we denken over, en omgaan met, onze omgeving. Zij beïnvloeden onze denkprocessen, onze gevoelens en hoe we denken over tijd en ruimte. Vragen over taal refereren niet alleen aan de taalkunde, maar hebben filosofen, juristen, godsdienstwetenschappers, cognitiewetenschappers, antropologen, psychologen, en vele anderen beziggehouden.
Hoe worden we dan gevormd door taal? Geeft een taal onze gedachten vorm of is het enkel een middel om gedachten uit te drukken? In deze solotentoonstelling verkent Sadik Kwaish Alfraji de complexiteit van deze vragen. De animaties, grootschalige tekeningen en muurschilderingen in deze tentoonstelling gaan over de vraag waaruit een taal eigenlijk bestaat. Zijn het de woorden zelf? Zijn het de beelden van de woorden? Is het een alfabet, zijn het de klanken van de woorden of zijn het de fysieke gebaren van een uitdrukking? Het geheel is wat een 'taal' vormt en vormgeeft. Als verteller poogt Alfraji een van de gezichten van taal naar voren te brengen.
A Language Under My Skin toont nieuw werk van Alfraji waaronder een animatiefilm, graffiti-muurschilderingen en grootschalige tekeningen die de tentoonstellingsruimte transformeren. Sadik's tekeningen en animaties weerspiegelen de idee van het lichaam als een taal, een manuscript, een drager van talen, vormen en betekenis. De werken in de tentoonstelling geven een vorm aan, en vervlechten allerlei onderdelen van de taal – van de alfabetboeken die we als kind gebruiken om klanken met symbolen te verbinden tot complexe metaforen en idiomen die vaak moeilijk te vertalen zijn.
De tentoonstelling omvat ook een publiek programma van workshops, films en lezingen die nieuwe perspectieven bieden op de tentoonstelling en de conceptuele, verhalende en filosofische onderbouwing ervan.
A Language Under My Skin – Sadik Kwaish Alfraji
14 mei – 31 juli 2022 (verlengd)
Opening 13 mei | 19u
De volledige curatoriële tekst, geschreven door Margarita Osipian, kunt u hier downloaden. 
PUBLIEK PROGRAMMA
14 mei | 10 – 13u
24h Centrum
Storytelling Sessions, door Sahand Sahebdivani
meer informatie
14 May | 20 – 22h
The Names play: DH (Doug Hammond)
4 juni | 14 – 17u
A Choir of Tongues II
met Sara Santana López & Maria Paris
meer informatie
19 mei | 19.30 – 22h
TAKE 'EM DOWN
Scattered Monuments & Queer Forgetting
meer informatie
30 mei | 13 juni | 27 juni | 17 – 19.30u
Salwa Foundation – In Other Words
meer informatie
26 juni | 2 juli | 12 – 16h
Zine-making in the wild with Marly Pierre-Louis
meer informatie