Tuesday 7 March from 18.00-19.00
As part of W139's current exhibition, Dead Skin Cash, six artists are invited to react to the prompt "Who can afford to not sell their own skin?" by curating a playlist of visual and audio materials for this weekly screening program.
Henna Hyvärinen (born in Iisalmi, Finland) is an artist currently based in Amsterdam, who uses video, performance and text in her creation of auto-fictional narratives. She incorporates humor and her interest in the absurd to get closer to themes that otherwise might feel uncomfortable or eerie. Hyvärinen has been part of collectives and artist-run initiatives such as the music performance duo echo+seashell, and artist-run space and collective Sorbus (2013-2020) in Helsinki. She graduated in 2014 with an MFA from the University of the Arts in Helsinki and was a participant at De Ateliers residency program in Amsterdam in 2017–2019, where she co-founded Root Canal, a nomadic artist initiative with fellow residents.
Instagram: @hyvarinen.henna52
Buy your ticket here.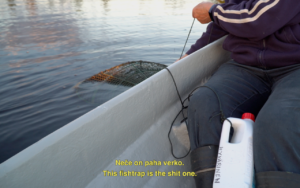 Film still from Pussycat Soup (2022)
Courtesy of the artist
Trigger warning: Content dealing with death. — Screening is not suitable for younger audiences/children.