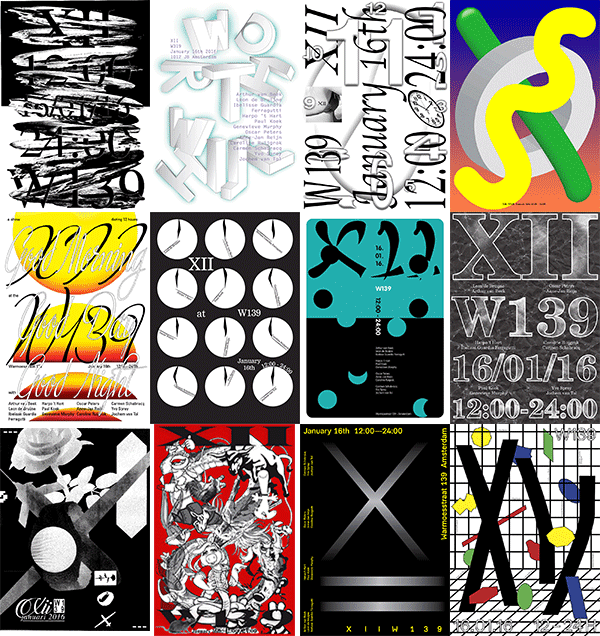 XII
16/01/2016
Participating artist(s) Harpo 't Hart, Ibelisse Guardia Ferragutti, Paul Koek, Genevieve Murphy, Oscar Peters, Anne-Jan Reijn, Caroline Ruijgrok, Carmen Schabracq, Yvo Sprey, Leon de Bruijne, Arthur van Beek, Jochem van Tol
On Saturday January 16th slowly, but surely W139 will be bursting at the seams during XII. From 12:00 till 00:00 XII won't stand still, not even for a moment. 12 works of art that slowly expand or quietly shrivel away, maintain a precarious balance, suddenly destroying or resurrecting themselves. All of these pieces make for a show that changes by the minute.
Witness the birth and stay for the glorious finale. Experience the evolution the works go through within this timeframe. Which pieces will crumble and collapse? And which ones will proudly spread their wings as they cross the finish line? Come to W139 and feel free to stay for the full twelve hours to find out.
Time-based work is at the focus of this group show. 12 hours can fly by, but at the same time they can last an eternity. How different these artists perceive the passing of time, the more different their work will be. Each artist brings their take on the passing of time to expression by kinetic work, graphic work, performance and compositions, in which everyone's personal struggle with time is explored.
XII is a metamorphosis, like a flock of birds continuously changing shape. A place in which the rushing passerby slows his pace and finds an unexpected form of concentration. Where the easefully elderly find their equal in the deadly tempo of a giant belt sander. It will be a show of non-stop relentless staggering, running along, and observation. You'll be here, you'll experience it all, just make sure you don't miss it! Mercilessly the twelve hours will pass. And the way the show looks at noon, how different she will be by midnight.
XII is supported by AFK, Stichting Stokroos and Gerrit Rietveld Academie.