W139 hosts… 2023
September 8, 2023 @ 12:00 pm

-

October 29, 2023 @ 6:00 pm

UTC+1

With our second edition of W139 hosts… we are excited to open up the W139 exhibition space for a dynamic seven-week long programme providing 55 makers and initiatives with the opportunity to present new projects or works-in-progress. During W139 hosts… a new constellation of makers and collectives moves into the exhibition space every week—creating a fluid and constantly changing environment. Every Friday we will organize a diverse programme of performances, screenings, live radio broadcasts, karaokes, happenings or other experiments from 17:00 to 19:00.
Through an open call, artists, designers, curators, mediators, collectives, local initiatives, and communities were invited to propose projects and ideas that they consider urgent and relevant. After receiving over 400 proposals for our open call, we were reminded of the incredible lack of space in Amsterdam to present works-in-progress, to gather together informally, and to engage in artistic experimentation. 
Selected by our artistic team, the participants reflect the extent, range and variety of the artistic community in Amsterdam and The Netherlands, showcasing new works, works-in-progress, experiments, durational pieces, installations, performances, screenings, sound works, workshops, gatherings, rehearsals, informal work presentations, radio shows, and much more. 
During W139 hosts… we open our doors to give space in the city center for the artistic community and to serve as a platform to meet and exchange ideas. This initiative aims to support, enhance, and contribute to the artistic ecosystem. W139 hosts… responds to the current political climate in the Netherlands within the cultural sector, where the lack of local and national cultural funding and support has created an ecosystem of scarcity and competition. With this initiative, and in the face of cultural funding cuts, we want to embrace abundance, openness, sharing, and trust. 
Generously supported by Gieskes Strijbis Fonds, Gemeente Amsterdam, Mondriaan Fonds, andOedipus Brewing.
WEEK 1
8-17 Sept
> Maarten Schuurman
> Art to Support
> Bring Your Own Book
> Maria Khatchadourian
> Paulina Martínez Marín
Friday 8 Sept — Opening (19:00-late)
> Common Ground
> Erica Gargaglione and Kimberley Cosmilla
> Ekat Yawa
> Afterparty at Kanaal40
Friday 15 Sept (17:00-19:00)
> Kexin Hong
> Yan-Zhi Kang
> Hahae Son
WEEK 2
20-24 Sept
> Thomas Mohr
> Nieuw Jurk & the Wee-Wee's
> Margherita Soldati and Hanna Steenbergen Cockerton
> Rasha Dakkak
Friday 22 Sept (17:00-19:00)
> Ksenia Perek
Performance 18:00
WEEK 3
27 Sept-1 Oct
> Sabina Scortanu
> Pernilla Manjula Philip
> Michiel Teeuw with Maaz Jan
> Intimidation Tactics
> Carl-Johan Paulsen / Leo Patra
Friday 29 Sept (17:00-19:00)
> Big Toilet Radio (12:00-19:00)
> Leo Patra (18:30)
Saturday 30 Sept
> Elisa Piazzi (16:00)
> Michiel Teeuw (talk 13:00)
WEEK 4
4-8 Oct
> Aubane Berthommé Martinez
> Tara White
> Beyond Blackness
> Theetat Thunkijjanukij
> Sarah Emilia Maria Daniela Sølvsten
Friday 6 Oct (17:00-19:00)
> Sarah Emilia Maria Daniela Sølvsten (17:30 – 18:00)
> Tara White
Saturday 7 Oct
> Arthur Guilleminot (14:00 – 17:00)
> Sarah Emilia Maria Daniela Sølvsten (13:00 – 16:00)
> Tara White (15:00 – 17:30)
WEEK 5
11-15 Oct
> NOVELTELENOVELA
> Fountains Without Water
> Los Angles Collective
> Laura Grimm
> Have A Good Dog Press and Friends
> Espacio Estamos Bien
Friday 13 Oct (17:00-19:00)
> Espacio Estamos Bien
> Los Angles Collective (18:30)
Saturday 14 Oct
> Oscar van Leest & Danielle Huyghe (15:00-16:30)
> Fariborz Karimi (13:00-16:30)
Friday 13 – Sunday 15 Oct 11:00 – 13:00
> Suntipede (appointment only)
WEEK 6
18-22 Oct
> 739
> Le Bateau
> Mira Thompson
> Manuela Benaim
> Anna Buyvid
> Juliette Hengst
Friday 20 Oct (17:00-19:00)
> Baba Boys X GarageNoise (12:00-19:00)
> Alvaro Ugarte (17:00-19:00)
Saturday 21 Oct
> Zhana Assaad
Workshop 14:00 – 17:00
> Anna Buyvid
16:00 – 18:00
WEEK 7
25-29 Oct
> Anahit Yakubovich
> Ulrike Möntmann
> Parcours
> Leftovers
> Ghenwa noiré and Ayman Hassan
Friday 27 Oct Closing Night (19:00-22:00)
> Erica Gargaglione and Kimberley Cosmilla
> echo+seashell
> Ötza
> Alvaro Ugarte
Saturday 28 Oct
> Pennie Key (14:00-17:00)
> Ghenwa noiré and Ayman Hassan (16:00)
8
 September – 29 October
Wed – Sun 12:00-18:00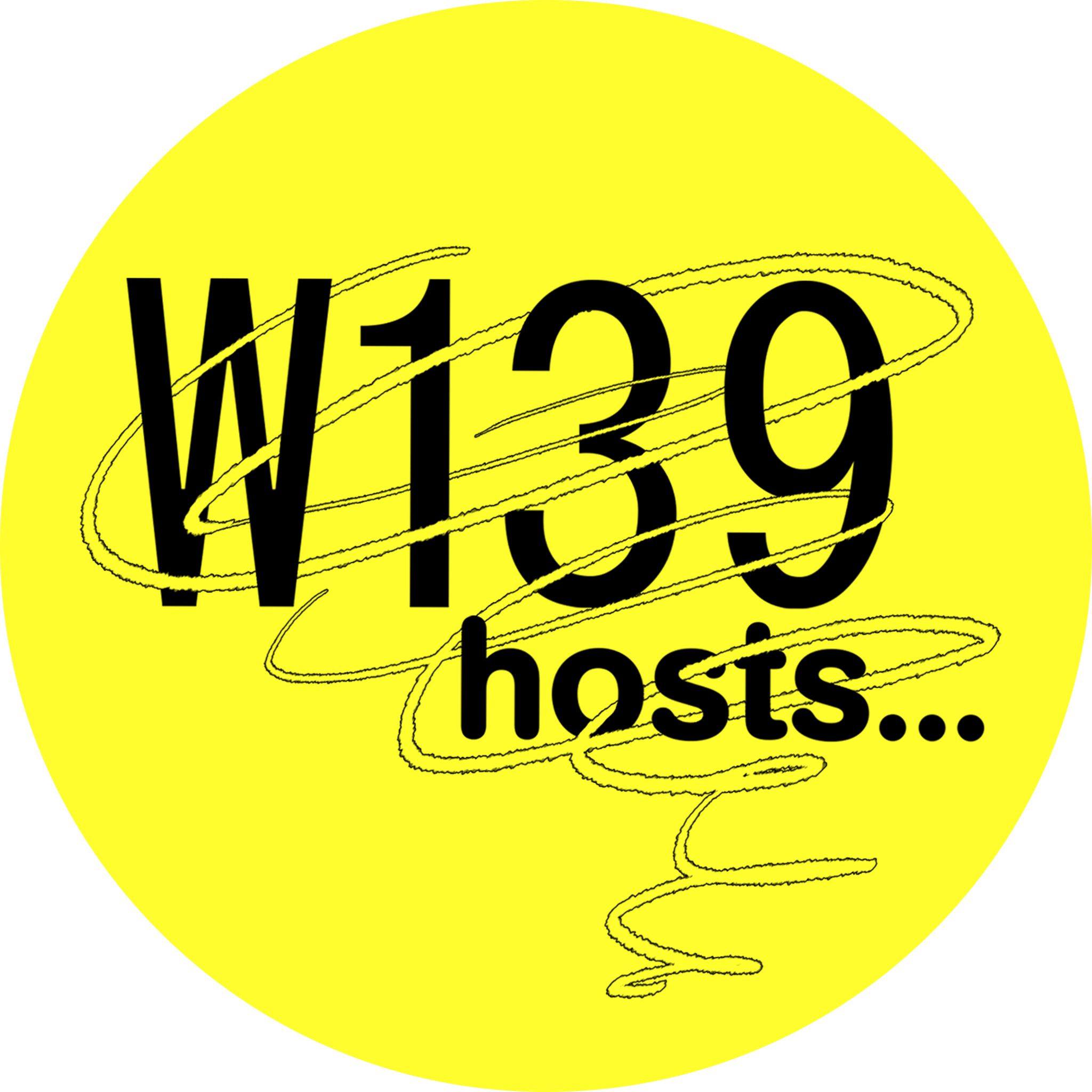 upcoming
27 October
W139 hosts… Closing Event
Don't miss the spectacular closing event of W139 hosts… on Friday 27 October. During this evening, we will celebrate the 7 weeks of artistic experimentation, and the makers, participants and visitors that we welcomed in our space.
Starting at W139 from 19:00, the closing event will feature an exciting performance from the static yet dynamic duo echo+seashell, performing a live set of two new songs produced by musician Torus and their music videos, and the spectacular miniskirt reveal from cryodesiccated freelance fanfiction entrepreneur Ötza.
We hope to see you there!
17 November 19:00 – 22:00
People's Forum Opening Night
We cordially invite you to the grand opening of People's Forum on the 17th of November, featuring drinks, a performance by Strangie and sounds by Farida. ⁠
18 November – 17 December 2023
People's Forum – Farida Sedoc
People's Forum departs from questions around how we can experiment with different forms of independent self-sufficiency within the cultural field. The exhibition aims to create a discursive space through which we'll share, exchange knowledge, and learn about ways to exist under precarious conditions. Through an open call, artists, designers, and cultural workers will be invited to sell whatever they want in a market setting, with the 'give and take' dynamics of the art economy in mind.
ongoing
Refresh Amsterdam #2
Susanne Khalil Yusef (Germany, 1984)
Bidnan3eesh – بدنا نعيش (WE WANT TO LIVE), 2022
The neon artwork with the Arabic words بدنا نعيش (We want to live) was created by visual artist Susanne Khalil Yusef. The neon design is based on the handwritten words of Hamza, an artist friend of Khalil Yusef who lives in the Gaza Strip. "We want to live" is the desperate appeal that inspired her to produce this work of art. Under the Israeli occupation of Palestine, living conditions are poor and unsafe, often a lifelong reality for many inhabitants.
As a counterpart to this violence, Khalil Yusef creates seemingly cheerful installations in which she uses an abundance of color and diverse materials, from carpet, glass, and ceramics to video work. Behind her brightly hued works lurks a world of menace, displacement, and fear.