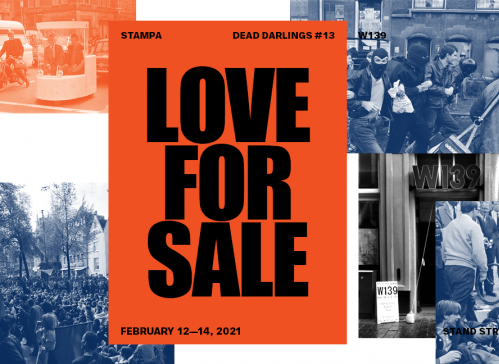 Love for Sale / Alles Moet Weg? & The Love Marathon
February 14, 2021 @ 12:00 pm

-

8:00 pm

UTC+1
12 – 14 February
Online benefit auction
Love for Sale / Alles moet weg?
&
The Love Marathon
Eight-hour long videocast talkshow
14 February 12:00 – 20:00

Love for sale / Alles Moet Weg? 
powered by Dead Darlings
In the first week of February, 170 artists donated their work for the online auction, offering a chance to stand stronger together against the reality of defunding and the threat of shutting down W139, the iconic and historical art institution of Amsterdam!
This Valentines' Day, reveal your love by placing your bids in the upcoming online auction, Dead Darlings #13 — Love for sale / Alles Moet Weg?
Follow this link for your preview and account registration.
All works will begin at the starting price of 50 euro. Bidding starts at 12:00 on February 12th, and closes at 18:00 sharp on February 14th. The last hour of the auction can be followed live via the Stampa videocast marathon
Dead Darlings:
"The auction is anonymous, adding excitement to the event, democratising the works, and helping to demonstrate that their value here, –in this context– is determined not by the art market, but by their contribution to our community, and the love they reflect from their makers and convey into their future homes."

special edition
Talkshow Stampa #15: The Love Marathon
Stampa hosts Sacha Bronwasser and Gover Meit (a.ka. Stefano Keizers) will present a non-stop eight-hour talk show  to support W139. Centred around the online auction, main themes of the talkshow will include a.o.: art in a city that is under pressure due to corona, high rents, and the importance of a free art space in the centre of Amsterdam – one that is not filled with doughnuts and waffles.
With numerous guests from the artistic, cultural and media field, including a.o.:
Janny Albers
director NV Zeedijk
Theodoor van Boven
founding director Condomerie
Ann Demeester
director Frans Hals Museum / former director W139
Jacqueline Grandjean
director Oude Kerk
Lidewij de Koekoek
director Rembrandthuis
Jean Bernard Koeman
artist and former director W139
Fadwa Naamna
curator researcher / core group W139
Margarita Osipian
curator, researcher en schrijver / core group W139
Bart Rutten
director Centraal Museum
Margriet Schavemaker
artistic director Amsterdam Museum
Rein Wolfs
director Stedelijk Museum Amsterdam
Ben Zegers
head of bachelor education Rietveld Academy
Watch from the street or online
14th of February 12 – 20 PM
Warmoesstraat 139, Amsterdam /
Talkshow Stampa's YouTube.
More information:
STAMPA website / STAMPA Facebook page
Many thanks to the participating artist, Dead Darlings, Stampa, and everyone who is going to join the auction. We are delighted by your support!
Ad de Jong, Afke Dam, Airco Caravan, Aldo Kroese, Alex Fischer, Alexandra Phillips, Alice Heron, André Avelãs, Andrea Simal, Anika Schwarzlose, Annaleen Louwes, Anne-Laure Ruffin, Aquil Copier, Arja Hop & Peter Svenson, Arthur Guilleminot, Arto van Hasselt, Asher Coady, Atelier Van Lieshout, Aukje Dekker & Geert Jan Jansen, Barbara Rink, Bas van den Hurk & Jochem van Laarhoven & Bo Stokkermans, Baukje Spaltro, Benjamin Francis, Brent Dahl, Brian D McKenna, Carmen Gray, Carmen Schabracq, Catharina Vergeer, Cécile Tafanelli, Charlott Markus, Chris Rijk,  Claire Bamplekou, Claudette van de Rakt, Daan Couzijn, Daniel Walwin, Danielle Alhassid, Delta van Melle & Violaine Chapallaz, Diego Diez, Dora Lionstone, Eduardo Rojo, Elena Rosa, Elsa-Louise Manceaux, Emily Kocken, Erik Kessels, Fabian Landewee, Femke Moedt, Fiona Tan, Floor Meijers, Francisco Mojica, Geer van der Klugt, George Korsmit & Saskia Janssen, Giorgos Gripeos, Guda Koster & Frans van Tartwijk, Hangfeng Chen, Hanna Mattes, Hannah Jacques, Hans de Tweede, Hans Kuiper, Harald Schole, Hepacan, Ian de Ruiter, Ilona Plaum, Irina Birger, Iris Kensmil, James Beckett, Jean Bernard Koeman, Jean-Philippe Paumier, Jelte Reinders, Jeroen Jongeleen, Jeroen ter Welle, Jessie Yingying Gong, Jim Klok, Joep Neefjes / LPI, John Körmeling, Joran van Soest, Joris Landman, Jos Houweling, Judith Witteman, Julia Walter, julius frodermann, Just Quist, Kaspar Dejong, Katja de Vries, Konstantin Guz, Koos Buster, Laura Grimm, Lea Adriaans, Lena Shafir, Lieve Hakkers, Lily Lanfermeijer & Joseph Hughes, Lisa Sudhibhasilp, Lisette Ros, Lois Richard, Lonneke de Groot, Lorena van Bunningen, Lyubov Matyunina, Mandra Wabäck, Marcel van den Berg, Margot Domart, Margriet van Breevoort, María Naidich & Sylvia van den Ouwelant, Marie Civikov, Mariëlle Videler, Marijn van Kreij, Mathilde muPe, Matthias Tharang, Maurice van Daalen, Megan Auður, Meis Vranken, Melanie Bonajo & herman de vries, Melanie Ouwehand, Millie Rose Dobree, Misha de Ridder, Nicolas Roses Ponce & Naqia Esufa Lee & Richard John & Matthew G Day & Setareh Fatehi & Tomislav Feller & Elisa Zuppini & Antonia Steffens & Nadja Voorham & Ginta Tinte & Moa Holgersson, Nikos Doulos, Noa Giniger, Noé Cottencin, Nynke Deinema, Odette Muijsers, OORBEEK, Orna Wertman, Oscar Peters, Paraskevi Frasiola, Patricia Werneck Ribas, Patrick Niemann, Pendar Nabipour, Peter Spaans, Phoebe Pryor, Pieter W Postma, PJ Bruyniks, Polly's Picture Show, Rika Maja Duevel, Riley Harmon, Robert Pennekamp, Roberto Perez Gayo & Gabriel .A. Maher, Roman Tkachenko, Ruchama Noorda, Ruth van Beek, Safira Taylor, Sam Hersbach, Sanne Kabalt, Schulz & Weise, Serena Rossi, Serge Onnen, Serge Verheugen, Simon Marsiglia, Sonia Mangiapane, Sophie Spekle, Stéphanie Baechler, Su Melo, Sylvie Zijlmans & Hewald Jongenelis, Tamara van der Leek, Tania Theodorou, Tatjana Macic, Thomas Manneke, Timo van Grinsven, Tina Sejbjerg, Tzvetana Tchakarova, Uta Eisenreich, Veerle van Rossom, Vincent Knopper, Wall-Russ, Wim van den Camp, Wineke Gartz, Xiyu Tomorrow, Yang-Ha, Yasser Ballemans, Yvonne Dröge Wendel, Zane Žeivate