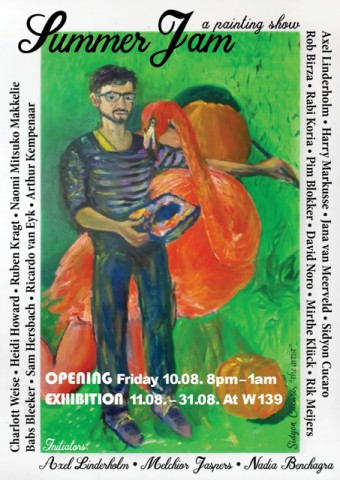 Summer Jam, a painting show
August 11, 2018

-

September 8, 2018
Summer Jam, a painting show
11/08/2018 – 08/09/2018
An exhibition with paintings and murals by: Rob Birza, Babs Bleeker, Pim Blokker, Sidyon Cucaro, Sam Hersbach, Arjan Hijbeek, Heidi Howard, Arthur Kempenaar, Mirthe Klück, Rabi Koria, Ruben Kragt, Axel Linderholm, Naomi Mitsuko Makkelie, Harry Markusse, Rik Meijers, David Noro, Charlott Weise, Ricardo van Eyk, Jana van Meerveld.
Friday August 10th Summer Jam, a painting show opens at W139.
The opening is from 20.00 until 01.00
Summer Jam is open from 11th of August until Friday 8th of September, we hope to see you there.
Image: Sidyon Cucaro – the artist
Graphic design: Franziska Schulz
Initiators of the exhibition: Axel Linderholm, Melchior Jaspers and Nadia Benchagra