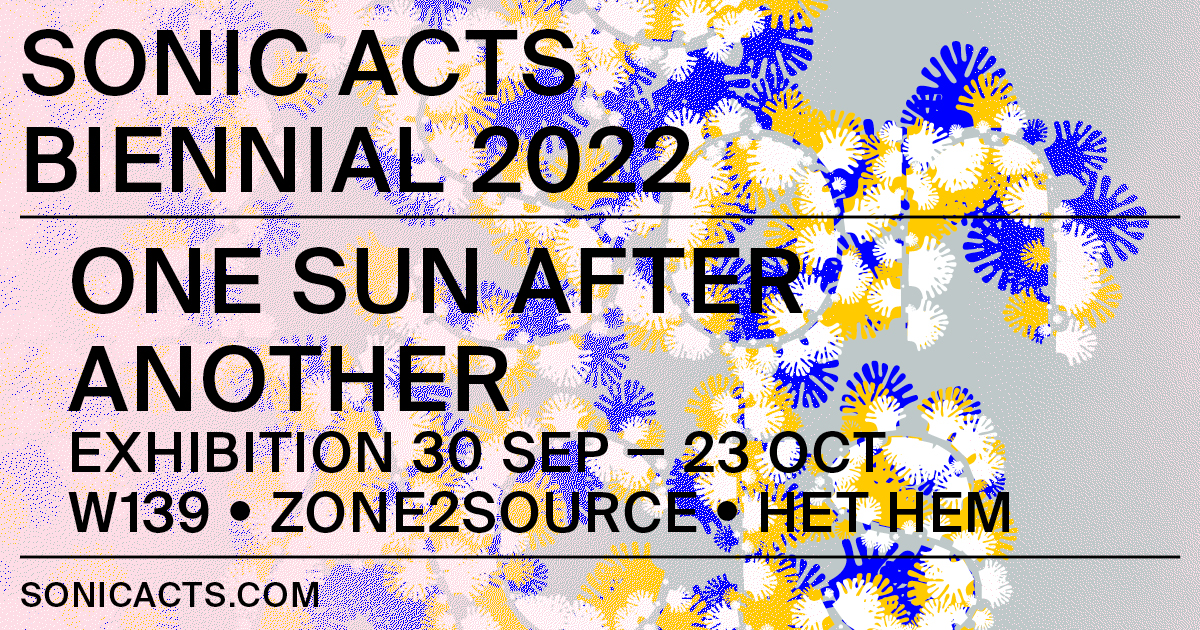 Sonic Acts 2022 EN
September 30, 2022

-

October 23, 2022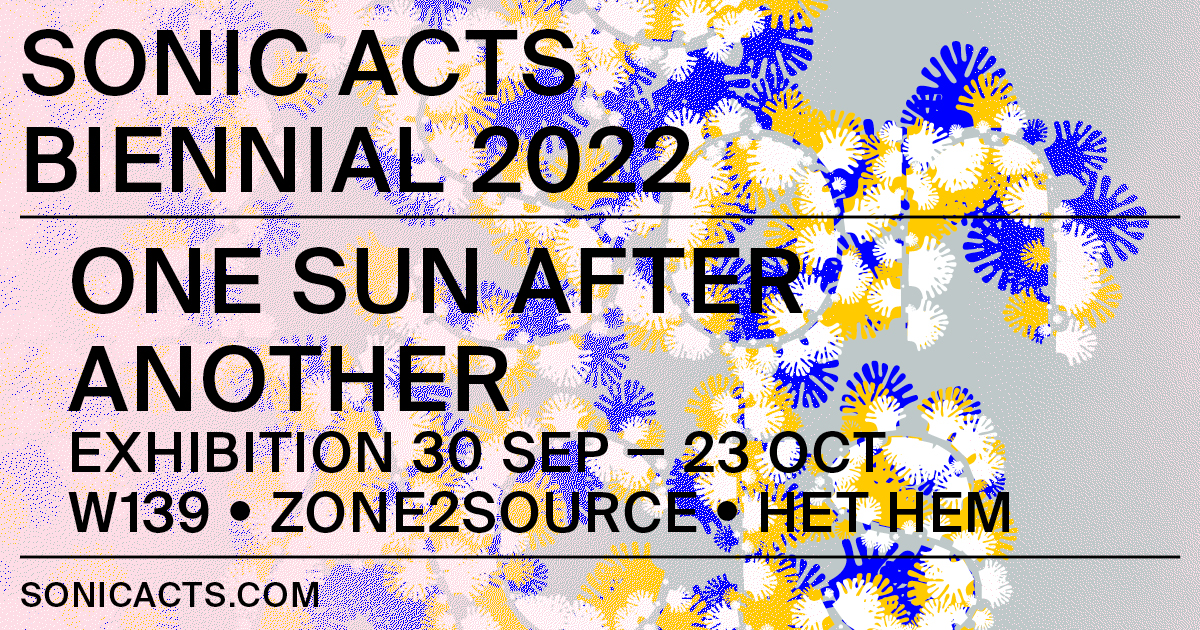 W139 will be hosting the Sonic Acts Biennial exhibition one sun after another together with two other locations, Zone2Source and Het HEM. The exhibition, taking place from 30 September to 23 October 2022, expands the long-term Sonic Acts research trajectory on the implications and origins of the climate crisis, and focuses on the irrevocable, intertwined nature of pollution and time.
Touching on deep, real, geological time, the programme embraces nonlinearity, fluctuation and porousness, making space for leaks. Permeable to hope, the figure of the ever-dawning sun glows without burning, permeating warmth, fueling imagination and progating life. Contemplating multiple incarnations of time, one sun after another listens to an immersive aerial choir of bees, follows a microbe embedded within lithium travelling from a Chilean mine to a digital device, and plunges into deep time through lead-encased nuclear coconuts from the Bikini Atoll. Artistic research traces the lineages of exhaust produced by oil and other extractive economies, while in other places it speculates over Greenland's mineral deposits, now made accessible by melting ice. In the Canadian Arctic, visual narratives on monumental ice walls come and go with tidal movements, soundtracked by a cacophony of environmental field recordings. Visitors are welcome to a joyful meditation about presence, sensing and bending time, before drifting downstream, where the exhibition stretches time even further. Immersive artworks explore toxic cycles of water and stretch inner time with hybrid instruments and sub-aquatic amplification.
The exhibition spreads over three locations.
W139: Andrea Galano Toro • Cesar Majorana • Danny Osborne, Patrick Thompson, Alexa Hatanaka, Sarah McNair-Landry, Eric McNair-Landry, Erik Boomer and Raven Chacon • Félix Blume • Julian Charrière • Leanne Wijnsma • Louis Braddock Clarke and Zuzanna Zgierska • Maryam Monalisa Gharavi and Sam Lavigne • MELT (Isabel Paehr and Ren Loren Britton) • Seline Buttner
Zone2Source / Amstel Park: Lucky Dragons (Sarah Rara and Luke Fischbeck) • Tomoko Sauvage
Het HEM: John Grzinich • Tomoko Sauvage
Sonic Acts
Taking place throughout October, Sonic Acts Biennial 2022 is staged across various locations, interweaving three weekends of exhibition openings, performances and lectures that will be accompanied by in/outdoor sound installations, artist presentations, workshops, excursions and more events yet to be announced. sonicacts.com
Sonic Acts Biennial 2022 is supported by Creative Industries Fund NL, Amsterdam Fund for the Arts, Mondriaan Fund, Fonds 21, Prins Bernhard Cultuurfonds, Performing Arts Fund NL, Paradiso, W139, Het HEM, Likeminds, OT301, Zone2Source, and Singelkerk. Co-funded by the Erasmus+ Programme of the European Union.
Practical information
30 September – 23 October, during Sonic Acts Biennial 2022
Tuesday to Friday from 12:00 until 18:00
Saturday and Sunday from 10:00 until 20:00
Opening Sonic Acts Biennial 2022:
one sun after another
30 September 17:30-23:00 • Free entry • W139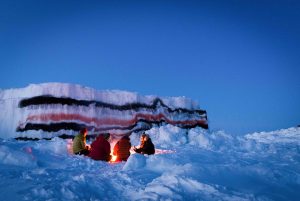 On Friday 30 September we celebrate the launch of Sonic Acts Biennial 2022 – warmly inviting you to the opening of the exhibition one sun after another at W139. In conversation with the works exhibited, the evening includes interventions by researchers, artists and performers, each responding in turn to the porous and cumulative ways toxicity traverses across micro and macro experience
The evening questions how encounters with extraction, leakage and pollution might be rendered palpable, with an interactive open lab by artist Cesar Majorana and tasting sessions by designer Leanne Wijnsma employing sensory experiences to illuminate environmental issues so often designated as invisible. The evening includes a collaborative performance by Loma Doom and G, directly responding to, and interweaving, the myriad of sonic elements present in the exhibition space.
Public Program
1 Oct, 12:00 – 13:00
Exhibition tour by Margarita Osipian & kunstenaars
More info and tickets
1 Oct, 13:30 – 14:30
presence-past presence-present presence-future
Guided Meditation for us as Trans* and Disabled people by MELT
More info and tickets

6 Oct, 19:00 – 23:00
16 Oct, 13:00 – 16:00
23 Oct, 14:00 – 17:00
The Syntax of Smell
Performance & Open Lab by Cesar Majorana
More info and tickets
12 Oct, 20:00 – 21:30
Listening Session with Felix Blume
More info and tickets
13 Oct, 20:00 – 22:00
Extractive Archives: Conversation and Book Launch
More info and tickets
14 Oct, 14:00 – 17:00
SUPERCUTS: SABOTAGE BY MONTAGE – workshop with Sam Lavigne
More info and tickets