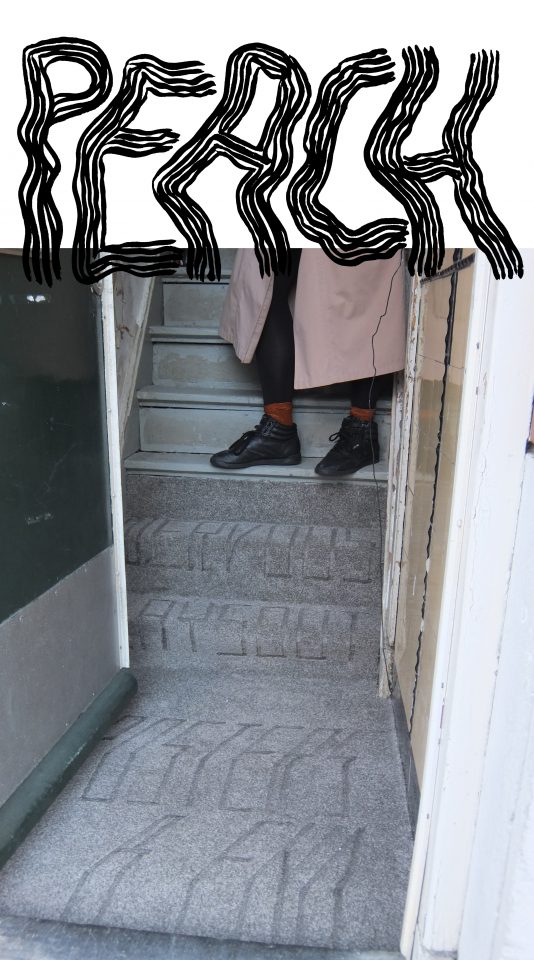 PEACH
November 19, 2016

-

December 18, 2016
PEACH
19/11/2016 – 18/12/2016
Participating artist(s) Roger 3000, Chantal Akerman, Mathis Altmann, Ghislain Amar, Olga Balema, Nina Beier, Gerry Bibby, Aleksandra Bielas, New Bretagne, Madison Bycroft, OKAY CONFIANCE, Sabrina Chou, Raluca Croitoru, Michael Dean, Mat Do, Jane Fawcett, Daniel Fogarty, Kevin Gallagher, Laurent-David Garnier, Marta Hryuniuk, Lauren Huret, Mitchell Kehe, Bitsy Knox, Dico Kruijsse, Gislind Köhler, Nina Könnemann, Hunter Longe, Perri Mackenzie, Alice Mendelowitz, K.R.M. Mooney, Jenifer Nails, Joost Nieuwenburg, Wiktor Polak, Roman Polanski, Anni Puolakka, George Rippon, Adam Shiu-Yang Shaw, Daniel Stempfer, Joanna Szumacher, Joshua Thies, Viktor Timofeev, Angharad Williams, Amy Yao, Micha Zweifel, Anna Maria Łuczak, Maciej Łuczak
Peach presents: the relocation of an apartment in Rotterdam – with exhibitions, performances and other events – to W139.
For the duration of one month, W139 will be PEACH — the apartment and artist-run space normally located at Grondherendijk 9b, Oud Charlois, Rotterdam. The exhibition will offer a personal look upon the community and ethos of PEACH. It is an explosion of the domestic. Both a physical caricature of the original apartment, highlighting the qualities of familiarity and intimacy found in a home, as well as a continuation of Peach's role as host — the temporary apartment on the Warmoesstraat will house five exhibitions over the course of one month.
Program
Opening, Friday the 18th of November, 20:00 – 01:00
The Apartment, November 19th – December 18th: A temporary relocation of the apartment in Rotterdam to W139 in Amsterdam, with home furnishings and artworks by Ghislain Amar, Sabrina Chou, Daniel Fogarty, Hunter Longe, Anna Maria Łuczak, Maciej Łuczak, Alice Mendelowitz and Adam Shiu-Yang Shaw.
Home Movies: a program of videos related to domestic activities and films in which the apartment itself becomes an active character. With works by Chantal Akerman, Sabrina Chou, Marta Hryniuk , Anna Maria Łuczak, Wiktor Polak, Roman Polanski.
November 19th – November 22nd
The Fates: The weavings, tapestries and looms of Sytze Roos and the Ambachtelijke Weverij are accompanied by the intermittent presence of Nina Beier's work 'Tragedy'.
Dingum presents Brachland, November 25 – December 15th. Opening: Friday the 25th of November, 20:00 – 01:00
Dingum presents Brachland: Berlin-based curatorial platform Dingum (Hannes Schmidt & Dennis Oliver Schroer) transforms the rear space of W139 into a mise-en-scène of an urban wasteland, presenting sculptural works by Mathis Altmann, Olga Balema, Gerry Bibby, Michael Dean, Nina Könnemann, K.R.M. Mooney, George Rippon and Amy Yao.
The Life Intense, December 16th, 17th & 18th. Performances each day from 18:00 – 22:00. The Life Intense: a variety of performances and music by artists from PEACH's community. The title of this event is taken from the book La Vie Intense by philosopher and writer Tristan Garcia. With works by Aleksandra Bielas & Gislind Köhler, New Bretagne, Madison Bycroft, OKAY CONFIANCE, Raluca Croitoru, Mat Do, Jane Fawcett, Kevin Gallagher, Laurent-David Garnier, Lauren Huret, Mitchell Kehe, Bitsy Knox & Roger 3000, Perri Mackenzie, Dico Kruijsse, Joost Nieuwenburg, Jenifer Nails, Anni Puolakka, Radio RAAR (by Joshua Thies), Joanna Szumacher, Daniel Stempfer, Viktor Timofeev, Angharad Williams and Micha Zweifel.
PEACH @ W139 is organised by Ghislain Amar, Sabrina Chou, Hunter Longe and Anna Maria Łuczak.
We hope to see you at one or more of these events at the Warmoesstraat 139!
PEACH @ W139 is supported by AFK