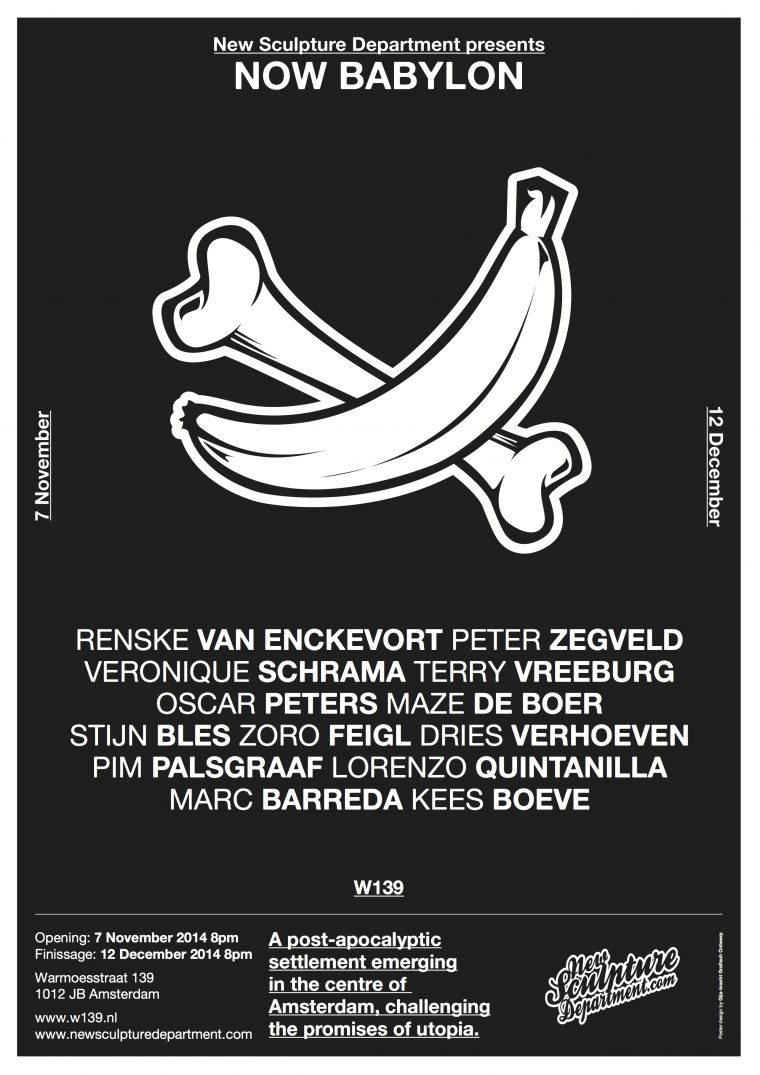 NOW BABYLON
November 7, 2014

-

December 12, 2014
NOW BABYLON
07/11/2014 – 12/12/2014
Participating artist(s) New Sculpture Department (Kees Boevé, Lorenzo Quintanilla, Marc Barreda), Stijn Bles, Zoro Feigl, Pim Palsgraaf, Oscar Peters, Veronique Schrama, Dries Verhoeven, Terry Vreeburg, Peter Zegveld, Maze de Boer, Renske van Enckevort
NEW SCULPTURE DEPARTMENT builds settlement in W139. NOW BABYLON: Challenging the promises of utopia.
In the coming weeks, a post-apocalyptic settlement will arise at the artist-run space W139 in Amsterdam. NOW BABYLON is a growing installation made by the collective NEW SCULPTURE DEPARTMENT (NSD). The opening will be on November 7th at 20:00.
NOW BABYLON is a work-in-progress for the next month and a half. In collaboration with 12 artists, NEW SCULPTURE DEPARTMENT will build a new world. "The title comes from the work New Babylon, by the artist Constant. In this show we react upon the misconceptions of all prior constructed utopias. No robots or world peace. But energy- and food shortages, climate changes and overpopulation", says Kees Boevé, who along with Lorenzo Quintanilla forms the core of NSD.
The site-specific NOW BABYLON is an experiment. The opening will be the kick-off to a period of research into this topic. "We give new value to worthless material. Together with the participating artists we examine what this new world would be like and try to define its rules and forms of communication. The results will be presented during the course of the exhibition. Our workshop will be a part of the exhibition, so that the build-up can continue at all times. Visitors will find themselves in a construction site of a less prosperous future, and they may even be part of this future." The final presentation of the project will be on the 12th of December 2014.
Amongst others, the artists Peter Zegveld, Maze de Boer and Zoro Feigl will introduce work for NOW BABYLON. There will also be a video by Dries Verhoeven. Recently his controversial Grindr-installation 'Wanna Play?' was cut short in Berlin due to protest.
Kees Boevé and Lorenzo Quintanilla met each other at the Gerrit Rietveld academy in Amsterdam. Both were dissatisfied about the study opportunities the academy offered, so in early 2011 they founded a shadow department: NEW SCULPTURE DEPARTMENT. The focus of NSD is the combination of craftsmanship, concept, use of material and three-dimensional work. The collective was previously presented in W139 with their work New Amsterdam Perspective (2012).
Program
Opening: Friday the 7th of November 2014, 20.00 – 01.00.
Post-apocalyptisch Thanksgiving Diner: Thursday the 27th of November, 19.00 – 23.00.
Artist Talk in NOW BABYLON: Joep van Lieshout, Thursday the 11th of December, 19.00 – 22.00.
NOW BABYLON NOW: Friday the 12th of December, 21.00 – 01.00
Articles: