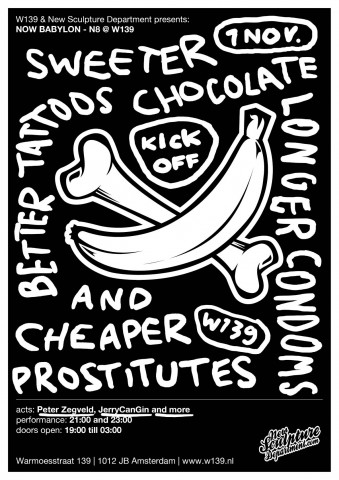 Museumnacht
November 1, 2014

-

November 2, 2014
Museumnacht
01/11/2014 – 02/11/2014
W139 and NEW SCULPTURE DEPARTMENT present: NOW BABYLON LIVE!
On the work floor of W139, amidst the chaos of NOW BABYLON, PETER ZEGVELD will present his mechanical orchestra with two incredible performances.
DJs CONIMEX, E MAUS & JOS JIVES will make you dance like there is no tomorrow and you will find the best G&T's in town at the original JerryCanGinTonicBar, if you can keep up with it.
Program
19:00: doors open
21:00 and 23:00: PETER ZEGVELD
23:00 – 01:00: CONIMEX
01:00- 03:00: E MAUS & JOS JIVES
NOW BABYLON LIVE! is the kick-off of the NEW SCULPTURE DEPARTMENT exhibition NOW BABYLON, of which the opening will take place on november the 7th.