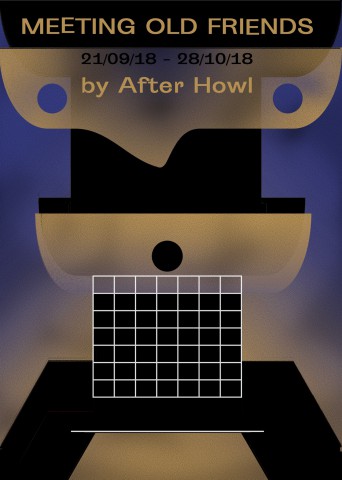 MEETING OLD FRIENDS
September 21, 2018

-

October 28, 2018
MEETING OLD FRIENDS
21/09/2018 – 28/10/2018
participating artist(s) Benjamin Jaubert, Jacopo Pagin, Grégoire Bergeret, Deborah Bowmann, Juliette Cazalic, Cuisine Sauvage, After Howl, Jardin, Romain Juan, Sarah Margnetti, Sarah & Charles, Kelly Schacht
MEETING OLD FRIENDS BY AFTER HOWL
Opening: Friday 21/09/2018 20.00 – 01.00
Exhibition: open daily 22/09/2018 – 28/10/2018
W139 opening times during Meeting Old Friends by After howl
Monday and Tuesday 12.00 – 18.00
Wednesday and Thursday 12.00 – 21.00
Friday 12.00 – 23.00
Saturday 12.00 – 21.00
Sunday 11.00 – 21.00
After Howl is a collective with a variable geometry which focuses on its own ecology and economy as the formation of a living group that works in a common space, in order to develop it as a fictional environment. Formed in 2012, the collective's current members are: Arthur Calloud, Morgan Dulong, Miguel Gonçalves, Marie Sardin, Rémy Tith and Kamilè Krasauskaitè. Based in Molenbeek, Brussels, in an old soap factory since 2015. In this building on its three floors various activities of the studio are developed; lemon pies, scenography, concrete columns, roofing coats, bathroom furniture, recording studio, smoked fish, night-shop, life table, restaurant, patio. The studio has a central place in the operation of the collective. It is the place from which all ideas are born and in which the collective finds itself daily. The studio consists of 3 trays as 3 reading strata:
COOKING / SCULPTURE / EXHIBITION
SOJA/ CONCRETE / GREEN SCREEN
BROTH / COLUMN / PATIO
After Howl consists of 5 artists but can expand, depending on the project and the collaboration, extending to artists or curatorial satellite entities. The studio follows this same principle. The projects are only signed under the name of After Howl, simply because they are created in a specific context, always keeping an eye on the history of the collective. Archives, notes, and sketches are considered as possible beginnings or re-starts for more adventures, themselves considered as pieces; and are most often recycled, embedded in narrations or in fiction. That's how a painting becomes a sculpture, or how a vital necessity like building a bathroom becomes an opening to other reflections on forms, architecture, politics and love. This retro-active loop creates a way of thinking about work as a document or super-document.
THE RESTAURANT
THE SNOWROOM
THE CLASSROOM
OLIVE CLUB
After Howl creates molecular landscapes with sculptures and structures inside the space. To come back, to meet, to visit, to take a look again. It's a space of change, where different platforms reveal aspects of our daily routines and needs. MEETING OLD FRIENDS is shaping and sculpting the landscape of vitality, like a city, daring to act and to create the substructure in order to spread and share in all possible ways.
PUBLIC PROGRAM OF EVENTS DURING THE EXHIBITION MEETING OLD FRIENDS
THE RESTAURANT
Boiled, cooked, baked, smoked, canned with passion by After Howl with special guests like Cuisine Sauvage and Grégoire Bergeret. Everyday a new menu, all made with love, special ceramics by "Frizbee ceramics", curcuma napkins, sourdough bread. Everything is covered by care and importance, every detail is part of the whole. Make your reservations here or drop by: restaurant@afterhowl.com
Opening times restaurant
Monday and Tuesday CLOSED
Wednesday, Thursday and Friday 12.00 –  21.00 (lunch + dinner)
Saturday 17.00 – 21.00 (dinner)
Sunday 11.00 – 21.00 (brunch + dinner)
THE SNOWROOM
Every Friday evening we open a new solo exhibition during the course of six weeks. Invited artists are: Jardin (FR), Juliette Cazalic (FR), Romain Juan (FR), Jacopo Pagin (IT), Sarah Margnetti (CH)
Program of THE SNOWROOM
Opening every Friday from 18.00 – 23.00
21st of August – 27th of August Jardin (FR)
28th of August – 4th of October Juliette Cazalic (FR)

5th of October – 11th of October

Romain Juan (FR)

12th of October – 18th of October

Jacopo Pagin (IT)

19th of October – 25th of October

Sarah Margnetti (GH)
THE CLASSROOM
THE CLASSROOM is built within the exhibition, an integral part of it, and offers 6 hours per week of lectures and workshops. This series will reflect on the transmission system which is a central part of the After Howl operating system; questioning the "how to transmit", "in what way", in what context and relationship; HOW TO DO SCHOOL. Classes are in English and are open to everyone. You can sign up for free here: classroom@afterhowl.com
September 20th FLUIDITY with Kelly Schacht (BE)
September 28th DRESSAGE & ARCHITECTURE with Grégoire Bergeret (FR)
October 4th MODE (Mode / modes of operation, actions, thoughts) with Cuisine Sauvage composed of Mathilde Raimond & Louis Danjou (FR)
Cuisine sauvage is composed of artists and chefs Mathilde Raimond and Louis Danjou – They are part of the " Wonder Liebert" , an artist run space of 1800m2 in Bagnolet, in the suburb of Paris, France. They operate in the field of drawing and sculpture. The Wonder Liebert is shared by 40 artists animated by the same desire for action, autonomy and independance.
October 11th LANDSCAPE with Sarah & Charles (BE)
Sarah & Charles ( BE) are collaborating since 2004. Their work is linked to the entertainment world and more specifically its invisible structures; subjects and genres such as : make-believe, simulacrum, story within the story, cinematic experience, disbelief … They produce architectural interventions and stage designs that combine video photography sculpture and installation technics.
October 18th INTUITION with Benjamin Jaubert (FR)
Benjamin Jaubert ( FR ) is a multidisciplinary artist who lives and works in Brussel. He took part of Komplot office board as a curator from 2012 to 2015 and lead several project such as : "The exchange Miami", "Tradition doesn't graduate" or "Anger management". He also writes and participate in several art publications like YEAR or the Cure. His pratice as an artist uses daily objects found nearby to create a life (self)portrait installation.
October 25th RESISTANCE, Deborah Bowmann (FR)
Deborah Bowmann is a fictional name for the artists formation of Amaury Daurel and Victor Delestre. Its activities comprises curating exhibitions and producing sculptures, objects and set design. It is both an artistic identity and an exhibition space. Deborah Bowmann aims to develop alternative manners of thinking exhibition making in the fields of contemporary art and design.