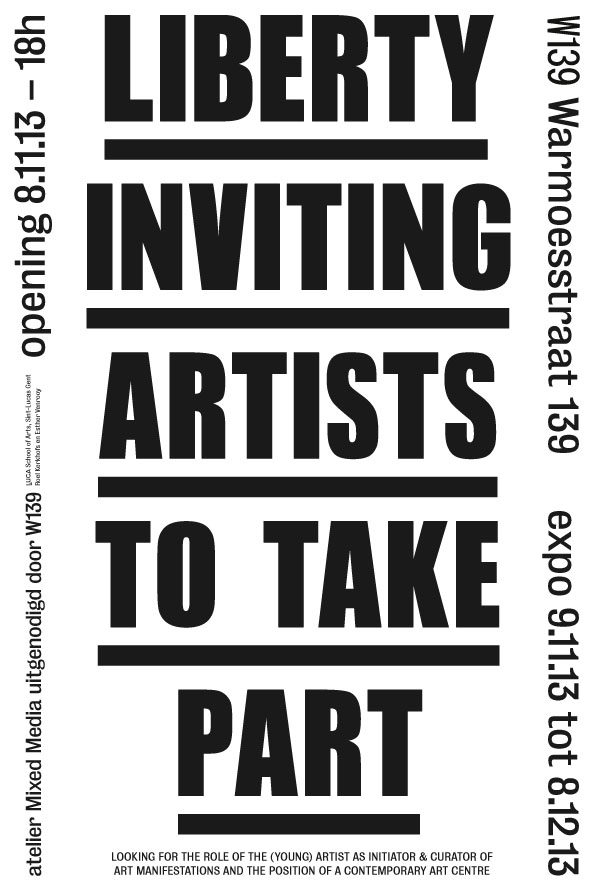 Liberty Inviting Artists to Take Part
November 9, 2013

-

December 8, 2013
Liberty Inviting Artists to Take Part
09/11/2013 – 08/12/2013
A year ago, W139 launched its plans for the future in the form of a manifesto. Basically, W139's vision of the future places artists at the heart and helm of the exhibition-making process. It's a strategy that W139 believes is essential in an art world that seems driven by a financial management culture that uses namedropping as a way of lending substance and status to an art institution's programme. Since 2013, W139 has presented exhibitions with the intention of exploring and connecting with innovative areas in the visual arts and society. W139 is committed to inspiring the youngest generation(s) of artists to stimulate and enhance their autonomy and independence and create as broad an artistic support base as possible for their work.
The atelier for Mixed Media at LUCA School of Arts, Sint-Lucas Beeldende Kunst Ghent (BE) responded to this vision with speed and enthusiasm. As a studio that is part of an art college, the atelier team trains students to become young, autonomous artists. Under the guidance of Esther Venrooy and Roel Kerkhofs, students are taught to question accepted ideas of art and encouraged to expand the boundaries of the obvious and self-evident, and take risks with every artistic statement. The public plays a key role in all this. From year one of the programme, exhibiting work is a crucial part of students' artistic growth process. With this in mind, the studio regularly organizes public moments with a dynamic and highly diverse group of young artists, to discover new formats within which art can have a place. So it's little wonder that the atelier embraces W139's renewed vision and is excited by the challenge of creating an inclusive space at Warmoesstraat 139. After all, it is vital for (young) artistic experimentation to have a platform that is independent of signifiers and unrestricted by the art world's usual norms.
LUCA School of Arts, campus Sint-Lucas Gent, Belgium
Program
Liberty Inviting Artists to Perform, 15th of november – 8th of December: During the exhibition Liberty inviting artists to take part every Thursday-night is open for artists to come and perform. There will also be served homemade food and drinks. You can take part by sending a proposal to info@w139.nl, please use "thursday-night" as the subject. The time-slots for every Thursday are 18:30 – 20:00 and 20:30 – 22:00 and you can still sign up for Thursday the 21st and the 28th of November and the 5th of December. You will be contacted as soon as possible if and when you are scheduled to perform.
Liberty Inviting Kids to Take Part, 23rd of November: Work shop for kids between 6 and 12 years old. This Sunday: Performance according instructies. In de kunstuitleen van Liberty inviting artists to take part kun je ook performances lenen. Maar wat is dat eigenlijk? En hoe leen je dat dan? Met behulp van de door kunstenaars achtergelaten instructies herbeleven we de performances opnieuw! Tijdens de tentoonstelling Liberty invites artists to take part wordt er elke zondagmiddag een workshop voor kinderen georganiseerd. Kinderen tussen de 6 en 12 jaar kunnen op allerlei verschillende manieren deelnemen aan de tentoonstelling. De workshops duren van 14:00 tot 16:00 en deelname kost 5 euro.