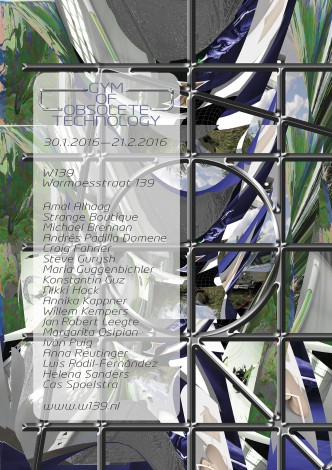 Gym of Obsolete Technology
January 29, 2016

-

February 28, 2016
Gym of Obsolete Technology
29/01/2016 – 28/02/2016
Participating artist(s) Amal Alhaag, Michael Brennan, Femke Dekker, Craig Fahner, Maria Guggenbichler, Steve Gurysh, Nikki Hock, Annika Kappner, Willem Kempers, Guz Konstantin, Jan Robert Leegte, Nicole Martens, Margarita Osipian, Andrés Padilla Domene, Iván Puig, Anna Reutinger, Luis Rodil-Fernández, Helena Sanders, Cas Spoelstra
When thousands of protesters took to the streets of Cairo to demand an end to the 30-year rule of President Hosni Mubarak, the Egyptian government cut the nation off from all forms of incoming and outgoing online communications. The breakdown, or disconnection, of wireless networks caused a rise in analogue communications and illuminated the physical structure of power and control that exists in what we often perceive to be 'immaterial' and decentralized communications channels.
The exhibition Gym of Obsolete Technology in W139 opens on the 29th of January and runs through until the 28th of February. During Gym of Obsolete Technology, artists visualize and give form to the tensions between the analogue and the digital that come into being during moments of transference, circumvention, and interference.
Imagine a space where visitors can pass iMacs back and forth like medicine balls. Where virtual reality experiences lead the brain while old hard drives train muscles during a fitness class. The 'gym' installation serves as the entrance point into the exhibition, where visitors can interact with the weight of obsolete technologies in a surreal gym framework.
With the original intention in mind, the participating artists of Gym of Obsolete Technology branch out to deal with topics such as economies of energy, our fantasies of physical interaction with the digital, the clumsiness of technology, use and obsolescence in our social experience of technology, digital materiality, how the sacred is transformed through digital simulation, and the visualization of invisible signals. The exhibition illuminates the increasingly invisible and ubiquitous digital form, while simultaneously pointing to the weight and waste generated by planned obsolescence and a tireless quest for 'innovation' and novelty in digital objects.
Luis Rodil-Fernández – Gym of Obsolete Technology
Blind Panels Podcast Episode 19: The Gym of Obsolete Technologies
Program
Opening, Friday 29th of January 20:00 – 01:00. With a special performance from Max Dovey and the Dial-Up Choir and DJ's.
RadioWaves, Monday 1st of February, 17:00 – 18:00. Artists Femke Dekker and Nicole Martens host a Red Light Radio show, extending the scope of their installation inside W139 onto the FM waves. Expect aural explorations in the digital-occult and techno-pastoral. link Podcast
Workshop, Sunday 7th of February 7th, 15:00 – 17:00. This hands-on workshop makes visible the role technology has in shaping our environments, how its effects are present in our communities and the political importance of understanding technical infrastructures. In this workshop, coders and activists Elli and Niki break down language as well as hardware to address topics such as profit versus community, human interaction, invisibility, and the role of anonymity online and off. It provides an introduction to programming and software for both beginners as well as old pros.
RadioWaves part 2, Sunday 7th of February, 14:00. Artist Luis Rodil-Fernández broadcasts software for public reception over Ja Ja Ja Nee Nee Nee radio, demonstrating fluidity between sound, software, and object, and the social and creative potential of piracy.
Lecture, Thursday 11th of February, 19:00 – 21:00. This discussion and lecture evening engages with the topics of circumvention, connectivity, and inequality. Curator and researcher Amal Alhaag uses the slapstick comedy "The Gods Must Be Crazy" by the South African filmmaker Jamie Uys (1980) as a departure point for a conversation on connectivity, absurdity and the geopolitization of the (digital) self. Artist Luis Rodil-Fernández gives a talk on the relationship between information and power, and activist and researcher Michael Brennan examines scenarios in which inequality plays out online, how data-based decision making contributes to injustice in the criminal justice system, and how image recognition inadvertently perpetuates racial bias.
Yoga class, Sunday 21st of February, 18:30 – 23:00. DIGITAL DECOMPRESSION SESSION at Gym of Obsolete Technology. A moment to re-align your nodes and re-solder missed connection. Join us for: Technological Decompression from 18:30 – 19:30 h – a yoga class and synth accompaniment. Be at peace with the cumbersome framework of the body and the coming cybernetic future… (Please bring your own yoga mat if you have one)
Live performance from BARTIRA, hacking and cracking her way through found analog technologies to create sound and musical possibilities. Bartira explores the agencies implicated in digital media culture, relationships between e-waste and African soil, performance dynamics in mass production lines where these technologies are produced, and the artistic and performative qualities of everyday use of technology and media.
YOGA Digital Decompression DETAILS: conducted by artist (and yoga practitioner) Annika Kappner. To participate, simply join us at 18:30. Please come on time so as not to interrupt the flow of the session…
…DIGITAL DECOMPRESSION: first some very simple exercises for our weary bodies, that can be done by anyone at any time, also during the day behind any form of digital device. Followed by equally simple yet very effective pranayama (breathing exercises) to reconnect our overstimulated brains to our bodies.
A brief relaxation to get back in touch with mother earth and ourselves, and a short meditation to learn to focus, since concentration is key to creativity, especially in times of over-stimulation. Hence easy and simple, accessible for anybody. Those who have trouble sitting straight on the floor can sit on chairs for the breathing and meditation. For those who prefer to sit on their mats it's good to bring a cushion or blanket that can be folded to sit on.
PC dump days, 288 Kbps surfing and feline file sharing Lecture event Thursday 25th of February, 19:00 – 22:00. For the second lecture evening of Gym of Obsolete Technology, we will be joined by Dennis de Bel, Olia Lialina and Peter Luining.
De Bel's exploration of interactivity and utility has led him to make humorous design interventions, manifested word puns, useless software and more recently noware. This term describes some of his latest works that are no longer hardware nor software but non-products, unique multiples and mass-produced one-offs that question functionality, inventiveness and innovation.
Olia Lialina created the iconic Internet artwork My Boyfriend came back from the War 20 years ago, which is currently on show at MU with 15 interpretations by other artists. The memory of the net as it passes through time changing in technology and culture is central in her work. She saved Yahoo!, GeoCities and Hyves from extinction, and continues to point at the relevance of the http://best.effort.network/ in the centralised proprietary net it is rapidly becoming today.
Peter Luining is one of the pioneers of Internet Art, emerging in 1995. His long commitment to Internet-based art made him aware of the hardware issues behind the pixels, leading him to document trashed CRT monitors during long nightly walks through the city. He also visited the infamous PC dump days, massive flea markets of computer related trinkets, which have gone obsolete themselves. Doors open at 7pm and talks start at 19:30.
** Entrance is pay-what-you-will **
Reviews
SSBA-salon written by Sanneke Huisman
For their support, we would like to thank the following organizations and companies: Foundation for Contemporary Arts Emergency Grant • Spectro Productions • van Gansewinkel • Alberta Foundation for the Arts • Heezen Bv Eindhoven • ArtEZ School of the Arts, Arnhem • Pyrasied Xtreme Acrylic • The State of Texas