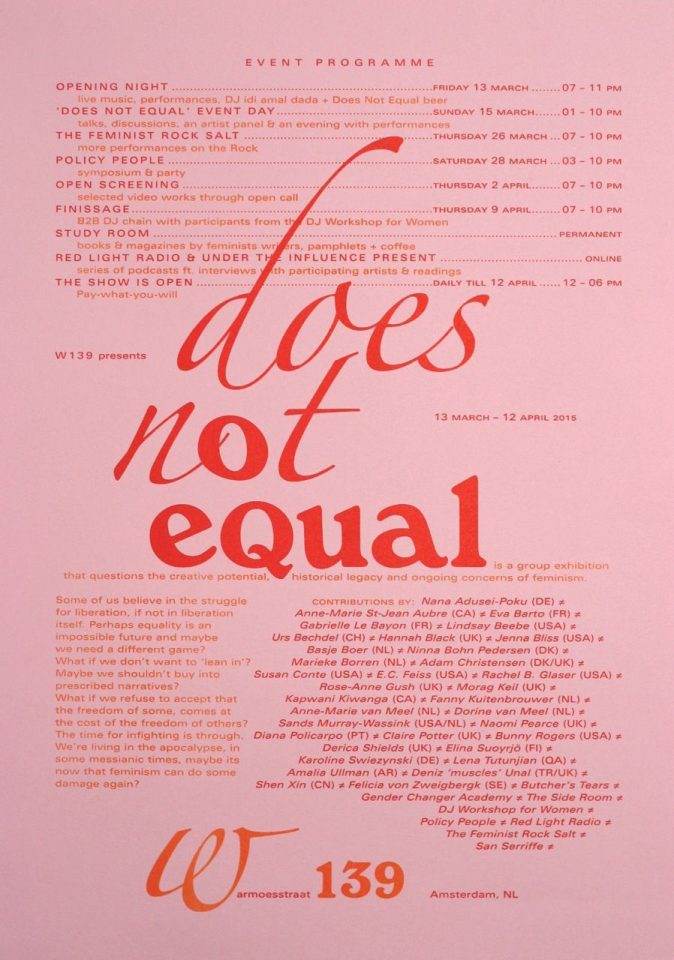 Does Not Equal
March 13, 2015

-

April 12, 2015
Does Not Equal
13/03/2015 – 12/04/2015
Participating artist(s) Deniz Unal, Nana Adusei-Poku, Eva Barto, Urs Bechel, Lindsay Beebe, Hannah Black, Jenna Bliss, Basje Boer, Nina Bohn Pedersen, Butcher's Tears, Adam Christensen, Susan Conte, DJ Workshop for Women, E.C. Feiss, Gender Changer Academy, Rachel B. Glaser, Rose-Anne Gush, Morag Keil, Kapwani Kiwanga, Fanny Kuitenbrouwer, Gabrielle Le Bayon, Sands Murray-Wassink, Naomi Pearce, Diana Policarpo, Policy People, Claire Potter, Red Light Radio, Bunny Rogers, San Serriffe, Anne-Marie St-Jean Aubre, Elina Suoyrjö, Karoline Swiezynski , The Feminist Rock Salt, The Side Room, Lena Tutunjian, Amalia Ulman, Shen Xin, Felicia von Zweigbergk, Anne-Marie van Meel, Dorine van Meel
Some of us believe in the struggle for liberation, if not in liberation itself. Perhaps equality is an impossible future and maybe we need a different game? What if we don't want to 'lean in'? Maybe we shouldn't buy into prescribed narratives? What if we refuse to accept that the freedom of some, comes at the cost of the freedom of others? The time for infighting is through. We're living in the apocalypse, in some messianic times, maybe its now that feminism can do some damage?
Does Not Equal is a group exhibition that questions the creative potential, historical legacy and ongoing concerns of feminism. Featuring more than 35 international artists, writers and curators the project presents various and conflicting responses that interrogate issues of gender equality and female subjectivity, including queerness in China, the politics of healthcare, and the dynamics of intimacy in public baths. Familiar characters such as the witch or medieval woman are inhabited. Elsewhere the history of colonial extraction and its commodification of bodies is explored whilst other works present archival investigations into radical political groups such asWhite Lightning.
In the wake of recent media attention, celebrity endorsement and cultural appropriation and recuperation, feminism no longer seems to be a dangerous word. If hashtags such as 'YesAllWomen' work to find some kind of universal solidarity Does Not Equal attempts to acknowledge the reality of difference and the struggle inherent in finding what's shared. In adopting a discursive curatorial approach, and informed by a series of reading groups, the exhibition presents a programme of live performance, symposium and film screenings accompanied by a collective study room and series of radio podcasts.
Does Not Equal is a collaborative project initiated by W139 and artist Dorine van Meel.
Program
OPENING NIGHT- Friday 13 March 19:00 –11:00. performance by Adam Christensen and music by DJ idi amal dada.
DOES NOT EQUAL EVENT DAY – Sunday 15 March 13:00 – 22:00.
Symposium Program
13:00 Rose-Anne Gush
14:45 E.C. Feiss
16:45 Nana Adusei-Poku
17:00 Panel discussion by Elina Suoyrjö with participating artists Jenna Bliss, Ninna Bohn Pedersen, Gabrielle Le Bayon, Diana Policarpo and Shen Xin. There is a limited number of seats available for the symposium, so we recommend you to come early.
Guests: Rose-Anne Gush. Rose-Anne Gush is a University funded PhD Candidate in the School of Fine Art, History of Art and Cultural Studies at the University of Leeds and holds an MA from the Visual Cultures department, at Goldsmiths, University of London. Her project, provisionally titled Artistic Labour of the Body: Austrian Postwar Art, Aesthetic Theory and Psychoanalysis, addresses the feminist practices of VALIE EXPORT and Elfriede Jelinek, attending to the relation of artistic labour to the body, new technologies in art that is said to break with Modernism and the role of the 'body' in the work of Walter Benjamin, Theodor Adorno and Silvia Federici among others.
E.C. Feiss: E.C. Feiss is a writer currently based at the Jan van Eyck Academie in Maastricht. Her work has appeared in Afterall, Open!, Texte zur Kunst and Radical Philosophy, amongst others. Recent and forthcoming projects include: lectures as part of CASCO's Books of Change launch event, Politics of Attachment ASCA (Amsterdam School of Cultural Analysis) and co-organization (with Karisa Senavitis) of a publication and symposia project Policy People which will take place at W139 Gallery in Amsterdam during Does Not Equal, March 28th, 2015. See policy-people.com. She is a tutor in Critical Studies and the School of Missing Studies, both at the Sandberg Instituut, Amsterdam. She holds an MA from the Visual Cultures department, Goldsmiths, University of London.
Nana Adusei-Poku: Nana Adusei-Poku is Research Professor in Cultural Diversity at Rotterdam University and Guest Lecturer in Media Arts and Master Fine Arts at the University of the Arts, Zurich. She was a scholarship doctoral student at Humboldt University, Berlin, working on the curatorial concept post-black in relation to contemporary Black artists called " Rooted in but not limited by"- Re-iterations of Post Black Art, following degrees in African studies and gender studies at Humboldt University, and in media and communications at Goldsmiths College, University of London. She has been a visiting scholar at the University of Ghana, Legon. Her research interests are in cultural studies, visual culture, Black diaspora art history, postcolonial, critical race theory and queer of color critique. As part of an interest to expand the means of knowledge production, Nana is developing collaborative Peformance lectures, which use the realm of the aesthetic in order to counter classical academic notions of presentation and communication. As part of the interdisciplinary transnational artist Collective HOWDOYOUSAYYAMINAFRICAN, she is currently working next to her Professorship as curatorial fellow at Witte de With Centre for Contemporary Arts in Rotterdam on a show with the Collective, which will open on May 21st.
Elina Suoyrjö: Elina Suoyrjö is an independent curator and writer. Her curatorial practice evolves around working site-specifically in close dialogue with artists. She is currently working on a PhD research on affects, energies and feminist curatorial strategies at Middlesex University in London.
Dinner, 18:00: A lovely dinner made by Arda & Fanny – (vegetarian) soup and salad Does Not Equal-style. Pay-what-you-will!
THE FEMINIST ROCK SALT PRESENTS – Thursday 26 March 19:00 – 22:00.
The Feminist Rock Salt has landed!
The Feminist Rock Salt is the place for performance
The Feminist Rock Salt does what it likes
The Feminist Rock Salt loves Lynda 4eva
Come on board, come inside
See yaa! Performances on the rock by Diana Policarpo, Deniz 'muscles' Unal, Anna Maria Pinaka and Axelle Stiefel.Anna Maria Pinaka (GR): find me available. You can. Why is this art. It's pouring out of me. Cause this is what a flow is. Sitting with A talking about An. I said why not? Why can't we let that happen and then we see how it goes from there what we do with excess. Said no no no. Could smell tragedy coming. The abyss or something and was right cause then it felt like the abyss. Every time I over do it it turns into abyss. But I just don't know how to do it and not overdo it.
Diana Policarpo (PT): Diana Policarpo will present a site-specific performance on the 26th of March for The Feminist Rock Salt, that will incorporate sound and spoken word.
Axelle Stiefel (CH): Axelle Stiefel will sing for you into the science fiction of a love song. A rock might well serve as a point of transfer. And an « I » as a vehicle for transportation. Since the exploration is the wet regime of corporeality, the journey it promises resembles the activity of sweat going through the pores of the skin of materiality. Flesh, Maurice Merleau-Ponty writes is not matter, is not mind, is not substance. To designate it, we should need the old term « element », in the sense it was used to speak of water, air, earth, and fire. »
Deniz Unal (TR/UK): for the duration of the show, Deniz will be known as Deniz 'muscles' Unal. 'Muscles' for short, will create a site and time specific performance in and around the set of The Feminist Rock Salt. 'Muscles' will treat the Gallery as a rehearsal and production space culminating in performance on the 26th of March. For the performance 'muscles' will present the latest installment of the Health-E series.
POLICY PEOPLE – Saturday 28 March 15:00 – 22:00: Policy People is a collaborative research project initiated at the Jan van Eyck Academie by writer E. C. Feiss and designer Karisa Senavitis in 2014. Policy People deals with the axis of prevention and participation. The effort is to undo policy and to introduce spaces for contestation within policy processes. Policy People departs from Fred Moten and Stefano Harney's discussion of 'policy' in their book The Undercommons: Fugitive Planning and Black Study (Minor Compositions, 2013.) The project began with commissioned texts and interviews by Ayesha Hameed, Jonathan Michel Metzl, Interboro, Claire Pentecost and Gillian Harkins + Erica Meiners. Each deals practically or theoretically with policy in a biopolitical realm: food, health, border, education, and housing. The commissioned texts will be activated in a symposium, with contributions by: Egbert Alejandro Martina, Hannah Black, Marina Vishmidt and other guests. The material produced prior to and the discussion during the symposium will come together in a future publication. http://policy-people.com.
Guests: Hanna Black. Hannah Black is an artist and writer. Her work is assembled from pop music and auto/biographical fragments and draws on feminist, communist and black radical thought. Her videos have recently been shown at W139 (Amsterdam), Embassy (Edinburgh), 155 Freeman/Triple Canopy (NYC), MoMAW (Warsaw), and Sala Luis Miro Quesada Garland (Lima), and her writing has been published by magazines including Dazed Digital, The New Inquiry, and Art in America. She was a studio participant on the Whitney ISP 2013-14 and graduated from the MFA in Art Writing at Goldsmiths in 2013. She is an editor at The New Inquiry and currently lives in Berlin.
Egbert Alejandro Martina: Egbert Alejandro Martina is a cultural critic, activist, blogger who seeks to map the messy complexities of how Blackness structures our understanding of gender, ability, sexuality, and race. He describes himself as a diasporic Afrarealist. He is currently grappling with the implications of Saidiya Hartman's theorization of the "afterlife of slavery," and what Christina Sharpe calls living "in the wake." He blogs at Processed Life about anti-Blackness in Dutch popular/political discourse, surveillance, and mobility. In his spare time, he is trying to perfect his earthbending techniques.
Gabriela Quiroga Gilardoni: Gabriela Quiroga Gilardoni is a social scientist and a Consultant for Rural Innovation and Farmers Organizations at ECT Foundation. For her Masters, she did research about an agricultural cooperative in eastern Uruguay, focusing on the organizational capacities to strengthen the social capital of livestock smallholders. She has experience in Uruguay for the national agricultural federation of cooperatives (CAF) and international experience working for worldwide federation of farmer's organizations International Federation of Agricultural Producers (IFAP). She advises organizations in farmer-led participatory policy generation with particular attention to young farmers' leadership and empowerment as well as gender mainstreaming.
Marina Vishmidt: Marina Vishmidt is a London-based writer, editor and critic occupied mainly with questions around art, labour and value. She is the author of Speculation as a Mode of Production (Brill, early 2016) and A for Autonomy (with Kerstin Stakemeier) (Textem, late 2014). She often works with artists and contributes to journals such as Mute, Afterall, Texte zur Kunst, Ephemera, Kaleidoscope, Parkett, andOPEN! as well as co-/edited collections and catalogues, most recently Anguish Language. She has authored chapters in The Routledge Companion to Art and Politics (Routledge, forthcoming) and The ECONOMY Reader (University of Liverpool Press, forthcoming). Her work on debt, social reproduction and artistic entrepreneurialism can be found on libcom.org and in the e-flux journal, and she has also lectured and given workshops on these topics in universities, art institutions and activist spaces.
Simone Zeefuik: Simone Zeefuik is an Amsterdam based writer and organizer whose work focuses on imagery, representation, anti-Black racism and the undocumented communities in the Netherlands. She's the founder of literary platform RE:Definition, co-founder of UndocumentedNL, co-initiator of #DecolonizeTheMuseum and the would-be chairman of the should-be board of people who have no intention to read the comment section.
Moderators: E. C. Feiss. E. C. Feiss is a writer. Her work has appeared in After all, Open!, Texte zur Kunst, and Radical Philosophy, among others. Recent and current projects include: participation in Re-Materializing Feminism, ICA London and The Politics of Attachment, ASCA (Amsterdam School of Cultural Analysis). She is a tutor in Critical Studies and the School of Missing Studies, both at the Sandberg Instituut, Amsterdam.
Karisa Senavitis: Karisa Senavitis is a practicing designer/researcher with her partner Kevin O'Neill. The focus of their research is within a realm they refer to as 'way-out-finding': generating and transmitting knowledges that are contained, wayward or lost. Her current projects include: orchestrating a philosophy of public health residency at Jan van Eyck Academie called Foreign Bodies, producing a word core 7-inch series featuring women writers, and developing an ongoing play-list and text about some sounds of subjectivity called "the high risk group."
Important note: there is a limited number of seats available for the symposium, so we recommend you to come early. Entrance: Pay-what-you-will.
OPEN SCREENING – Thursday 2 April 18:30 – 22:00: Short Videos on Feminism. A selection of shorts through an open call featuring the work of 17 international artists based in the Netherlands. The artists will be present to take part in the discussions that follow each screening. The female view in Hollywood mainstream: A talk by writer and artist Basje Boer, which will touch on the female perspective in mainstream cinema, illustrated by film clips. Programme, 18:30 – 19:30: Introduction and screening 1 followed by a first discussion. Caroline Marceron Interior with a woman reading, Mie Frederikke Fisher Christensen and Margaux Parillaud Well it Looks as if You are Armed for Battle, Ela Szota and Arta Balina Infinite Universe, Marieke Warmelink Ordinary secrets, Karimah Ashadu So Many Things, Eline Tsvetkova Elena
19:30 – 20:00 talk by Basje Boer
20:00 – 20:30 Break
20:30 – 21:30 Screening 2 followed by a second discussion. Avan Omar Washing machine, Mickey Yang A-A-A, Marieke Zwart 45°, Sofi Lindroos and Boyon Kang Art Cells, HellFun Blame The Ancestors, Margaret Haines COCO, Pauline Curnier Jardin The vision of Dédé of Arc
22:00 drinks
selected video works through open call & talk by Basje de Boer

FINISSAGE – Thursday 9 April 19:00 – 22:00. The DJ Workshop for Women will present a long back to back DJ chain with old and new participants from the workshops. DJ Workshop for Women: the DJ-ing Workshop for Women provides a safe space for women to learn, experiment and exchange about music, technology, software and skills. The workshops are open to women of all ages, genders and persuasion – facilitated once every month at Butcher's Tears, Amsterdam, by Amal Alhaag and Maria Guggenbichler.  https://www.facebook.com/groups/336888349800058.The Side Room: The Side Room is a space for diverse actors' close and long-term artistic, cultural and political dialogues, collaborations and friendships. A literal side room to the bar of the brewery Butcher's Tears in Amsterdam, The Side Room is made possible through their generous support. It is maintained by Amal Alhaag and Maria Guggenbichler. http://butchers-tears.com. B2B DJ chain with participants from the DJ Workshop for Women.
PERMANENT STUDY ROOM: join us for a cup of coffee and a read through the books in the study room at the front space of W139.San Serriffe Art Book Shop: art book shop San Serriffe is offering a selection of feminist artists' books.
International Bookstore Het Fort van Sjako: since 1977 het Fort van Sjako is a non-commercial and collectively run bookstore with a focus on critical and insurgent literature. At Does Not Equal they will offer a selection of feminist classics and books on queer theory, black feminism, post colonial theory, anarchism and more.
Study Material: curator Anne-Marie St-Jean Aubre is offering books from her library to read & study. The selected books all look at the idea of Woman as an imposture: a traditional image defined by the dominant discourse. They insist on the narrative dimension of every identity, suggesting that part of the subject's agency lies in the way s/he constructs her/his life story.
Essays: Policy People present 6 commissioned texts around Fred Moten and Stefano Harney's book The Undercommons: Fugitive Planning & Black Study.
Podcasts: Under the Influence, a project by writer Naomi Pearce, will produce a series of podcasts featuring critical responses, readings, performances and interviews with participating artists. The podcasts will be available in the study room.
A limited edition of Pamphlets: artist Anne-Marie van Meel and art historian Fanny Kuitenbrouwer offer a limited edition of pamphlets for visitors to take-away home for free. The pamphlets will be based on three short "conversations" between the two, in which they discuss three etiquette "rules", picked from different era's : What do these rules say about the relation between men and woman? Where does the politeness in etiquette stop and the inequality begin? And how have these rules changed throughout the centuries?
Autobiographies: as part of her ongoing research into the voices of historical female figures, artist Dorine van Meel offers a selection of autobiographies by female artist, poets, singers and revolutionaries as study material. It includes the writings of Emma Goldman, Paula Modersohn-Becker, Margaret Bourke- White, Helene Cixous, Michele Bernstein, Kim Gordon, and others.
Artist editions for sale: Lindsay Beebe, The Nightmare Doesn't Care, 100% Biz, 2011.
Rachel B. Glaser, Pee on Water, Publishing Genius Press, 2010.
Rachel B. Glaser, Moods, Factory Hollow Press, 2013.
Maria Guggenbichler & Rosalie Schweiker, Clever Men's Art, 2013.
Sands Murray-Wassink, Profeminist White Flowers, 2007.
Bunny Rogers, Cunny Poem Vol. 1, Small Batch Books, 2014.
Claire Potter, Mental Furniture, VerySmallKitchen, Hastings, 2014.
Coffee and Does Not Equal Biscuits: in response to the show artist Ninna Bohn Pedersen has made a Does not equal biscuit as a gesture to bridge the domestic with the industrial and the sacred with the profane. A selection of books by feminists writers, pamphlets and coffee in the front space
RED LIGHT RADIO & UNDER THE INFLUENCE PRESENT: throughout the course of the exhibition writer Naomi Pearce will produce a series of podcasts with the title Under the Influence, featuring critical responses, readings, performances and interviews with participating artists. The podcasts will expand upon her recent research exploring the ways notions of influence, female friendship and feminist legacies intersect. Aside from recording audio in collaboration with the other artists, the podcasts will also be informed and feature material Naomi finds at the Aletta Institute of Women's History, focusing specifically on correspondence and administrative documents – marginal texts, the discourse that plays out around events. Engaging with archival material is conventionally based on academic sensitivity, factual accuracy, and the discovery of specific 'truths' – a kind of archeological action, uncovering hidden histories. Instead, Naomi and the artists she speaks with attempt to engage with characters in the archive by other means, through acts of misreading, over-reading and reading into the past.Part 1: We will misread influence as evidence of our friendship. Finding and discovering are acts of desire. A reading by Alice Hattrick and Naomi Pearce. This text was originally included in the event Feminist Art Panel, held at the Centre for Feminist Research, Goldsmiths University, London in November 2014. It reflects on a period of research responding to material in The Women's Art Library.
Diana Policarpo: Artist Diana Policarpo will produce another podcast with a selection of tracks and sound collages by women artists.
27th of March : Does Not Equal on Red Light Radio, 12:00 – 13:00. Diana and Naomi play a mixtape of their feminist influences. Featuring music, spoken word and soundscapes. With a special thanks to Jesper Buursink & Red Light Radio.
Opening hours:
The show is open daily from 12:00 – 18:00
Entrance:
Pay-what-you-will
If you appreciate the exhibition we invite you to decide for yourself how much you would like to pay.
Reviews:
Metropolis M
Volkskrant
Kunstbeeld
Does Not Equal is supported by the AFK and MTS audiovisueel.