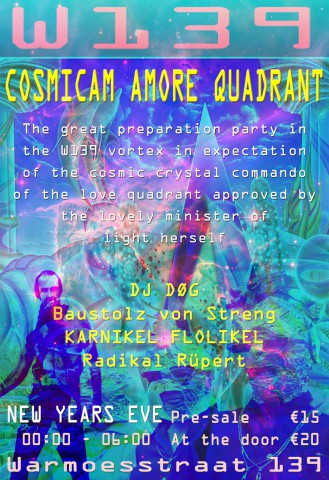 NYE PARTY – COSMICAM AMORE QUADRANT
December 31, 2015

-

January 1, 2016
NYE PARTY – COSMICAM AMORE QUADRANT
31/12/2015 – 01/01/2016
On New Year's Eve W139 transforms from 00:00 – 06:00 in an alien manner to provide you with a heavenly beginning of 2016. Let's create a friendship together on the dance floor between the heavenly angels from the galactic confederation of planets with earthmen in a spaceship!
Program
DJ DØG
Radikal Rüpert
KARNIKEL FLOLIKEL
Baustolz von Streng
Do you want to be sure of having an extra-good party during New Year's Eve? Then get a pre-sale ticket starting from Saturday December 12th at W139 for € 15,-!
Got a ticket? Challenge yourself to bring out the ultimate extraterrestrial version of yourself and appear so at Cosmicam Amore Quadrant.
Our cosmic friends want you to go all out…
Pre-sale tickets: €15
From the 12th of December – 31st of December (except the 25th December – 26th of December)
Daily 12:00 – 18:00 in Warmoesstraat 139
Ring the bell when the door is closed!
Both cash and PIN possible
A very limited number of tickets will be sold on New Year's Eve at the door for € 20
Don't miss your chance and buy your ticket in advance!